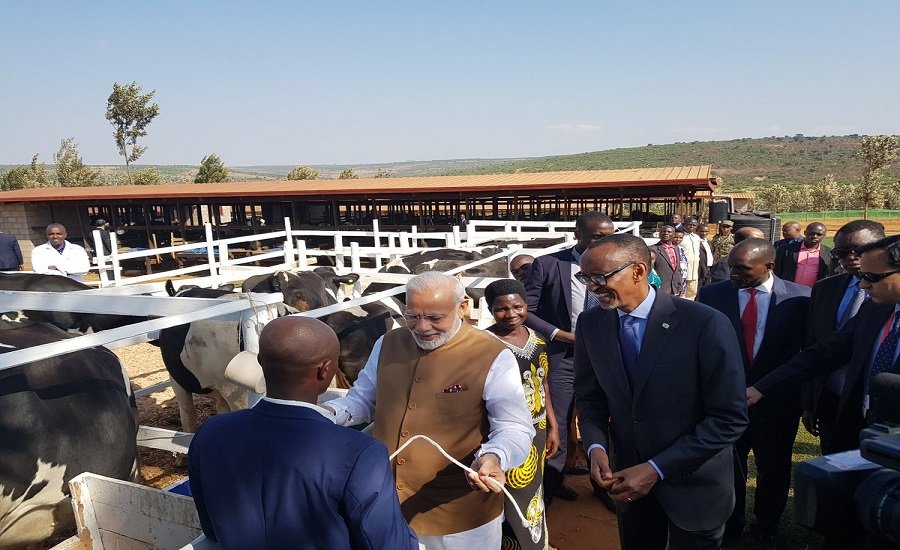 Caravan News
NEW DELHI: Hardly a week passes in India when a poor Muslim dairy farmer is not lynched by Hindutva mob while transporting cows, calves or buffaloes after purchasing them from cattle market or individual farmers. Prime Minister Narendra Modi has maintained almost studied silence on these killings. Now contrast this with the gesture of PM Modi in Rwanda where he wholeheartedly supported the local government's cow economy project for poor families. Going ahead, he donated 200 locally-reared cows to the Rwandan government to support its project.
PM Modi on Tuesday visited a village in Rwanda and donated 200 cows for an economic development project of the East African nation.
"Being part of a transformative project towards economic development of Rwanda!", External Affairs Ministry spokesperson Raveesh Kumar tweeted.
"PM @narendramodi donates 200 cows under #Girinka – One Cow Per Poor Family Programme at Rweru village," Kumar stated.
"Girinka is an ambitious project that provides both nutritional and financial security to the poor."
Girinka is a social protection scheme of the Rwandan government personally overseen by President Paul Kagame.
The poorest families are gifted dairy cows by the government and the first female calf born of the cow is gifted to the neighbour, thus promoting brotherhood and solidarity in the community.
Modi reached Rwanda on Monday on the first leg of his five-day, three-nation tour of Africa that will also take him to Uganda and South Africa.
Back home, dozens of people, mostly poor Muslim dairy farmers, have been lynched by brutal gangs of cow vigilantes in the last four years. These vigilantes, who call themselves Gau Rakshas, get support, sometimes openly and sometimes secretly, from the leaders, lawmakers and even ministers of Modi's BJP in different states, including Haryana, Rajasthan and Jharkhand.
Only this Friday (22 July), a dairy farmer from Haryana, Akbar Khan (28) was lynched by a mob in Alwar district of Rajasthan when and he and his colleague were bringing two cows and calves.
Last month, one Mohammad Qasim, 45, was lynched in Hapur of Uttar Pradesh on mere suspicion of cow smuggling.
In November last year, another dairy farmer Umar Khan was killed by similar gang in Alwar while transporting cattle. In April that year, Pehlu Khan, 55, was lynched in broad daylight in the same Alwar district. He was transporting cows after purchasing them from government-run cattle market in Jaipur.
Several such lynching incidents have occurred in Jharkhand also. All these four states are ruled by BJP.
As per India Spend's data base on hate and cow related crimes, since 2010, 98% of such incidents of violence occurred after BJP came to power in the centre and Narendra Modi assumed office as Prime Minister in 2014 and 88% of those killed in these attacks were Muslims – mostly in BJP-ruled states for alleged smuggling, slaughter, and eating of beef.
— With inputs from IANS