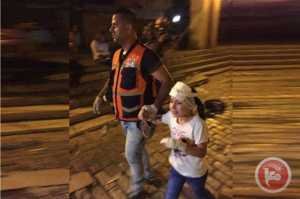 JERUSALEM (Ma'an) — Israeli forces injured scores of Palestinians, including medics, journalists, and a 10-year-old girl Tuesday night, as ongoing demonstrations against new Israeli security measures at Al-Aqsa Mosque were again brutally suppressed.
The violent clashes came hours after Israeli authorities removed metal detectors that were installed at the mosque's gates last week — which in part led to the boycott of the mosque — only to replace them with more advanced surveillance technology at the holy site and throughout the Old City of occupied East Jerusalem.
Palestinians have maintained their objection to all new security measures, and are demanding that the situation return to how it was before July 14, when a deadly shoot-out at the compound provided an excuse for Israel to further impose its control over Al-Aqsa in contravention of long-standing agreements, under which the Jordanian, Palestinian-led Islamic Endowment (Waqf) administers the site.
Israeli forces attacked Palestinians who were performing the Ishaa, night-time prayer inside and outside the walls of the Old City as part of the ongoing civil disobedience movement, that has so far left four Palestinian demonstrators killed and more than 1,000 injured.
Israeli soldiers chased thousands of peaceful worshipers, including women, children, and the elderly, haphazardly firing stun grenades and tear gas at the crowds.
Israeli border police soldiers and police pushed and beat worshipers with batons in an attempt to disperse them from the Lions' Gate entrance to the Old City.
Medics and journalists were also physically assaulted.
In response to the police attack, young Palestinian men clashed with Israeli forces in different areas in occupied East Jerusalem including the Lions' Gate area, the main road between the Old City and Wadi Joz, and near the Church of All Nations on the Mount of Olives east of the Old City.
The Palestinian Red Crescent said its medics provided treatment to the wounded, including three who were evacuated to the nearby al-Makassed Hospital, one of whom was shot in the head with a rubber-coated steel bullet, another who was hit in the head with a stun grenade, and a 10-year-old girl that was injured in the head and hand with stun grenade.
A group of Israeli soldiers were also filmed violently detaining a Palestinian journalist, cameraman Fayiz Abu Rmeila, near the Lions' Gate after beating him slammed on the ground.
Immediately after the prayer, thousands of worshipers stood before religious leaders and took an oath to defend Al-Aqsa Mosque, shouting: "I swear to the great God that I will defend Al-Aqsa mosque, and sacrifice ourselves, our children, and our money for Al-Aqsa Mosque. We call upon God to witness this commitment."
An Israeli police spokesperson said in a statement Tuesday night that "stones and objects" were thrown at Israeli police after the evening prayer, and that "officers dispersed everyone in the area."
Palestinian President Mahmoud Abbas said at the start of a leadership meeting in Ramallah on Tuesday that unless things went back to where they were before July 14, "there will be no change in relations with Israel," referring to his decision to cut ties with the Israeli government amid the growing unrest.
"All the Israeli measures on the ground from that date up until now must cease to exist. Only then things will return to normal in Jerusalem, after which we will complete our work regarding bilateral relations between us and them."
"We have decided to freeze security coordination (with Israel) and to defend our holy places. We will study what has occurred since that day and proceed accordingly from there."
Abbas also directed a message to Jerusalemites saying: "We are with you in all that you have done. You make us proud in your fear for Al-Aqsa, your lands, your people, your religion, and your holy sites. To whoever assaults our holy sites, our response is: Jerusalem is ours, it is our capital, and under our sovereignty."
UN envoy for the Middle East Peace Process Nickolay Mladenov addressed the United Nations Security Council on Tuesday expressing concern over the risk of escalation and violence in the region due to the Al-Aqsa crisis, but welcomed the Israeli government's decision to remove the metal detectors.
He called on "all parties" to "refrain from provocative action, show restraint, and bring a conclusive end to this crisis in the next few days."
"As we have seen over these past 11 days, it is vital that the status quo in Jerusalem, established since 1967, be preserved while security be maintained for worshipers and visitors to the holy sites. I encourage Israel to continue its intense contacts with Jordan, recognizing the special and historic role of the Hashemite Kingdom."
Mladenov relayed the views of Palestinian resident of occupied East Jerusalem, who have often reported to the UN that "their religious and ethnic identity is under threat; that their very livelihood in their own city is at risk while living under occupation; their children often live in fear of security operations and house demolitions. They want to pray in peace and live in security and freedom."
The UN official also noted that the escalating violence also came as Israeli authorities advanced over 2,300 illegal settlement units in occupied East Jerusalem, including a plan in Sheikh Jarrah that would require the demolition of Palestinians homes.
"I must once again emphasize that settlement activity in occupied territory is illegal under international law, and undermines the chances for the establishment of a viable, contiguous, and sovereign Palestinian state," he said.