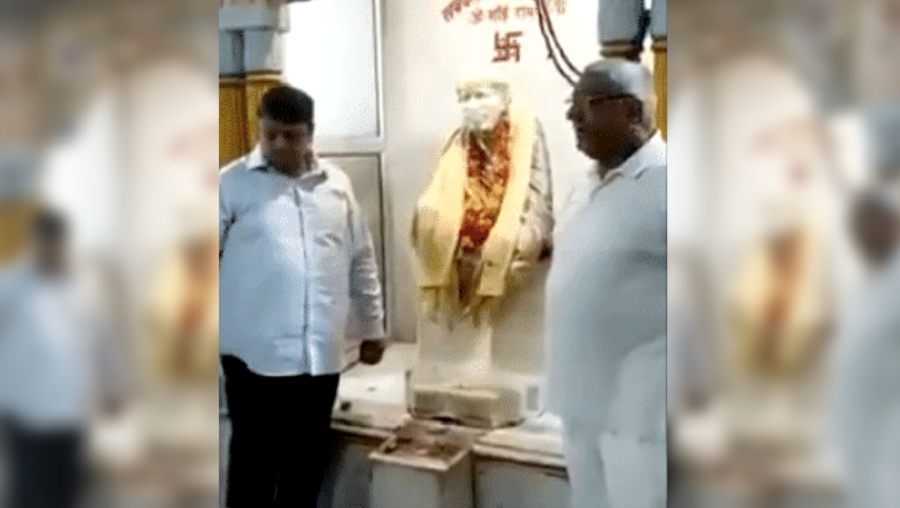 The man, who is seen in a viral video supervising the demolition and removal, has been seen with the hate preacher Yati Narsinganand Saraswati, who in recent days has gained notoriety after abusing Islam and Muslim
Waquar Hasan | Clarion India
NEW DELHI – Devotees of Sai Baba, a spiritual leader revered by many Hindus, have filed police complaint after his idol was demolished and dislodged from a temple in South Delhi's Shahpur Jat by terming him 'Jihadi' and 'Muslim'.
The video clip of demolishing the idol in the temple surfaced on social media on March 25 showing that some men are destroying the structure with crowbar and hammer terming Sai Baba 'Mullah' (a pejorative term for Muslims).
The complaint was filed at a police station at Hauz Khas on March 31 demanding action against the culprits and the restoration of the idol.
"A few people came in and broke the idol of Shri Sai Baba while saying the idol should be removed as he is not a Hindu god but a Muslim. We request you to kindly take action against the culprits who conducted this heinous crime as this hurts the sentiments of people who believe in Sai Baba. We request you to ensure the restoration of Baba's idol in the same temple premises as soon as possible," read the complaint.
The police official confirmed the complaint filed in this regard and said they are looking into the matter.
The man, who is seen in the viral video supervising the demolition, has been seen with the hate preacher Yati Narsinganand Saraswati, who in recent days has gained notoriety after abusing Islam and Muslim. The idol breaker has been identified as Padam Panwar, who is a real estate businessman.  According to Scroll.in, Narsinganand, who supported his follower Shirangi Yadav for thrashing a Muslim boy Asif at Dasna Temple recently, has also congratulated Panwar for breaking the idol.
"If I had my way, jihadis like Sai won't be able to enter temples," he says.
"Sai Baba was a pindari lootera (lawless raider). His name was Chand Khan. He was a jihadi. It is the madness of our Hindus that he is now in our temples," Narsinganand said.
Recently, a case has been filed against Narsinganand for abusing Prophet Mohammed at a press conference held at the Press Club of India.
Sai Baba was a spiritual leader in 19th century who preached "universal love" uniting Hindus and Muslims. However, many Hindu spiritual leaders do not accept his religious ambivalence. In 2014, after the Bharatiya Janta Party came to power at the Center, a conclave of Hindu priests passed a resolution against the worshiping of Sai Baba.
After the demolition of Sai Baba's idol, lord Gandesh's idol was put in his place and Baba's wall sticker with his popular preach "Sabka Malik Ek" (Everyone's Lord is One) has been erased.
A Temple committee member claimed that Baba's idol was removed because it was broken but many locals rejected his claim.
"While bathing the idol, it was found that it was damaged. The committee held a meeting and according to our Hindu traditions, we do not keep damaged idols. So it was decided to remove it," Bharat Pawar was quoted by Scroll as saying. He described himself as spokesperson and committee member of the temple.
Padam Panwar, the man who was seen supervising the demolition, also denied that he broke the idol calling the video "Fake".
"The idol was taken down because it was old. It is a tradition in the Hindu religion to take down idols when they become old. The temple is being reconstructed. Once the new half of the temple is ready, we will have a meeting and take a call on whether a new Sai Baba idol be set up or not," Panwar was quoted by the Indian Express as saying.