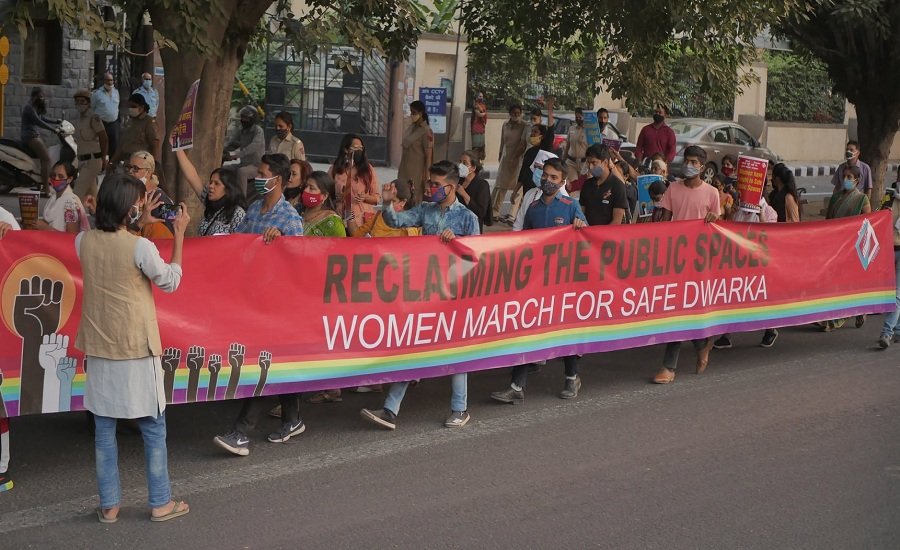 The march was being organised to show solidarity with Dwarka braveheart Shirin Talwar who went public with her ordeal of sexual harassment at the hands of a policeman near her home
 Mohd Aasif | Clarion India 
 NEW DELHI – Dwarka Eksath, a conscientious women's collective in Dwarka, a sub-city of the national capital, was denied permission to hold a pre-decided awareness event and a protest march at the eleventh hour on Saturday under the pretext of covid-19 pandemic guidelines.
With eve-teasing incidents on the rise in the posh residential neighbourhood, members of the collective had organised an awareness programme themed on safety of women in Dwarka to demand access to quarterly statistics on the case updates like conviction statistics along with crime statistics available with the Delhi Police.
"We had made proper arrangements. We had ordered chairs, tables, sound system, planned to put up banners, and backdrops. All these things couldn't be put up at the venue–area behind the DDA Sports Complex–and had to be returned. It amounted to a huge monetary loss to us," said Shabnam Hashmi, resident of Dwarka sub-city and founder of Dwarka Eksath.
The march was being organised to show solidarity with Dwarka braveheart Shirin Talwar who went public with her ordeal of sexual harassment at the hands of a policeman near her home.
Dwarka Eksath took up the matter of eve-teasing and continuous harassment of women residents, organized a series of meetings in the community and a delegation of women even met DCP Dwarka and DM Southwest seeking immediate action in these cases.
The members of the collective also decided to demand safe public places for women. The collective had planned a women's march on Saturday to encourage more women to come forward and reclaim their rights for safe public spaces.
The organisers and 80-odd participants refused to budge from the venue. They expressed their desire to court arrest if they were not allowed to organise the event because they were following the stipulated guidelines. The police authorities had no choice but to allow the event to be held instead at the gate of the Rajkiya Pratibha Vikas Vidyalaya in Sector 10, amid heavy police bandobast.
Mamata Dash, member of the collective, sought immediate and concrete steps from the local authorities to make Dwarka safe for women, a bustling part of the capital of the country.
"Dwarka was one of the three sub-cities to be developed in the Capital three decades ago. Over the years, what has been overlooked are its safety planning and execution. The ineptitude led to an incident like Shirin's molestation by a cop. The administration needs to pull up its socks to make Dwarka's public spaces safe for us," said Dash.
Dwarka Eksath member Ganguly Ramaswamaiah spoke about another appalling incident where a girl child was molested by a delivery guy in her housing society. She stated that the kind of harassment that Shirin faced was something that every woman faced in this country, across all class, caste, age, and religious divides.
"Our society has internalised such habits and behavioural aberrations among men far too long. As a conscientious society, we must bring such acts into focus and address the issue. The administration, especially the police, must take cognisance of the gravity and extent of such offences and deal with crimes related to sexual harassment with an iron hand," said Ganguly.
Dwarka braveheart Shirin also addressed the gathering and thanked those who had come forward to support her in this case. She highlighted how the women were often at the receiving end because when an incident like this happened, it was they who were asked questions, and not men.
"It remains a collective fight. We raised our voices, loud and strong, and will keep doing it. We stood up for our rights, and we are fighting with all our might because we are one", she added.
The protesters marched towards the DDA Sports Complex, also in Sector 10. The event to demand safe public spaces in Dwarka culminated with a song to celebrate the indefatigable spirit of life and living–Tu zinda hai, tu zindagi ki jeet mein yakeen kar (Believe in the victory of life, if you are alive).
There was a massive deployment of forces with several police vans at both the venues with police officers and traffic policemen outnumbering the protesters.
The organisers said women residing in Dwarka had lost faith in the police as they felt that senior police officers could have come and assured them about the steps taken by them to ensure safety of womenfolk. Asking senior police officers to wake up from their slumber and identify those men in uniform who had a grudge against women, Hashmi said that such wolves in sheep's clothing would continue to molest and harass women and make lewd comments on them and go scot-free as long as the police personnel had such predators among them like the one caught recently.
Dwarka Eksath demanded systemic improvement and an assurance that all such cases of crime against women would be handled promptly in a time-bound manner.
Despite all the barricades, and, right under the nose of traffic personnel, a car without a number plate has been roaming for months in the streets of Dwarka. Members of the collective demanded an inquiry and action taken against the traffic personnel for delinquency in duty.
Also demanded were regular audits of all the CCTV cameras, accountability to ensure the systems are operational and of good quality and intensified patrolling around the incident-prone areas.
"Top Delhi Police brass should be directed to conduct surprise checks regularly during the day and night. Mobile police vans with helpline numbers prominently displayed on them should be stationed at locations sensitive to road crimes", suggested the collective.
In order to put a leash on doubtful licence holders, the members suggested that the Transport Department and the Law Enforcement Department must work in close coordination. "All streets and corners of Dwarka should be adequately lit. No road, street or locality should be dark; street lights must be installed and should be working", reads the charter of demands.
Sukhmanch, a city-based young theatre group, staged a street play to a thunderous applause from the spectators. A group of women from Action Aid India led by Sushila sang songs and raised slogans that electrified the mood of the awareness event. A few others used the platform to come out and share their unpleasant experiences and demand action by the law authorities for every wrong done to another woman. Scientist, poet and social activist Gauhar Raza, and social activist Madhavi Kane recited poems on this occasion.