It's 'cultural racism', says Erdogan after Charlie Hebdo mocks him on its cover; Iran warns of violence while Britain calls on NATO allies to stand by France
Clarion India
THE rift between France and the Muslim world continued to deepen on Wednesday with President Tayyip Erdogan of Turkey accusing the West of attempting to "re-launch the crusades", and Iran's President Hassan Rouhani holding out a warning that insulting Prophet Muhammed (SAW) might encourage "violence and bloodshed".
"Now, they target me personally through a caricature. After all these years, they want to re-launch a crusade against Islam," Erdogan said in a speech. "We are a nation that respects not only our own religion but also the values of other religions as well. It is our values that are being targeted," he added.
Erdogan's comments came as French satirical weekly magazine Charlie Hebdo on Wednesday published on its cover a caricature mocking the Turkish President. Turkey condemned the magazine for "cultural racism" over the latest provocation.
"French President Emmanuel Macron's anti-Muslim agenda is bearing fruit!" said Fahrettin Altun, Erdogan's communications director, describing the caricatures as "loathsome". "It's clearly the product of a xenophobic, Islamophobic and intolerant cultural environment the French leadership seems to want for their country," Altun added.
Charlie Hebdo is facing possible charges in Turkey over insulting the Turkish President, prosecutors in the capital Ankara announced. "An investigation was initiated into executives of Charlie Hebdo magazine for insulting the President in accordance with Articles 12, 13 and 299 of the Turkish Penal Code," said a statement by prosecutors.
Meanwhile, a mosque in Vernon district in northern France received a threatening notice on Tuesday, according to a post on Twitter by the Islam & Info website.
The notice, left in the mosque's mailbox, contained death threats and insulting messages against Turks, Arabs and the community members who come to the mosque regularly."The war has begun. We will drive you out of our country. You will give an account for Samuel's death," it said.
French teacher Samuel Paty was recently beheaded in Paris by 18-year-old teenager Abdoulakh Anzorov. Paty had shown caricatures of Prophet Mohammed during a class on freedom of expression, in relation to the Charlie Hebdo case which outraged the youth and led him to brutally murder the teacher.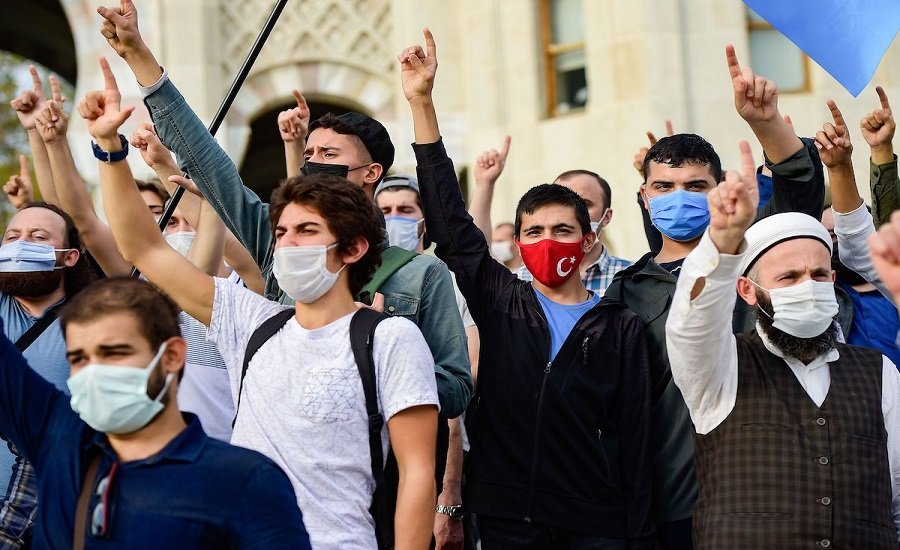 A statement condemning French cartoons was also issued by the Malaysian government in Kuala Lumpur. "We strongly condemn any inflammatory rhetoric and provocative acts that seek to defame the religion of Islam as the world has recently witnessed in the form of populist speeches and publication of blasphemous caricatures depicting the Holy Prophet Muhammad," said Foreign Minister Hishammuddin Hussein in a statement.
In Tehran, Iranian President Rouhani said that insulting Prophet Muhammed might encourage "violence and bloodshed". "Insulting the Prophet is no achievement. It's immoral. It's encouraging violence," he said in a televised speech during the weekly cabinet meeting.
Earlier, Iran's Foreign Ministry summoned the French charge d'affaires to strongly reject "any insult and disrespect to the prophet of Islam … and Islam's pure values of Islam by any person regardless of their position," according to state media.
Al-Azhar cries foul
Egypt's Al-Azhar University has denounced the cartoons, saying Macron's comments were part of a systematic campaign to use Islam to win political battles, in comments echoed by the country's top cleric.
Egypt's President Abdel-Fattah Al-Sisi said freedom of expression should stop if it offended more than 1.5 billion people. "We also have rights. We have the right for our feelings not to be hurt and for our values not to be hurt," he said during an address to commemorate Prophet Muhammad's birthday.
The Abu Dhabi-based Muslim Council of Elders said it was planning to launch legal proceedings against Charlie Hebdo and "all those who insult Islam."
Social media users in Saudi Arabia and the United Arab Emirates have called for a boycott of French supermarket giant Carrefour. Traders in Jordan, Kuwait and Qatar have removed French goods from store shelves, while Qatar University has cancelled the French culture week.
Protests have also been held in Pakistan, Iraq, Syria, Libya, Jordan, the Gaza Strip, and Bangladesh, the last of which attracted tens of thousands of demonstrators and included burning effigies of Macron.
Pakistan's Prime Minister Imran Khan said Macron was encouraging the anti-Muslim sentiment and was deliberately provoking Muslims. He also summoned the French ambassador to lodge a protest. In India, contrary to Muslim world's united voice condemning France, hashtags with a different message trended. #IStandWithFrance and #WeStandWithFrance were among the top trends on Indian Twitter on Monday and Tuesday, with thousands of Indian users expressing their solidarity with France.
Europe rallies around Macron
European leaders have rallied around Macron and criticised the attacks on him, particularly from Turkey.
British Foreign Secretary Dominic Raab called on the NATO allies to stand shoulder-to-shoulder on values of tolerance and free speech in a veiled rebuke to Turkey which has been calling for a boycott of French goods.
"The UK stands in solidarity with France and the French people in the wake of the appalling murder of Samuel Paty," Raab said in a statement.
"NATO allies and the wider international community must stand shoulder-to-shoulder on the fundamental values of tolerance and free speech, and we should never give terrorists the gift of dividing us."
In Germany, Chancellor Angela Merkel's spokesman Steffen Seibert said: "They are defamatory comments that are completely unacceptable, particularly against the backdrop of the horrific murder of the French teacher Samuel Paty by an Islamist fanatic."
The Prime Ministers of Italy, the Netherlands and Greece also expressed support for France.
Domestic reaction in France
The French Council of the Muslim Faith (CFCM), which is the official go-between for the state and observant Muslims, said in a statement that Muslims were "not persecuted" in France. "France is a great country, Muslim citizens are not persecuted, they freely construct their mosques and they freely practise their religion," it said.
The head of the CFCM, Mohammed Moussaoui, urged French Muslims to "defend the interests" of the nation.
"We know that the promoters of these campaigns say they defend Islam and the Muslims of France, we urge them to be reasonable… all the smear campaigns against France are counterproductive and create division," he said.
He said French laws gave people "the right to hate" the cartoons, but said he supported Macron's stance.
France's largest trade association, Medef, also said it supported the French government. Association head Geoffroy Roux de Bezieux told French broadcaster BFMTV: "I call on the companies to resist the blackmail and unfortunately to endure this boycott for the time being."
He said there were "times when we have to put principles before the opportunity to expand our business."
In the aftermath of Erdogan's comments, France on Saturday recalled its ambassador to Turkey.