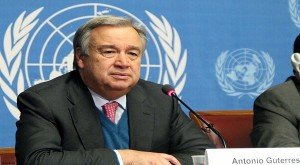 UNITED NATIONS (IANS) — Secretary-General Antonio is following the recent developments between India and Pakistan and reiterates his call for for dialogue by the nuclear-armed neighbours, Spokesperson Stephane Dujarric said.
He was asked at his daily briefing on Thursday about recent media stories on the risk of a nuclear war between the two countries and if Guterres thought it important to deal with it.
Dujarric did not directly mention the nuclear risk, but said, "We obviously are following the situation closely, the recent developments included. We reiterate our call for the parties to find a peaceful solution through engagement and dialogue."
Tensions have escalated following Monday's attack on an Indian patrol on the Indian side of the Line of Control in the Krishna Ghati sector of Kashmir. The Pakistani Army killed two Indian personnel and mutilated their bodies, India has said.
One of the recent stories that attempts to draw focus away from the North Korean threat that has become a high priority for the Trump administration to the risk of nuclear war on the subcontinent was published by HuffPost, a popular web publication owned by the telecom multinational, Verizon.
The publication's Senior Military Correspondent David Wood asserted that the situation in South Asia was more alarming than the North Korean threat.
He wrote on Tuesday, "While President Donald Trump is focused on North Korea's nuclear madman, a more alarming threat is rising in South Asia: an explosive mix of nuclear weapons, terrorism and hair-trigger war plans."
The US administration, however, sees a more imminent threat from North Korea led by Kim Jong Un. Secretary of State Rex Tillerson told the Security Council last week that the threat to Seoul and Tokyo from North Korea is "real" and pointed out that Pyongyang, which is developing intercontinental missiles, has repeatedly threatened to strike the US mainland.