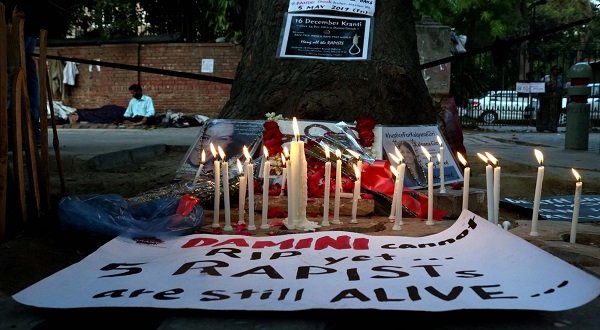 While the culprits in 2002 Bilkis Bano rape case who were also the murderers of her three year old daughter along with 14 other members of her family got life sentences from the Bombay High Court on May 4th, the culprits in case of Jyoti Singh who was raped and murdered ten years later in 2012 in a moving bus in Delhi, were awarded death sentences by the Supreme Court on May 5th
AAZEEN F KIRMANI | Caravan Daily
[dropcap]T[/dropcap]hese early days of May 2017 have seen two major and much awaited verdicts in two cases of rape both of which had shaken the conscience of India's civil society to the core. While the culprits in 2002 Bilkis Bano rape case who were also the murderers of her three year old daughter along with 14 other members of her family got life sentences from the Bombay High Court on May 4th, the culprits in case of Jyoti Singh who was raped and murdered ten years later in 2012 in a moving bus in Delhi, were awarded death sentences by the Supreme Court on May 5th.
The social media and political circles, as is usual in high profile judgements have once again erupted with diverse opinions. The opinions range from disappointment over the lack of uniformity in judgement in two cases encompassing almost similar brutality to outright slamming of death sentence in Jyoti Singh's case by those who oppose capital punishment in principle.
Seen in absolute terms it can be said that rapists who also murdered 14 members of a family deserved nothing less than death and therefore the judgement in Bilkis Bano case falls short of being satisfactory. In fact in the wake of Joyti Singh's judgement, Bilkis Bano too had expressed hope and desire that Supreme Court would award death penalty to her culprits as well.
However, seen in relative terms, the High Court judgement in Bilkis' case (regarding which she has herself expressed relief) is not just progressive but also historic.  For one it has overturned the acquittal of five policemen finding them guilty of 'dishonest investigation', and various acts of 'omission and commission' in order to 'screen the perpetrators of the crime'.
Such convictions are rare in a country where police is known to flaunt laws with impunity and almost always get away with it. Moreover the conviction comes at a time of high tide of anti-minority sentiments and the political masters of Bilkis' culprits have their wings spread far and wide.
In times such as these when communal crimes against Muslims in name of cow protection and love jihad have become the norm without any hope for justice in sight a judgement such as this is laudable.
That said, there is no reason why the Supreme Court's death sentence to rapists and murderers of Jyoti Singh should be questioned. Those who make all the hue and cry against capital punishment have not been in victims' shoes themselves.
Their ideas of justice and human rights stem from theoretical knowledge and analysis rather than from any firsthand experience of the ground realities that come from being a victim of a crime like rape.
Just when the opponents of capital punishment were citing Bilkis Bano's satisfaction over the High Court judgement to shut off all those demanding death penalty for the culprits, Bilkis herself expressed the desire and hope for death penalty for the culprits when her case is heard in the Supreme Court.
Relived as she is by the current judgement, there is no reason why she should not hope for more equitable justice — the best possible in this world — death for the men who had killed her baby before her eyes by smashing her head.
If an eye for an eye will make the whole world go blind, a finger for an arm does not make much sense either. Moreover an eye for an eye does not make the world go blind. Countries whose criminal justice system is based on the principle of equitable justice — where the perpetrator of a crime is punished for the amount of harm he has inflicted on the victim or the society — neither less nor more, fare better than us in matters of law and order.
Contrary to what the opponents of capital punishment say, it does act as an active deterrent to crime. If at all its effectiveness as a deterrent is diluted that is because of the huge time lapse between the occurrence of crime and pronouncement of death penalty. Additionally the purpose of penalty is not just to curb crime but also to provide satisfaction and closure to the victim, which is her/his human right.
The contentment looming large on the face of Jyoti Singh's mother as she exited the Supreme Court premises is yet to be seen on Bilkis' face. Thanks to the precedent set by the judgement in Jyoti's case, there is still hope though.