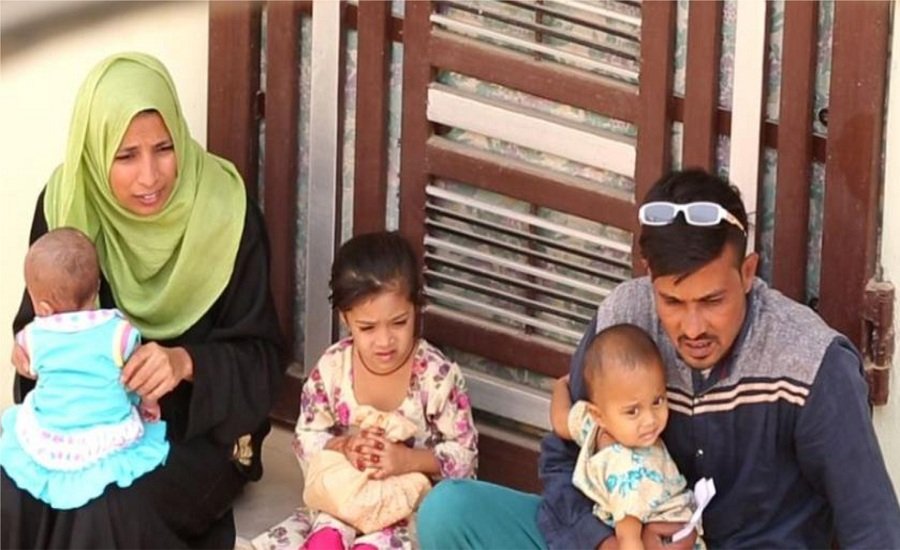 Findings of the survey by Helping Hand Foundation give a brief account of social horrors in urban slums caused by lockdown and flash floods in Telangana
Syed Khaled Shahbaaz | Clarion India
HYDERABAD – On Tuesday, the state government imposed a night curfew in Telangana after the High Court insisted it ramp up measures to contain Covid-19 cases. Two days ago, the number of active Covid cases in Telangana jumped over 39,000 – a 21-fold increase in cases registered just two months ago in March (approximately 1,800). While the average citizen is apprehensive whether another lockdown might bring back horrors of the first episode, life continues to be on the hook for families in urban slums of Hyderabad for second year in a row – families that suffered due to lockdown and the accompanying flash floods of October.
Their tales are horrific reminders of how aberrations like these can disrupt livelihood and lead to social evil so much that both the perpetual increase in active cases and an exhaustive healthcare system, for once, seem like lesser evils. The perils of twin disasters in 2020 are still apparent in as many as 20 urban slums of Hyderabad. Men lost jobs and children had to drop out of school to support finances. But the most horrific repercussion is the social evil of families splitting due to status quo.  As shocking as it may seem, at least 12% to 15% women were deserted by their husbands who couldn't provide for them in the face of lockdown and disastrous floods.  The findings are from an elaborate survey conducted by one of Hyderabad's most vibrant healthcare organizations Helping Hand Foundation.
The survey covering 7,200 households spread over 20 urban slums in Hyderabad revealed a dark side that is scarier than the second wave of Corona Virus, at least for the inhabitants of these slums. While one can take precautions against Corona Virus infection, there's nary a way to deal with the social evils perpetrating in these slums. With jobs lost to lockdown, properties and documents washed away in October floods, many families were pushed into "abject poverty".
The survey cut across areas including Shaheenagar, Baba Nagar, Osman Nagar, Al Jubail Colony, Barkas Salalah, Nabil Colony, Pahadi Sherif, Amreen Colony, Jalpally, Rajiv Gandhi Nagar, Saif Colony, Wadi e Sahlaheen, Al Jabri Colony, Habib Colony, Shajan Colony.
"The situation has forced these families to discontinue their children's education. 1 in 3 school going children are now working on daily wages to support their families with about 100 families relying on seeking alms at Masjids and traffic junctions to survive the day. They don't have a choice", said Helping Hand Foundation President Mujtaba Askari.
In the survey report accessed by the Clarion India, 33% of students aged 11-17 years dropped out of school to supplement their family's earnings, while 25% of women whose household income had ceased due to lockdown are now working as maids in neighbouring areas on meagre salaries of Rs. 2,000 to 3,000 a month. But the situation is more challenging for younger women who have young children to look after but cannot travel long distance for the jobs needed to support their family.
The lockdown and the successive floods have not only impacted their socio economic status but affected their mental and psychological integrity too. 20% of adult women reported to be suffering from mental health issues, while 40% of women with two or more children are reported to have PCOD (Polycystic ovarian syndrome or disease (PCOS/PCOD) that affects women of reproductive age and other Ovarian health issues. The survey also found that one in three children suffers from Anaemic and nearly 12 children were identified with congenital heart disease requiring surgical intervention.
Triumphing over the odds, they still manage to make a living. But inadequate access to healthcare system and lack of affordability has mired many in health problems. Health indicators in the survey revealed that post-October's floods, 30% of the respondents complained of skin-related diseases and 40% of adults, mostly men over 35 years, reported hypertension. With no jobs and no means to support the families for long, their stress levels are mounting.  What's worse is that the inhabitants in these neighbourhoods do not even have valid identification documents to avail government welfare schemes.
"We are contemplating means to connect these slums with skill development and welfare programmes so they can have a sustainable living, even in the face of crises", he said. Nearly 26% of single women, mostly widows, have no place to go but are living on the alms and occasional distribution of relief material by social welfare organizations.
At the peak of the first Covid wave in the state in 2020, Askari's healthcare organization set up help desks at government hospitals, arranged free ambulance vehicles for critically ill patients, distributed relief kits and even offered free telephonic consultation to needy patients claiming a 97% success rate. This year, as the Covid cases continue to rise like nobody's business, volunteers of the organization are following suite while also rushing oxygen cylinders, pulse oximeters, and arranging online doctor consultations for patients for free.
While we are trying to ameliorate the healthcare situation at grassroots level, we cannot overlook the unreported plight of those who have been silently suffering, he adds. "The objective of the survey was to document the problem. With the right intervention of the government, socio-economic status of generations of these families can be changed for good, innocent children can continue their education and be saved from child labour, and women will no longer be forced to indecorous indulgences", he said.
In collaboration with SEED USA, Helping Hand Foundation has engaged three primary healthcare centres covering a total population of over 10 lakhs in 50 urban slums. The foundation is continuing to address "health emergency" in the state by pressing ambulances into service, and actively counselling patients at government and primary health centres, with the hope that the families they touched during the surveys will eventually see better days.
---
Syed Khaled Shahbaaz is a Hyderabad-based journalist. He may be reached at [email protected]