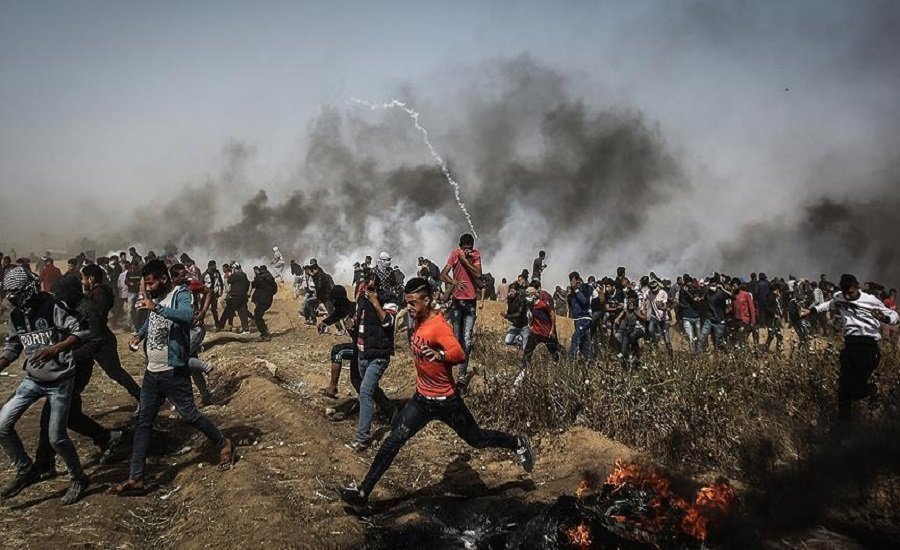 For fifth Friday in row, Gazans brave Israeli bullets and teargas to demand 'right of return' to lost homes in Palestine.
GAZA CITY (AA) — At least three Palestinians were martyred on Friday by the Israeli army — and 350 others injured — amid ongoing rallies along the Gaza Strip's eastern border, according to the Palestinian Health Ministry.
The ministry identified one of the martyrs as Abdul Salam Bakr, 29, who was gunned down near the town of Khuzaa in the southern Gaza Strip.
Two others, who have yet to be identified, were martyred earlier Friday near the border east of Gaza City.
At least 75 demonstrators were injured by live ammunition, 96 by teargas bombs and 15 by rubber bullets, according to the Health Ministry.
Hundreds of Palestinians on Friday converged on the Gaza Strip's eastern border with Israel amid ongoing mass rallies against Israel's decades-long occupation.
Earlier Friday, the UN high commissioner for human rights urged Israel to refrain from using "excessive force" against demonstrators.
Since the border rallies began on March 30, at least 44 Palestinian protesters — including five children — have been killed by cross-border Israeli gunfire, according to ministry figures.
Thousands of others have reportedly been injured — more than 140 seriously — over the same period.
For the last four weeks, Gazans have staged rallies along the border to demand the "right of return" to their homes in historical Palestine from which they were driven in 1948 to make way for the new state of Israel.
The rallies are part of a six-week protest that will culminate on May 15. That day will mark the 70th anniversary of Israel's establishment — an event Palestinians refer to as the "Nakba" or "The Catastrophe".