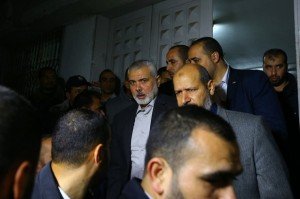 A senior Hamas official was shot dead near his home in the Gaza Strip on Friday, the group said, blaming Israel for the slaying.
An Israeli military spokeswoman declined to comment on the incident in the Hamas-run Palestinian coastal enclave.
Mazen Fuqaha, an operative from the occupied West Bank released by Israel in a prisoner swap in 2011 and exiled to Gaza, was shot several times, Hamas police said.
Another senior Hamas official, Izzat El-Reshiq, said the killers used silencers. Thousands of people were expected to turn out for Fuqaha's funeral on Saturday.
"Hamas and its military wing hold Israel and its collaborators responsible for this despicable crime … Israel knows that the blood of fighters is not spilled in vain and Hamas will know how to act," the group said in a statement.
Khalil al-Haya, Hamas's deputy chief in Gaza, said only Israel would have had something to gain from the death.
Fuqaha, 38, was one of more than 1,000 Palestinian prisoners Israel released in exchange for soldier Gilad Shalit, whom Gaza fighters had held captive after abducting him in a cross-border raid in 2006.
Israel jailed Fuqaha in 2003 for planning attacks against Israelis and sentenced him to nine life terms. Israeli media said that after his release, while in exile in Gaza, he continued to plan attacks in the West Bank.
Cross-border violence between Gaza militants and Israel has largely died down since a 2014 war.
According to Gaza health officials, more than 2,100 Palestinians, mostly civilians, were killed in 50 days of fighting. Israel put its dead at 67 soldiers and six civilians.
Courtesy: Middle East Eye