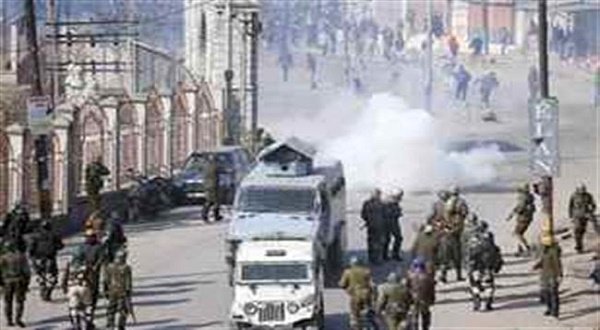 Kashmir's situation is far too precarious to be entertained with the idea of buying time with mindless exercises. It needs a clear road map for a peaceful resolution which involves India, Pakistan and most importantly, the people of Jammu and Kashmir. Given the internal and international complexities of the region, it has to be a process at multiple levels and can take phases. Conflict resolutions, after all, do not happen overnight. It is fine for everybody to start from maximalist positions till there can be a consensus but the process has to be a sincere one
ANURADHA BHASIN JAMWAL
[dropcap]T[/dropcap]he all party parliamentary team will finally descend in Kashmir this week. But it isn't expected to pull out a rabbit from a hat or perform any other magical trick. Violence levels in the past one week have considerably reduced. Is it temporary? Is it fatigue factor? Is it a consequence of the slight softening of rhetoric from New Delhi? It is difficult to make any assessment as this reduction in violence isn't pretty conspicuous or decisive; one single incident and it can find a resonance in rest of the Valley. After lifting curfew, it has been re-imposed in eight districts following fresh violence on Friday.
The bullets and pellets continue to fly liberally, now peppered with PAVA sprays. Former chief minister Omar Abdullah recently maintained that the all party parliamentarians team that visited the Valley in 2010 helped calm down tempers. There is no evidence to find a co-relation.
Besides, 2016 is a long way away from 2010; a period of six years has been marked by many more developments that have further robbed off that meagre percent of trust that New Delhi enjoyed among Kashmiris. Yet, it never harms to listen to people who are angry, anguished and have bottled up so much inside them that they are ready to explode. But whether it helps in addressing the problem, or even healing wounds just on the surface, that depends much on what follows after the parliamentary team's visit.
A relevant question is how realistic would be the team's assessment? The team is hoping to meet cross section of people though it is unlikely that many in Kashmir today would like to engage with the team of their own volition. The Hurriyats have called for boycotting the team. The amalgamation of trade and commerce bodies have announced they would give the team a miss.
Even the Valley's middle ground today may not be too keen to meet them. The team then would hope for meeting delegations from others parts of the state, some pro-State groups from the Valley or at best the jailed Hurriyat leaders, who may be forced to meet the team from their prison cells. In 2010, some members of the visiting parliamentary delegation landed at the doorstep of Valley's pro-independence leaders under house arrest, when the latter showed no inclination to meet them.
The only good thing is that the visiting team led by union home minister Rajnath Singh professes to come with an open mind. This openness should have encouraged greater participation. But it didn't, revealing the huge destruction in recent years of any last remnants of trust between Kashmir and rest of India.
Unlike 2010, this year's parliamentary delegation's Kashmir visit is limited only to a day, further limiting its ability and scope to understand the complex nuances and voices of Kashmir. The balancing act of the team in spending the next day in Jammu, which has in recent years been used as an unsuspecting counter to delegitimize voices from Kashmir, is an indication of what this exercise may eventually be about. The present situation of crisis is limited to the Valley and if the all party team visit is necessitated by that, it makes little sense to visit other parts of the state at this juncture only to suit the constituency of the BJP which won 25 seats from Jammu in the 2014 elections. The entire exercise appears to be an eyewash even before it has started.
More importantly, would New Delhi be under the compulsion to act on the basis of a fair assessment, if any delivered by the visiting team? This is doubtful. If that indeed was the case, the Center by now would have begun showing some interest in reaching out to the people of Kashmir based on feedback that is already piled up on the shelves of its offices.
Repeat of time tested formulas that have already failed will not only be not helpful, they will further contribute to aggravating the situation where space and scope for trust does not exist at all. Successive government in the past right from 1950s have dealt with Kashmir with rigidity that has been on the rise over the decades. In more recent years, it has virtually ruled and tackled Kashmir through military action, jackboots and bullets. Experts in recent years have dug holes in Centre's flawed policy of alternating military action with arm twisting methods or corrupting Kashmir's leadership.
Even the Center's own initiatives for peace and dialogue in the last over a decade – from round table conference reports to 2010 interlocutors reports – have ended up in recommendations of certain do-ables like thinning the presence of troops, review of AFSPA, investigating cases of human rights abuse. The then UPA government kept these recommendations in the cold storage. The present BJP government is doing just the reverse of what was suggested – unleashing a wave of repression when it should have responded with ways of ending the suffocating atmosphere in the Valley.
There are no easy prescriptions on what the BJP government at the Center should do to ameliorate Kashmir violence. But there are several things that the government should not even try wasting time on. These include use of intelligence agencies to co-opt and corrupt Kashmiri leaders, and ultimately divide them and weaken them, sending interlocutors, filing reports and then forgetting about them. The Centre should also desist from parroting its 'integral part' mantra which is mocked at by the excessive level of tyranny that takes place by security forces against civilians in Kashmir.
It should certainly desist from the temptation of talking about dialogue 'within the framework of Indian constitution', a phrase that only ends up betraying the democracy in breach that is practiced in Kashmir. Anything within the framework of the constitution is a right which every citizen of the country should enjoy naturally. Should anyone need to demand something from the government what is already a constitutionally guaranteed right.
Kashmir's situation is far too precarious to be entertained with the idea of buying time with mindless exercises. It needs a clear road map for a peaceful resolution which involves India, Pakistan and most importantly, the people of Jammu and Kashmir. Given the internal and international complexities of the region, it has to be a process at multiple levels and can take phases. Conflict resolutions, after all, do not happen overnight. It is fine for everybody to start from maximalist positions till there can be a consensus but the process has to be a sincere one.
The final solution would have to accommodate all concerns. Merely by talking, no side can be deemed to be surrendering their stand. The openness of any unconditional dialogue has to be from all sides, which includes the people of Kashmir; the onus of taking that initial extra step to build trust right now, however, is on Indian government. Given the acute trust deficit between Kashmir and New Delhi today, a step forward can be made on the foundation of two things. One is an acknowledgement of Kashmir's political dispute and its international nature with a promise to resolve it amicably by bringing people of Jammu and Kashmir at the center-stage.
The second is deep regret, if not an apology, on the brutalities unleashed on Kashmiris with a promise to allow space to Kashmiris for peacefully expressing themselves. A meaningful and successful implementation of the latter promise would pave way for fulfilling the first.
The crux of the matter is that Kashmir has to be resolved amicably; it cannot be held on to by brutalizing its people, nor by corrupting them. Similarly, for the revolting masses of Kashmir, there is need to realise that nothing can be achieved with stones or even guns even if they have a legitimate right to fight and oppose the State. The key to future lies not in recourse to violence but dialogue and negotiations. Even in this dark juncture, an opportunity awaits. All legitimate parties to the Kashmir dispute must seize it. If the all-party team, with the right choice of words, can manage to bring a thaw in pursuit of that end, it would be its measure of success. Or will it end up being an aimless one day picnic?