Supporters of Pakistan Tahrik-i-Insaf hurl stones in reaction to residents throwing stones at the participants of Azadi March, Gujranwala, August 15. — Reuters photo
An all-consuming contempt for political and democratic institutions has plagued the 'land of the pure' since its very inception. It is one of the main reasons why Pakistan has remained stuck in a time warp while its big, separated twin has edged ahead in so many ways. And it is not just Pakistan; across the Muslim world it is the same, sad story
AIJAZ ZAKA SYED
[dropcap]E[/dropcap]very hero becomes a bore at last, quipped Emerson, the quintessential Boston Brahmin known for his old-fashioned, New England commonsense.  And when heroes like Imran Khan, loved and idolized by generations of Pakistanis and Indians, show their feet of clay, it hurts. It really does.
We all went delirious and the ground seemed to shake when the 'Lion of Lahore' charged at his quarry. He was even more magnificent when he just stood around imperiously, the lord of all he surveyed, as his boys ran around to win the day for him.  Cricket was a different ball game altogether when Imran was around. Pakistan itself was seen in a different light.
Many of us were skeptical when the incomparable cricketer made the transition from sports to politics. None doubted his sincerity and commitment though.  And after long years of hard work and dedication, Imran managed to earn the trust and confidence of the people cutting across ideological and social strata.
Indeed, ahead of the last general elections, his movement for a 'Naya Pakistan' (new Pakistan) seemed to have captured the imagination of the whole nation. Imran appeared poised to finally take charge of Pakistan's destiny.
And when that did not happen, it wasn't just him and his followers whose hopes were shattered; a significant majority in Pakistan and his legion of fans around the world were disappointed.  But then that's what politics is all about.  You win some, you lose some.  You do not lose your heart–or your head.  You live to fight another day. You do not give up. You embrace victory and defeat with equanimity.  That is the essence and spirit of democracy.
Who would know this better than Imran, who fought long and hard to realize his people's dream of the World Cup glory?  And who would know this better than the people of Pakistan whose history is full of repeated power grabs by both men in khaki and abuse of power by democratically elected politicians?
Imran may have lost the election but he had won the hearts and minds of millions in and outside Pakistan when he graciously accepted people's verdict. 

That windfall of goodwill and people's support has been thrown away with this mindless, unthinking long march to nowhere.  What was he thinking and who put him to this folly?

Of all the people, Imran, a vocal critic of the army's role in politics as well as the incompetence of politicians inevitably tempting the Generals, should have known the perils of taking this shortcut to power.  
Now Nawaz Sharif is no paragon of shining virtue. He has had his share of warts and all. A clear authoritarian streak, reluctance to share power and responsibility and a cavalier approach to institutions wreaked havoc all around in the past and led to his own downfall.  The Sharifs have also faced numerous corruption allegations.
But that was in the past. Sharif seems to have learnt from his mistakes and has repeatedly talked of a new beginning and healthier politics.  This may be why he was given a clear and comfortable mandate—for the third time–by the nation.  And everyone who believes in people power and democratic institutions needs to respect it.  Especially when the democratic exercise last year is seen, including by international observers, as being free and fair.
Of course, this is not to suggest that the polls were flawless. In our part of the world they seldom are. No elections held at such a large scale can be without their share of issues. If irregularities have indeed taken place in Pakistan, they ought to be investigated, as is already being done under the watchful eyes of the Supreme Court.
These endless protests and long marches demanding the PM's head and fresh elections, holding the entire country to ransom, not just don't make sense; they raise questions over the PTI leader's political maturity. This is no way to address these issues.  Besides, the parliamentary elections were held only last year. This government is barely a year old.
More important, given the long history of the Army's inordinate infatuation with power – for more than half of its 65 years of existence, the Islamic republic has had the rare good fortune of being ruled by the Generals – such reckless shenanigans only end up weakening civilian institutions and democratic forces.
Doubtless, Sharif's performance has been far from spectacular so far.  The Sharifs are seen as focused more on their enormous business interests, rather than on the business of governance and daunting challenges facing the country.
Yet, these cannot be grounds for the overthrow of an elected government—the first one to witness a smooth transition of power from the previous one—or issuing irresponsible calls for people's revolt, as the Canadian cleric Tahirul Qadri has been doing.
If democracy has to take root in Pakistan and attain its full potential, politicians will need to learn to be patient with each other.  More important, they must learn to respect people's choices.
For all his sins and inadequacies, Sharif deserves to complete his term of full five years and needs time to deliver on his promises, in the true spirit of democracy.
While Imran may have some legitimate grievances and his anger is understandable, if not defensible, what is completely baffling is the excessive outrage and sense of entitlement of Tahirul Qadri.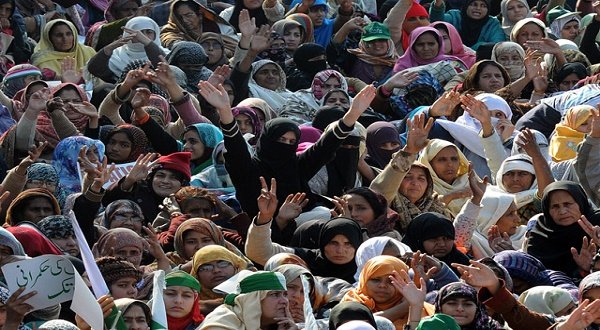 Having long enjoyed the hospitality of the Canadian government and reaffirmed allegiance to the Queen, the cleric should be the last person to demand accountability from a government elected by the people of Pakistan.
Qadri demands the revolution at the drop of a hat; like Urdu poetry's perpetually pining lover would demand 'wisaal' (union with the beloved).  The cleric clearly sees himself as another Ayatollah Khomeini, returning home to rapturous welcome and ready to lead the cheering masses towards a new destiny. 

Qadri is no Khomeini though.  Not by a long shot. The late spiritual leader spent more than 14 years in exile—in Iraq, Turkey and finally France—before returning home to a change that had already come over Iran.
Whoever is scripting and directing this Kabuki play, there's nothing holy or scholarly about the religious scholar's mission.  It's a shame that Imran, who led his country to glory and who is still widely respected and admired even by those who do not favor his politics, should allow himself to be used by such characters.
Evidently, the forces guiding this charade seem to think they can replicate a Cairo in Islamabad.  But Pakistan is not Egypt and the Muslim League (N) is no Muslim Brotherhood.
More important, neither the people of Pakistan nor the political parties are ready or yearning for an election or a military takeover right now.  But the million dollar question is, does the Army want the same? For it is the men in khaki who may once again determine the path ahead for Pakistan. And let's hope, in the end, they draw the right lessons from the country's eventful past and do the right thing.
God knows Pakistan cannot afford any more political and economic misadventures. It has had enough of those in its brief history, and the people are still paying for them.  It is about time the Pakistanis, especially well-meaning leaders like Imran Khan, dedicated themselves to building and investing in its institutions.
An all-consuming contempt for political and democratic institutions has plagued the 'land of the pure' since its very inception. It is one of the main reasons why Pakistan has remained stuck in a time warp while its big, separated twin has edged ahead in so many ways.
And it is not just Pakistan; across the Muslim world it is the same, sad story.  Everywhere you go you encounter this ham-handed approach to institutions—institutions that strengthen the political and democratic foundations of nations.  Narrow, self-serving, individual goals of 'self-improvement' often override and undermine the national agenda.  No wonder the inimitable Iqbal lamented:
Aur Hai Tera Shear, Aaeen-e-Millat Aur Hai
Zisht Ruyi Se Teri Aaeena Hai Ruswa Tera
Your ways are different; the law of the nation is different
Your mirror has been disgraced by the ugly image of your own   
_________________________________
All opinions and views expressed in columns and blogs and comments by readers are those of individual writers and do not necessarily reflect the editorial policy of Caravan