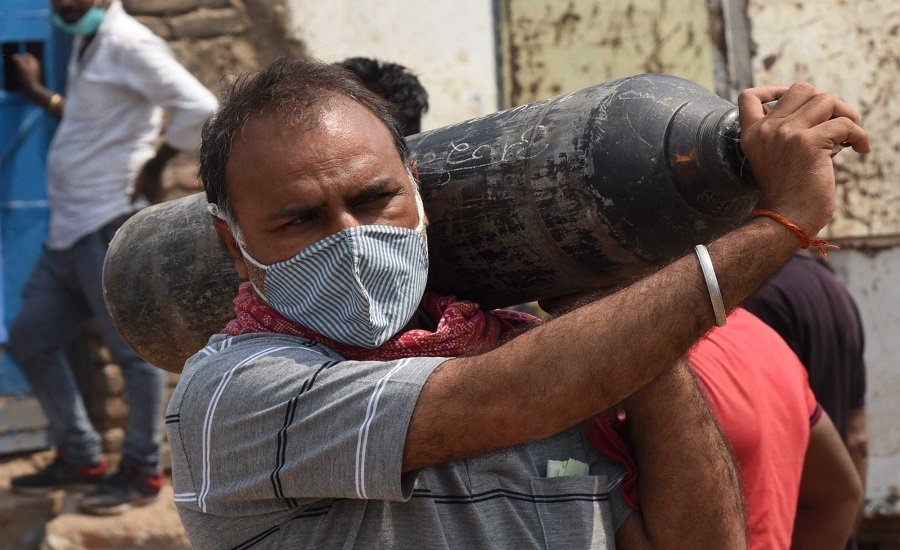 More empathetic view was required, say experts; Completely false statement, says Delhi's health minister
Team Clarion 
NEW DELHI — The Central government's statement in the Rajya Sabha that no one died because of the shortage of oxygen during the second wave of corona pandemic this April and May has sent a shockwave throughout the country with one opposition leader saying the bizarre claim has left him "speechless".
On the other hand, experts have expressed surprise and described the Centre's response as hollow and callous.
The Hindu cited public health expert and epidemiologist Chandrakant Lahariya as saying that the technically death due to Covid-19 would not be reported as "due to lack of oxygen" but the experience of patients and the fact that the availability of oxygen would have saved lives meant that the Centre should have chosen its words with care.
"They will be recorded as Covid deaths and a lack of oxygen will never be noted as an immediate cause. However, oxygen is necessary for treatment and the failure of the system to provide it has to be acknowledged. The Centre's bureaucratic response is contrary to the public experience and a more empathetic view was required. Not doing so means we run the risk of repeating mistakes," Dr. Lahariya was quoted as saying.
Malini Aisola, Convener, All India Drug Action Network, said the Centre's position was "absurd". It shows the Modi government is not ready to acknowledge the death toll in the second wave, she said.
"Oxygen shortage was undeniably a direct factor in causing numerous deaths — not limited to hospitals, but even patients who became stranded in homes and were struggling to get admission in hospitals," she told The Hindu.
"There is a reality that cannot be erased from public memory — of hospital owners making daily appeals for oxygen supplies, to the media and to courts, and sharing death tolls due to oxygen running out."
"The statement made in Parliament that there were no deaths reported by states caused by oxygen shortage is surprising and appalling. Policymakers at both the Centre and in states should not be hiding behind guidelines on death reporting which might not have included specific questions around oxygen shortage. It is well documented that oxygen stock-outs were a trigger and a key underlying reason for several deaths. We owe it to those who lost their lives to be transparent about what were proximate causes of these deaths, fix accountability, and work on ensuring that such a scenario never recurs in our health system," Anant Bhan, researcher, Global Health, Bioethics and Health Policy, said as per The Hindu report.
While minister of State for Health Bharati Pawar gave written reply  in Rajya Sabha that state had not "specifically reported" cases of people dying due to of lack of oxygen as technically true, the claim has sparked outrage as the hospital in the second wave reports that lack of oxygen lead to deaths of Coid-19 patients.
Meanwhile, opposition leaders also slammed the government for making such claims.
"I am speechless. For families who've lost their loved ones due to the shortage of medical oxygen, how would they've felt listening to this. These families should file a case against the government," Shiv Sena's Sanjay Raut told reporters, attacking the ministers of the Modi government.
Delhi's Deputy Chief Minister Manish Sisodia called the government policies "a disaster" as he accused the Centre of trying to hide its fault.
The health minister of Delhi slammed the government as he said: "It's completely false to say no one died due to the oxygen crisis. Why were hospitals making desperate appeals everyday at the High Court? The Centre may soon say there was no pandemic."