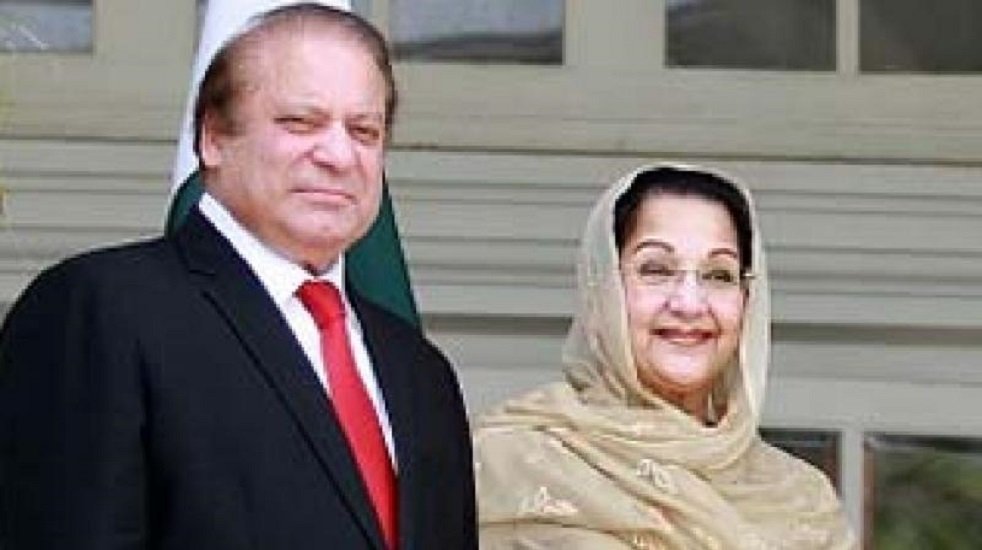 LONDON/ISLAMABAD (IANS) — Begum Kulsoom Nawaz, wife of deposed and now jailed Pakistan Prime Minister Nawaz Sharif, passed away in a hospital in London on Tuesday after months of battle with cancer, the family said.
She is survived by her husband and four grown up children: Hassan, Hussain, Maryam and Asma. Nawaz Shairf and Maryam are currently serving a jail sentence at Adiala Jail in Rawalpindi for corruption.
Nawaz Sharif, his daughter Maryam and son-in-law Mohammad Safdar will be granted parole to attend Kulsoom's funeral, Interior Ministry sources told the Geo News.
Kulsoom, 68, was placed on life support earlier in the day as her health deteriorated, Geo News reported.
The three-time former first lady was diagnosed with early-stage lymphoma in August last year and had been since then in London where she underwent multiple surgeries.
She was elected from a Lahore constituency in a by-election after her husband was disqualified from the seat by the Supreme Court last year but left for Britain even before she could start campaigning.
In her absence, Maryam ran her campaign. Due to her illness, Kulsoom was unable to return and formally take oath as a member of the National Assembly.
During Nawaz Sharif's exile after the 1999 military coup, Kulsoom took over reins of the Pakistan Muslim League-Nawaz and served as its President from 1999 to 2002.
Referring to her mother, Maryam Nawaz had said that she had dauntlessly challenged "an usurper" (read Pervez Musharraf) when "most men did not".
Born in 1950 in Lahore to a Kashmiri family, Kulsoom attended Islamia College and graduated from the Forman Christian College in Lahore. She received a Master's degree in Urdu from Punjab University in 1970.
All political leaders – opponents and otherwise – condoled the death.
President Arif Alvi offered support to the Sharif family.
Prime Minister Imran Khan expressed grief and promised that the government will assist the family in this time of need "as per law".
"Sad to learn of Begum Kulsoom Nawaz's death. She was a courageous woman of great dignity and confronted her disease with fortitude. My condolences and prayers go to the Sharif family," Imran tweeted.
Khan told the Pakistan High Commission to assist Kulsoom's family in London in every way possible.
Pakistan Peoples Party Chairman Bilawal Bhutto called Kulsoom a "brave woman" who struggled for democracy.
Army chief Gen Qamar Javed Bajwa also extended his condolences "to the bereaved family on the sad demise of Begum Kulsoom Nawaz".