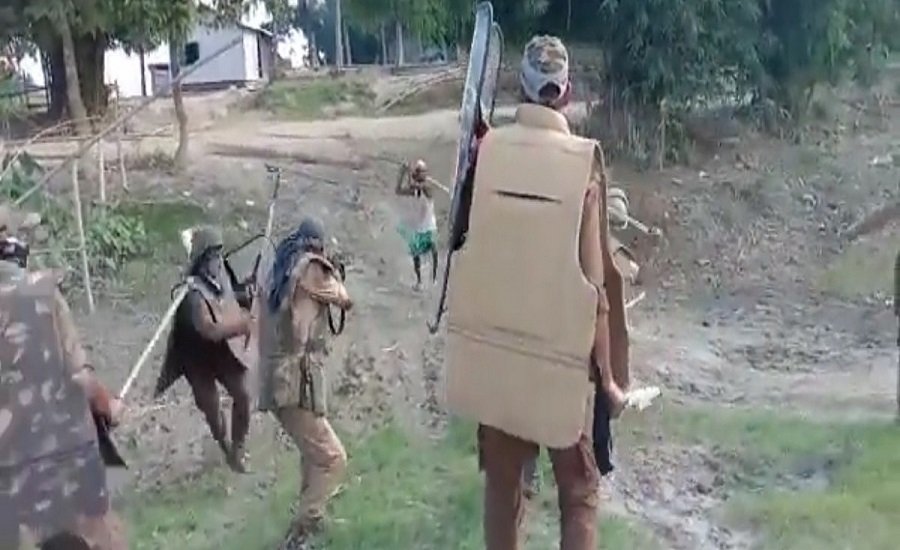 It says terms like 'illegal immigrants' are used as a 'smokescreen for inflicting violence on Muslims'
Team Clarion 
NEW DELHI – Joining the growing outrage over the Assam killings, a rights group of Indian expatriates in the United States condemned the eviction drive and police violence that claimed the lives of two Muslims in Assam's Sipajhar in Darrang district.
The violence has sent shockwaves across the world and invited condemnation of the Bharatiya Janata Party-led government in Assam as people are demanding action against police and justice for the victims.
A US-based group, the Indian American Muslim Council, said the eviction drive and violence show the BJP government is making attempts to render "Indian Muslims stateless within their own homeland."
Reports said that at least 800 families, Bengali-speaking Muslims, were evicted in the drive, and four religious structures were demolished.
The raid occurred despite the fact that 246 people had filed a petition for a stay, and a hearing scheduled for today had been deferred.
The authorities justified the eviction drive arguing that the people had "illegally encroached the land".
However, IAMC said, the terms like "illegal immigrants" are used as a "smokescreen for inflicting violence on Muslims".
"The use of such terms adds fuel to the Hindutva rhetoric that Muslims are foreigners in India," said the group.
Notably, the two people killed in the firing — Shaikh Farid and Moinul Haque, possessed Aadhar documents, a proof of their Indian citizenship.
Rasheed Ahmed, Executive Director of IAMC, said: "If India wants to remain a secular democracy, then it must shift its focus away from unilaterally declaring Indian citizens as 'illegal' and repeal the discriminatory laws that lead to this scale of brutality."