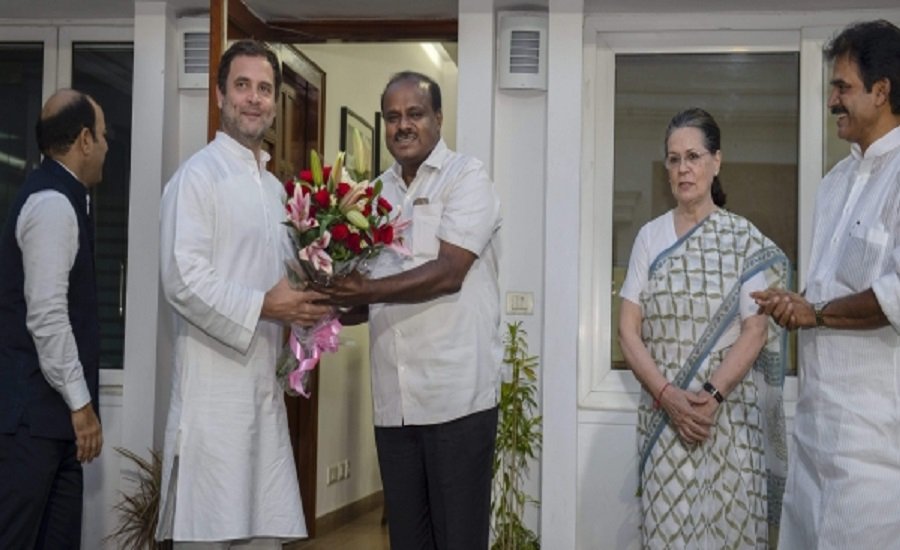 The reversal of the BJP's fortunes in Karnataka suggests growing national interest in an anti-BJP alliance.
NEW DELHI (Bloomberg) — India's divided opposition has seized on a new way to counter Prime Minister Narendra Modi's powerful Bharatiya Janata Party: bringing national and regional rivals together to take on the ruling party.
The reversal of the BJP's fortunes in Karnataka — where it won the most seats but was ousted by a coalition of the Congress and the regional Janata Dal (Secular)  — marks one more election loss at the hands of a united opposition. Despite a string of state poll victories, alliances have also thwarted PM Modi in recent Uttar Pradesh by-elections and in the 2015 Bihar state elections.
The Karnataka result shows India's main opposition may be prepared to take junior roles in coalitions if it means taking down PM Modi. So even if the BJP remains the most popular party, they could still lose upcoming state polls or suffer losses in next year's national election.
On Monday evening, Congress leader Rahul Gandhi tweeted that he planned to attend the swearing-in ceremony for Janata Dal (S) leader and incoming Karnataka chief minister HD Kumaraswamy on Wednesday in Bengaluru.
"The alliance in Karnataka is a platform for a larger anti-BJP coalition on a national scale," said Sandeep Shastri, a political scientist and pro vice chancellor at Jain University in Bengaluru. "But how much they build on that platform is an open question."
Opposition Coalitions
The BJP rules 21 of India's 29 states. In Karnataka, it won 104 seats in the 224-seat legislature, compared to Congress' 78 seats and 37 for the Janata Dal (S), leaving PM Modi's party eight seats short of a majority.
As the battle to form the state government unfolded, the opposition coalition was cheered on by leaders of two powerful regional parties: Mamata Banerjee of the Trinamool Congress in West Bengal, and the Bahujan Samaj Party's Mayawati, a Dalit leader and former chief minister of Uttar Pradesh.
That support suggests growing national interest in an anti-BJP alliance, said N. Sathiya Moorthy, a Chennai-based senior fellow at the Observer Research Foundation, an Indian think-tank.
"Very clearly it's an effort to get an alliance of state-based parties — and a message to the Congress party that if they want a future they need to ally," Moorthy said.
Unwieldy Partnerships
Coalition arrangements are nothing new in India, but they can be unwieldy.
The alliance that defeated the BJP in Bihar — a state of 100 million people — fell apart last year amid corruption allegations, allowing the BJP to prop up the ruling government.
Inherent contradictions among alliance partners will ensure these coalitions are short-lived, said K. C. Tyagi, of the Bihar-based Janata Dal (United), an ally of PM Modi's coalition. "What are their economic policies, or their stand on corruption? Will they allow state leaders to play effective and leading roles in the coalition?"
He said Janata Dal (United) will continue to be part of National Democratic Alliance.
Defeating PM Modi via a political alliance will not be easy. Local leaders for the Congress party, which led the fight for India's independence, may not want to concede power to regional parties.
Some upcoming state elections are also likely to be straight contests between the BJP and Congress. And then there's countering PM Modi's successful narrative.
"What will hold together this anti-BJP coalition is their negative view of the BJP," Shastri said. "A negative view alone cannot keep an alliance together. There will need to be something positive."
The result in Karnataka has boosted enthusiasm among PM Modi's opponents to unite and try to defeat the BJP in the 2019 national elections, said Yashwant Sinha, a former BJP finance minister who left the party.
"The national elections are the real goal," Mr Sinha said. "Karnataka has been a major landmark and has encouraged opposition to the BJP to try and come together, whatever the cost."