The history of toothless and pointless enquiry commissions to probe communal riots in India is as old as the record of communal violence.  Historically, for Indian Muslims judicial commission have often served to deprive them of justice and save the criminals and perpetrators of crime against the community, which is what is seemingly happening once again after the staged massacre of 8 Muslim men in Bhopal recently.  After the uproar over the killings, the BJP government has announced an enquiry by a former judge who is known for his close ties to Hindutva groups
AAZEEN KIRMANI
[dropcap]T[/dropcap]he Madhya Pradesh Government's announcement of a judicial probe into the  sequence of events leading to the jailbreak and the encounter in which of eight SIMI operatives were killed seems to be  a deliberate move to cover up the cold-blooded murder of 8 under trails who were  in all likelihood going to be declared innocent by court soon.
After the videos of the fake encounter showing the  police personnel  shooting an injured  SIMI activist point blank went viral  the MP Chief Minister Shivraj Singh Chouhan announced an NIA probe into the encounter , but when Madhya Pradesh High Court issued a notice to the state government on Thursday  seeking a detailed report on the encounter Chief Minister Shivraj Singh Chouhan ordered a judicial probe under a Justice SK Pandey who is a retired judge.
In another development Anand Mohan Mathur, a former Madhya Pradesh advocate general on Monday wrote a letter to Shivraj Singh Chauhan and criticized him for appointing Justice (retd) SK Pandey to probe Bhopal jailbreak and SIMI encounter.  He said the move was aimed at helping RSS and BJP propaganda about the killings. "Your selection of Justice SK Pandey is neither fair nor impartial, but tainted to help the propaganda of RSS and BJP about the encounter."
The fact is that for a common Indian Muslim a judicial commission is meant to deprive them of justice and save the criminals and perpetrators of crime against the community.
Sharfuddin Ahmad, a senior advocate of Allahabad High Court who is also the vice president of Social Democratic Party of India criticized the judicial probe and came down heavily on chief minister of Madhya Pradesh and said that Justice S K Pande is not authorized to enquire into genuineness, legality and authenticity of alleged encounter of under trials and there would be no duplicacy, if M P High Court at Jabalpur makes an order on PIL to make an impartial enquiry.
Ahmad demanded an investigation by SIT under monitoring of Supreme Court or by two sitting judges.
Unfortunately the Commissions of Inquiry Act under which the probe committees such as above are formed have become a tricky tool in the hands of ruling parties which use it to pacify disgruntled protesters and save their political ambitions from bearing the consequences of human right violation that has taken place under their administration and often with their sanction.
Under the Commissions of Inquiry Act, an Inquiry is not a court of law (even if it conducts proceedings like a court of law). The findings of such commissions are therefore not binding on Governments.
A few examples of probe committees formed by erstwhile governments over the decades will suffice to prove that these commissions serve little other purpose than to create convenience for the ruling party at the whim of which the tabling, acceptance and implementation of the probe's recommendations lie.
Saxena Commission: Moradabad riots 1980
Allahabad High Court judge Justice MP Saxena was appointed to probe into the massacre which took place at an Eidgah in Moradabad (UP) in 1980 and claimed 284 lives according to the official count.
The report submitted in May 1983, indicted V. P. Singh and some Muslim leaders for the massacre.
More three and a half decade later Justice MP Saxena Commission report on the Moradabad riots has not yet been tabled in the Uttar Pradesh assembly.
Parekh Commission: Meerut riots 1982
The Parekh commission was formed by then PM Indira Gandhi to investigate into Meerut riots which had claimed more than 150 lives. It started investigation in 1983 and submitted its report in 1988. However despite intervention of The Supreme Court no action has been taken on it.
Tiwari Commission: Nellie Massacre 1983
Tiwari Commission constituted to investigate into the Nellie riots in which 2,191 people (mostly Muslims) had been massacred. 33 years later no political party has taken any action on it. Notably only three copies of report exist.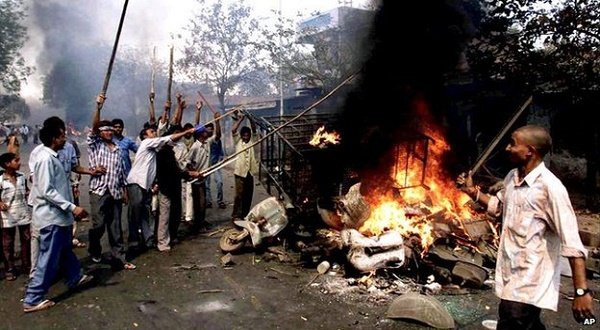 Commissions for Anti-Sikh Riots: 1984
10 Commissions (some non-judicial) were constituted to investigate the Anti-Sikh riots of 1984 in which according to official estimates 2,733 Sikhs were butchered in Delhi alone. Some of the ten commissions were constituted to look into the relief and rehabilitation of the victims.
The dismal level of rehabilitation offered to the Sikh victims and the negligible conviction rate vouches for the ineffectiveness of these commissions.
Mathur Commission: Kanpur riots 1992
The Mathur commission investigated the killings 0f 254 people (mostly Muslim) in Kanpur in 1992. In 1998 the Home Department received the Mathur commission report which had indicted many IAS and IPS officers along with public office holders. So far no action has been taken against people indicted in the report.
Liberhan Commission: Babri Masjid demolition 1992
Liberhan Commission was constituted by the Prime Minister PV Narasimha Rao in December 1992 in the aftermath of Babri masjid demolition.
Its report submitted in August 2005 indicted 68 people including LK Advani ,Murli Manohar Joshi , Atal Bihari Vajpayee  and Kalyan Singh , the then-Chief Minister of Uttar Pradesh . It also mentions RSS as the chief architect of the Masjid demolition.
Far from being held accountable these individuals and the RSS continued to enjoy political leverage in the decade since submission of the report.
Sri Krishna Commission: Mumbai riots 1992-93
Srikrishna Commission was constituted by the Government of Maharashtra to investigate into the Mumbai Riots of 1993. Its findings in which Justice Srikrishna had indicted Shiv Sena were rejected by the Shiv Sena government.
Many of the people (policemen and politicians) indicted in the report assumed promotions and important public offices.
Nimesh Mishra Commission: Arrest of Muslim men in UP 2007
RD Nimesh Commission constituted to investigate into the arrest of Khalid Mujahid and Tariq Usmani who were accused in 2007 court blasts in Lucknow and Faizabad. The Commission had found glaring inconsistencies in their arrest. The report was accepted and tabled in the state assembly. However Khalid later died in police custody under mysterious circumstances and Tariq Qasmi is still behind bars.
www.muslimmirror.com