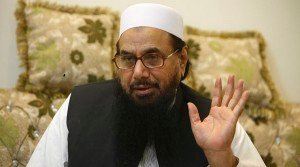 LAHORE (PTI) — An FIR will be registered against Jamaat-u-Dawa chief Hafiz Saeed, a senior Pakistani minister has said, without clarifying under which case the Mumbai attack mastermind would be booked. "Action against Saeed has been taken after taking all institutions on board. The government has put Saeed under house arrest for the time being but an FIR will be registered against him," Federal Commerce Minister Khurram Dastgir said. Asked under which case Saeed would be booked, Dastgir said, "It will be known in a few days".
Punjab Province Law Minister Rana Sanaullah said more Jamaat-u-Dawa (JuD) and Falaha-i-Insanyat (FIF) activists would be detained in coming days.
"We are watching the activities of the suspected workers of the JuD and FIF and more activists will be detained under Fourth Schedule of Anti-Terrorism Act," he said.
Talking to reporters, Sanaullah said Saeed's Kahmir policy is completely different from that of the Nawaz Sharif government.
"We will not compromise on national interest. Our policy on Kashmir is different from that of JuD's," he said, adding that the government is keeping an eye on the activities of the active workers of the JuD and FIF after placing both organisations on the watch list.
Meanwhile, leaders from diverse political spectrum have reacted to Saeed's house arrest.
Imran Khan-led Pakistan Tehreek-i-Insaf's senior leader Mahmoodur Rasheed alleged that the PML-N government had taken action against Saeed because of the US and India.
"Action against Saeed shows that the government has succumbed to Indian pressure," said Rasheed, who is also the opposition leader in the Punjab Assembly.
He claimed that Saeed was being punished for raising voice for the rights of Kashmiris and no one could doubt his "patriotism".
Jamaat-i-Islami leader and member Punjab Assembly Wasim Akhtar said Saeed had brought the Kashmir issue alive and there had been a lot of social work to the credit of FIF. He demanded the immediate release of Saeed and other JuD leaders.
Defence Council Pakistan (DPC) Chairman Maulana Samiul Haq said Saeed's house arrest was aimed at "pleasing India".
The DPC threatened to launch a protest movement if Saeed was not released immediately. It said the DPC will take out a nationwide rally on February 5 on the instruction of Saeed. JuD is part of DPC.
Saeed has been placed under a 90-day house arrest. There have been reports that Islamabad has immense pressure from new US administration to take action against Saeed and his organisations.
Saeed was also put under house arrest after Mumbai terror attacks in November 2008 but he was freed by court in 2009.