There is an urgent need to end the culture of impunity in India and Pakistan that allows culprits to get away with murder on one or other pretext – culture, tradition, religion or passion — against women
BEENA SARWAR
[dropcap]O[/dropcap]n May 27, two crimes that shocked the world took place, one in the morning in Lahore, Pakistan and the other at night in Uttar Pradesh, India. Three young women – two of them just girls, really, were killed in these incidents. A fourth casualty was the unborn child of the five-month pregnant woman in Pakistan.
Details of these incidents are perhaps not as important as the social structures (and in Pakistan, laws) that allow such murders to take place with impunity. Rarely, if ever, are the perpetrators brought to book – and that too only in selected cases that cause massive public outrage.
"First, you don't give women their rights, so what justice will you dispense? When you dispense justice, you do it as if you're granting a favou, giving charity. Justice given as a favor is more cruel", commented the late advocate Rashid Rehman Khan in Multan when I interviewed him for my documentary about the gang rape survivor Mukhtaran Mai.
Both India and Pakistan have seen incidents of violence against women that have been as horrific, or worse, than the recent cases. The outrage around the world this time was perhaps sparked by the visuals that made their way around via the internet and social media.
Frozen in these stills for eternity lies Farzana Parveen, the 25-year-old pregnant woman in Pakistan, on the road outside the Lahore High Court, her face bruised and battered by the bricks that her brothers and father had used to kill her. Nearby lies her shoe, a black ballet-style slipper trimmed with a girlish pink, topped with a red bow.
From a mango tree some 400 miles away in a village in UP, India, hang the two girls, 14- and 16-years old, one dressed in green, the other in a red shirt and purple shalwar. The local police registered a case only after the villagers refused to cut the bodies down.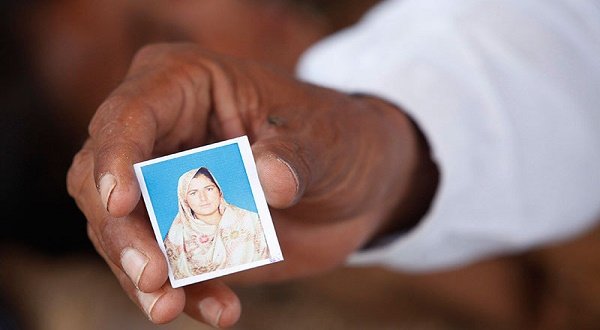 It speaks volumes for those responsible for law enforcement that we have to make a spectacle of our dead in order to get the necessary attention. The Hazara Shias have done this twice in Pakistan now, sitting out with the coffins and shrouds of their murdered kin in the open, until the government promised action.
Her male relatives killed Farzana before she could tell the court that she had married Muhammad Iqbal, a 45-year-old widower, of her own free will, that he had not abducted her as her family alleged.
In a bizarre development, Iqbal revealed that had strangled his first wife to death in order to marry Farzana. He was never punished for the murder. Under the Qisas and Diyat (blood money) law in Pakistan promulgated in 1990, the families of murder victims can 'forgive' the murderer, with or without accepting a sum of money from the perpetrator. Iqbal's next of kin, his sons, 'forgave' him, leaving him free to marry Farzana.
Similarly, Farzana's mother will 'forgive' her murderers – her father and brothers – unless the court accepts Iqbal as her next of kin. This will need to be established as Farzana's family had disputed the marriage.
Farzana was killed in order to avenge her family's loss of 'honour' according to her unrepentant father Mohammad Azeem. However, the real motive appears to have been greed. Iqbal says that Farzana's family had allowed their engagement, which lasted two years. He had paid Farzana's father Azeem around 800 dollars for the right to marry her, but Azeem later demanded another thousand dollars.
Rather than paying more, Iqbal and Farzana had opted for a court marriage.
In Karachi alone, over 250 couples a day opt for court marriages, a drastic rise from up to 15-20 a day in 1992, according to a yet unpublished study. That's over 91,000 such marriages a year – marriages not approved by the couples' families. Most of these cases do not make the news. The ones that hit the headlines are those that involve violence.
The practice of 'honor killing' stems from tribal traditions and customary practices, and has no religious sanction. Prior to the Qisas and Diyat law, such murderers would turn in the murder weapon and plead guilty to 'grave and sudden provocation' (known in the west as a 'crime of passion').
Farzana's case caught the world's attention largely due to headlines about a 'woman stoned to death'. This was misleading, and many news organisations corrected themselves later. Being bludgeoned with bricks is not the same as being 'stoned to death' though both are equally horrific, and the end result is the same – murder.
However, 'stoning to death' implies societal sanction, sentencing by a judge or village or tribal council. It evokes images of Taliban-era executions under what they claim is Shariah or Islamic law.
In fact, stoning to death is a pre-Islamic punishment imposed on Pakistan by military dictator Gen Ziaul Haq. The Shariat Court struck it down soon afterwards (PLD 1981 FSC 145 Hazoor Baksh). However, Gen Zia had the bench changed and in 1983, the new bench upheld the punishment. Even so, the witness requirements are so strict that the punishment can never be implemented.
Still, we can thank the sensationalist headlines about 'stoning to death', for catapulting the case to world attention.
Farzana's murder isn't the first such barbaric one to take place in Pakistan. The Human Rights Commission of Pakistan in its annual reports documents hundreds of murders for 'honor' every year. Women are burnt with fire or acid, hacked or beaten to death, raped and killed for 'honour' every day in our part of the world. In Pakistan, over 800 such cases were reported in 2013 alone; the actual number is likely to be far higher.
That 'honor' killings/crimes have a long history and occur in many parts of the world under different forms and names is no consolation, as activists point out.
"Of concern is that the practice remains a shamefully celebrated and accepted crime in many places including Pakistan; that women are abused, maimed and killed on mere suspicion and accusation; that innocent women are killed for reasons that have nothing to do with their own acts: to secure property, to extract money from someone, to ensure a lesser sentence when a man has murdered another man for reasons totally unrelated to any woman; that the physical murder of such women is compounded by destroying their life and memory by falsely accusing them of sexual misbehavior", writes the late advocate Hassam Qadir Shah, in 'There is No 'Honor' in Killing – Don't Let them Get Away with Murder' (Shirkat Gah, 2002), a booklet on criminal procedures in Pakistan.
There is an urgent need to end the culture of impunity that allows culprits to get away with murder on one or other pretext – culture, tradition, religion or passion.
Beena Sarwar is a a senior Pakistani journalist, documentary filmmaker and rights activist. She blogs at www.beenasarwar.wordpress.com
Courtesy The News International