Agencies
BANGKOK — At least 10 people were killed and many injured when a bomb exploded Monday outside a popular religious shrine in Bangkok, Thailand's police chief said.
"As far as I know there are more than 10 people dead, many injured. Our initial findings are it is a bomb inside the shrine," Chakthip Chijinda told Channel 9 television.
"We are checking to see if there is a second bomb."
Body parts were scattered across the street after the bomb went off outside the Erawan Shrine in the downtown Chidlom district of the Thai capital.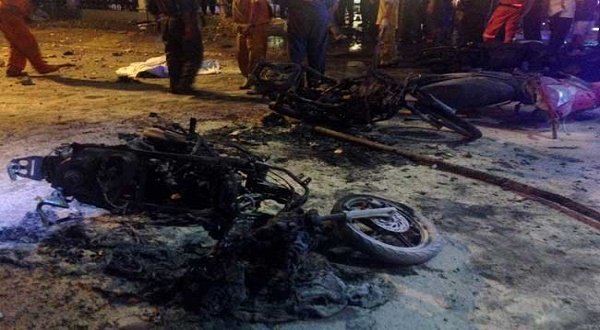 Charred and shattered motorcycles littered the scene, along with broken glass.
The Erawan is an enormously popular shrine to the Hindu god Brahma but is visited by thousands of Buddhist devotees every day. It is located on a main road on the Rajprasong intersection, which was the center of many contentious political demonstrations in recent years and is surrounded by three major shopping malls.
Police and ambulances rushed to the scene after the bomb went off around 7pm (1200 GMT) local time.
"I can confirm it was a bomb, we can't tell which kind yet, we are checking," national police spokesman Lietenant General Prawut Thavornsiri told AFP.