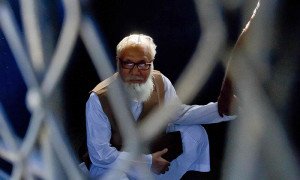 DHAKA (AFP): Bangladesh's Supreme Court on Thursday upheld the death sentence of top religious party leader Motiur Rahman Nizami for war crimes, paving the way for his execution within days.
Nizami, head of Bangladesh's biggest religious party Jamaat-e-Islami, was convicted of murder, rape and orchestrating the killing of intellectuals during the country's 1971 independence struggle.
"We're satisfied. Now there is no bar to execute him unless he seeks clemency from the president and the president pardons him," Attorney General Mahbubey Alam told AFP after the Supreme Court dismissed Nizami's final appeal.
Clemency has never been granted to a convicted war criminal in Bangladesh, and the 73-year-old is likely to be hanged within days.
Security has been stepped up in Dhaka, already tense after a string of killings of secular and liberal activists and religious minorities by suspected Islamist militants.
In 2013 the convictions of Jamaat officials triggered the country's deadliest violence in decades, with around 500 people killed.
Nizami took over as leader of Jamaat in 2000 and was a minister in the Islamist-allied government of 2001-2006.
Prosecutors said he was responsible for setting up the Al-Badr pro-Pakistani militia, which killed top writers, doctors and journalists in the most gruesome chapter of the 1971 conflict.
Their bodies were found blindfolded with their hands tied and dumped in a marsh on the outskirts of the capital.
Prosecutors said Nizami ordered the killings, designed to "intellectually cripple" the fledgling nation.
He was convicted in October 2014 by the International Crimes Tribunal, which was established in 2010 by Prime Minister Sheikh Hasina's government and has sentenced more than a dozen opposition leaders for war crimes.
Rights groups say the trials fall short of global standards and lack international oversight.