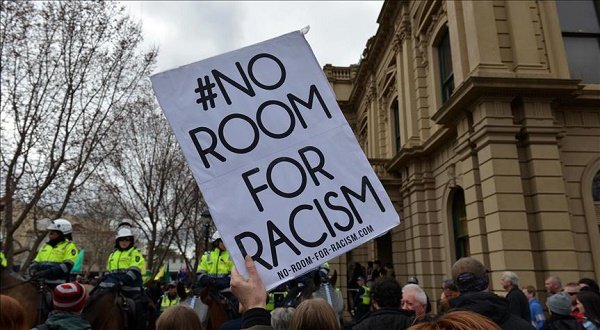 Jill Fraser
MELBOURNE (Anadolu Agency) — A surge of anti-Islam sentiment swept across Australia on Sunday as protesters waving placards displaying slogans screaming "Say No to Sharia Law" and "Halal is Extortion" attended rallies nationwide organized by far-right wing group Reclaim Australia and splinter group, LoveAustraliaOrLeave.
Hundreds of anti and pro-Islam demonstrators faced off at marches in Melbourne, Sydney, Canberra and Brisbane as part of Reclaim Australia's national day of activism against what they call the "Islamization of Australia".
There were fiery exchanges and violent clashes but only seven arrests in total.
All the arrests were in Melton, a suburb of Melbourne, where the proposed construction of a mosque has divided the community and become the latest catalyst for anti-Islam and anti-racism supporters.
The Victorian Civil and Administrative Tribunal overruled the council's decision to deny the Melbourne Islamic Centre a permit for a mosque in Harkness Rd in Melton West after a tribunal hearing earlier this year.
Reclaim Australia members also argue that they are concerned that the Al Iman Islamic School will move to Victoria University's Melton campus next year at the expense of the Melton Specialist School.
Melton has become the latest Victorian hotspot for anti-Islam protests, taking over from the rural town of Bendigo, where approval for the construction of a mosque has sparked violence, massive protests and led to the town becoming a flashpoint for ugly confrontations between anti- and pro-Islam groups.
On Sunday, around 1,000 demonstrators supporting Reclaim Australia and counter group No Room for Racism descended on the site of the proposed mosque in Melton, separated by a heavy police presence.
A number of the Reclaim Australia members covered their faces with Australian flags to obscure their identity.
Chanting opposing anthems, "Muslims are welcome, racists aren't" and "Integrate or immigrate", the rival groups became embroiled in several heated verbal exchanges and physical scuffles.
The seven arrests included a 29-year-old man who was accused of punching a police horse and had to be subdued with capsicum spray and three others who were charged with weapons offences.
Victorian Premier Daniel Andrews said he supported people's right to protest, but not the spreading of hate.
"The only form of legitimate protest is peaceful protest," he said.
Victorian Attorney-General Martin Pakula tweeted that members of Reclaim Australia were "cowards, mugs and bigots".
On Friday Reclaim Australia activist Philip Galea was jailed after he was found to be in possession of five Tasers, precursor chemicals and bomb-making manuals. Police executed warrants on Galea's home ahead of today's rallies.
Other rallies around the country were smaller and relatively trouble free. It's being suggested that the numbers at all the demonstrations were less than was being predicted because police had urged people to stay home.