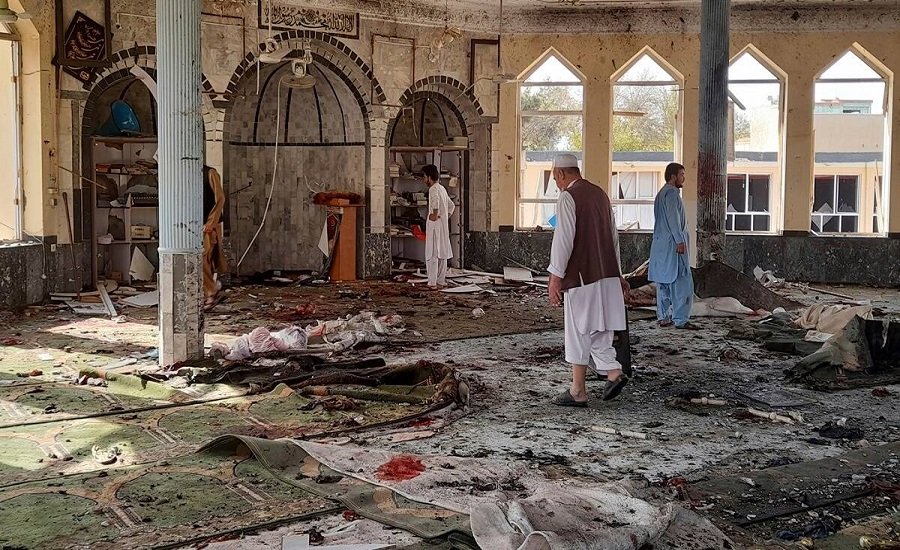 There has not yet been any claim of responsibility for the assault in Kandahar
Clarion India
NEW DELHI — After a week of a suicide attack at a mosque in the northern city of Kunduz, another explosion tore through a Shia mosque on Friday during prayers in the Afghan city of Kandahar, killing at least 45 while above 200 are reported to have been injured.
Though the explosion's cause is not yet clear, but it is suspected to be a case of suicide bombing. Murtaza Zarifi, a security officer at the mosque, claimed the attack was carried out by two suicide bombers, reports Anadolu news agency.
Taliban forces have blocked all roads leading to the mosque where the attack took place.
Pictures from inside the Bibi Fatima mosque show shattered windows and bodies lying on the ground with some other worshippers trying to help.
According to AFP, a doctor at the city's central Mirwais hospital said "Thirty-three bodies and 74 wounded people have been brought to our hospital so far."
"There are too many dead bodies and wounded people brought to our hospital. We are expecting more to come. We are in urgent need of blood. We have asked all the local media in Kandahar to ask people to come and donate blood," said the doctor.
An eyewitness told AFP he heard three explosions, one at the main door of the mosque, another at a southern area, and a third where worshippers make ablution before prayers.
The spokesman of the Interior Ministry under the Taliban administration, Saeed Khosti, also confirmed the incident, announcing in a statement that an investigation has been launched.
"We are saddened to learn that an explosion took place in a mosque of the Shia brotherhood in the first district of Kandahar city in which a number of our compatriots were martyred and wounded," tweeted Qari Saeed Khosti.
"Our initial information shows it was a suicide bomber who blew up himself up inside the mosque. We have launched an investigation to find out more," said a local Taliban official, according to media reports.
There has not yet been any claim of responsibility for the assault in Kandahar, the spiritual heartland of the Taliban.
IS-K, a local branch of the Islamic State, is expected to claim responsibility for the attack, the BBC reported as they have claimed the responsibility for the blasts in Kunduz last week in which more than 50 people were killed.
The Taliban government of Afghanistan vowed to stabilise the country, and in the wake of the Kunduz attack had promised to protect the Shia minority now living under its rule.