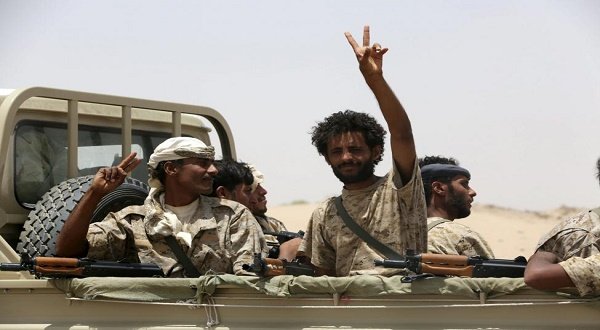 A Yemeni soldier gestures as he rides on the back of a pick-up truck accompanying Gulf Arab soldiers while they arrive at Yemen's northern province of Marib Tuesday, September 8, 2015. REUTERS/Stringer
DUBAI (Reuters) At least 20 Indian nationals were killed in air strikes by Saudi-led coalition forces on fuel smugglers at a Yemeni port on Tuesday, fishermen said, and more foreign troops were reported to be arriving to intensify the campaign against Houthi forces.
The Houthi-run state news agency Saba also said that 15 citizens were killed in air strikes on Sanaa, and medical sources said at least 15 civilians were killed in similar attacks on Monday. It was not immediately possible to independently verify the figures.
The alliance, made up mainly of Gulf Arab countries, has increased air strikes on Sanaa and other parts of the country since Friday, when a Houthi missile attack killed at least 60 Saudi, Bahraini and United Arab Emirates soldiers at a military camp east of Sanaa.
They were part of a force preparing to assault the capital, which the Iranian-allied Houthis seized last September.
Friday's attack was the deadliest yet for Gulf soldiers in the war and may herald a turning point as Saudi-allied countries appear to be committing to a ground war they had so far avoided.
In western Yemen, local residents and fishermen said planes from the Saudi-led alliance struck two boats at al-Khokha, a small port near Hodeidah used by Indians to smuggle badly needed fuel supplies into the country, killing 20 of them.
Officials were not immediately available to comment on the report.
Qatari-owned Al Jazeera TV reported that the number of forces deployed by the alliance had risen to 10,000.
A Yemeni military official denied any foreign reinforcements had arrived on Tuesday and a source close to the exiled Yemeni government, now based in Riyadh, said he believed the number of foreign troops reported by al Jazeera might be exaggerated.
Al Jazeera on Monday said that 1,000 Qatari soldiers had crossed the al-Wadia border crossing from Saudi Arabia.
"A second contingent of Qatari soldiers has entered the al-Wadia border crossing," an Al Jazeera correspondent in southern Saudi Arabia was quoted as saying.
BOMBING, AIR POWER
A source close to the Qatari military confirmed the report.
"The operation in Sanaa will use extensive bombing, air power, to support the ground offensive," the source said.
Qatari and coalition officials did not immediately respond to requests for comment.
Egyptian officials told Reuters that an unspecified number of Egyptian troops would arrive in Yemen on Tuesday and Saudi-owned Arabiya newspaper quoted sources as saying that 6,000 Sudanese troops would soon join the fight inside Yemen.
The Sudanese government did not comment on the report but it was corroborated by the source close to the Qatari military.
In Riyadh, a news agency run by Yemen's exiled government said that 10,000 loyalist troops were also preparing to take part in an advance on Sanaa.
The Yemeni government of President Abd-Rabbu Mansour Hadi fled to Riyadh in March as Houthi forces closed in on their last redoubt in Aden, triggering the Saudi-led intervention and fighting which has killed more than 4,500 people, many of them civilians.
Loyalist Yemeni forces and Gulf soldiers took back Aden and most of Yemen's south in July but battle lines have barely moved since as the allied forces face stiff resistance in the Houthis' northern redoubts.
The Saudi-led alliance sees the campaign as a fight against creeping Iranian influence but the Houthis deny being beholden to Tehran and say the exiled government in Riyadh and the coalition are U.S. puppets. They say they deposed a corrupt government.
(Reporting By Noah Browning in Dubai and Tom Finn in Doha,; Editing by Angus MacSwan and Dominic Evans)