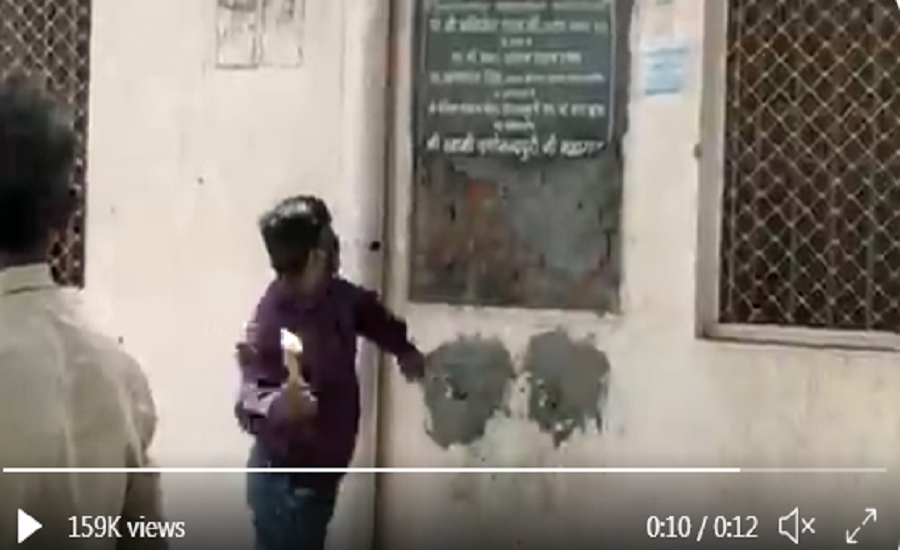 Temple committee in Aligarh files complaint with police
Team Clarion
NEW DELHI — Supporters of Hindutva extremist outfit Bajrang Dal on Tuesday barged in a temple in Aligarh and destroyed the foundation stone of a water cooler because it bore the name of a local Muslim politician who had donated it.
According to the Times of India, Karan Chaudhary, a Bajrang Dal member in the town, said that they cannot tolerate the name of a person from another community inside the temple. Chaudhary smashed the marble foundation stone with a hammer.
#BajrangDal activist breaks the foundation stone of a water cooler donated by #Samajwadiparty (youth wing) leader Salman Shahid to a temple in #Aligarh, as it had his name on it. @aligarhpolice @Uppolice pic.twitter.com/G0vqpRp0D4

— Anuja Jaiswal (@AnujaJaiswalTOI) June 30, 2021
Last week Salman Shahid, a Samajwadi Party leader, donated the water cooler to Khereshwar Mahadev temple in Aliagrh's Lodha area. A small event was organised where the temple priests expressed gratitude to Shahid for the noble act.
The temple committee resented the act of the saffron outfit and approached the police with a complaint. Satyapal Singh, the committee head, demanded a probe into the matter.
Shahid expressed shock over the hateful act of the Hindutva supporters saying that they are dividing the society on communal lines.
"I had announced that I will install 100 water coolers in temples, mosques and health centres across Aligarh. But some people cannot take this positively and are bent on giving communal twists to everything," Shahid told Times of India.
He said he had installed the cooler after discussion with the temple committee and head priest to address the scarcity of cold water at the temple in summer.