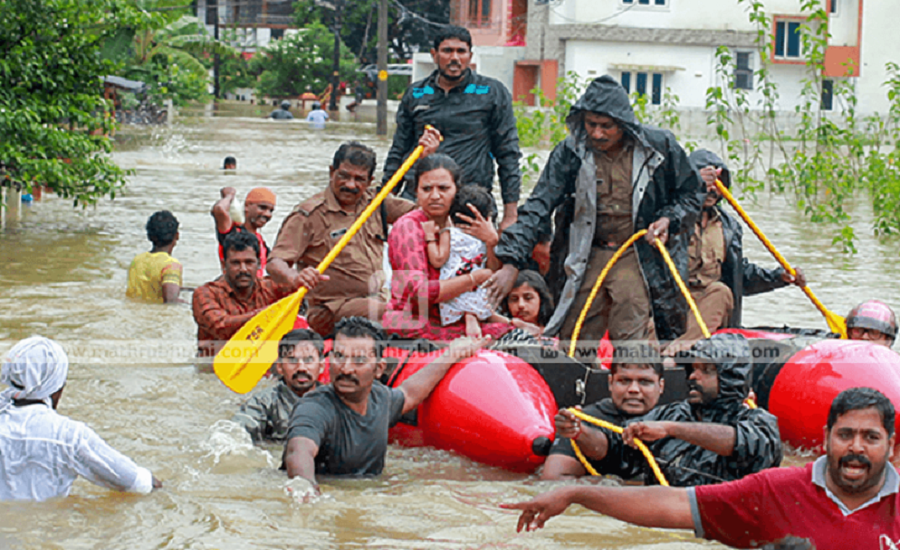 K.P. Hussain, chairman of Fathima Healthcare Group, has announced help day after Sheikh Mohammed bin Rashid Al Maktoum, Vice-President and Prime Minister of the UAE and Ruler of Dubai, appealed to people to donate generously for Kerala flood victims.
ABU DHABI — A United Arab Emirates (UAE)-based businessman has announced a 2.6 million dirhams ($707,837) donation towards relief operations in the flood-hit Indian state of Kerala.
According to K.P. Hussain, chairman of Fathima Healthcare Group, about half of the amount will directly go to the Kerala Chief Minister's Relief Fund, while the rest will be allocated for medical relief aid, reports Khaleej Times.
Hussain said that the group has coordinated with the state's health secretary to send volunteers from its medical faculty, which includes doctors and paramedics, to relief camps.
Other UAE businessmen had also earlier pledged donation to help in flood relief operations.
As of Sunday, the toll from the torrential rains and the subsequent floods that has ravaged Kerala since August 9 stood at 370.
UAE Vice President Appeals To People To Donate For Kerala Flood Victims
On Saturday, Sheikh Mohammed bin Rashid Al Maktoum, Vice-President and Prime Minister of the UAE and Ruler of Dubai people of his country to donate generously for the flood victims of Kerala.
"The state of Kerala in India is currently witnessing huge floods, the most devastating in a century. Hundreds have been killed, hundreds of thousands have been displaced. Ahead of Eid Al Adha, do not forget to extend a helping hand to our brothers in India," tweeted Sheikh Mohammed along with pictures of people being rescued in Kerala.
He also said that his government has formed a committee to collect aid for Kerala.
"UAE and the Indian community will unite to offer relief to those affected. We have formed a committee to start immediately. We urge everyone to contribute generously towards this initiative," said UAE ruler.
"The people of Kerala have always been and are still part of our success story in the UAE. We have a special responsibility to help and support those affected, especially during this holy and blessed days," said Sheikh Mohammed.
Past midnight on Friday, he made three tweets in three languages – Arabic, English and Malayalam.
Deep Gratitude to UAE leader: Kerala CM
Kerala Chief Minister Pinarayi Vijayan has thanked UAE PM for the initiative.
"Deep gratitude to @HHShkMohd His Highness Sheikh Mohammed bin Rashid Al Maktoum for his concern, generosity and large heart. People of Kerala will not forget this kind gesture shown in our time of need," said the CM.
"By offering his support at this time @HHShkMohd His Highness Sheikh Mohammed bin Rashid Al Maktoum has shown that he is a true friend of Kerala," he added.
Kerala Flood Toll Reaches 370, Rescue Operations Continue
The death toll due to the devastating rains and floods in Kerala increased to 370, as two more deaths were reported on Sunday with rescue operations continuing in the worst affected districts of Alappuzha, Ernakulam and Thrissur.
Authorities also withdrew the red alert which was issued in these three districts and the India Meteorological Department (IMD) on Sunday predicted moderate rains in a few districts of the state.
The worst affected places where people have remained stranded for the past three days without food or water include Chengannur, Pandalam, Thiruvalla, several areas in Pathanamthitta district and in Ernakulam's Aluva, Angamaly and Paravur.
But there were reports of fresh rains from these places resulting in a decrease in the water levels.
Meanwhile, a group of stranded fishermen who came to help with the rescue work in Alapuzzha from the state capital complained over the lack of coordination between authorities.
"We rescued several people but now there is no one to help us return to where we came from with our boats. We risked our lives in the rescue work but now there's no help for us," the group said.
V.D. Sateeshan, a Congress legislator from Paravur, Ernakulam, slammed the state Health Ministry over its failure to send relief teams.
In response, Health Minister K.K. Shailaja said that although the water level has come down in many areas, medical facilities might not have reached certain regions due to the magnitude of the crisis.
"This is because medical professionals found it difficult to reach the affected areas and by now it has been almost resolved. We need a huge quantity of medicines. A major health drive is being planned to prevent communicable diseases," the minister said.
She added that medical teams from neighbouring states will arrive soon.
"Now the problem is that with the water level coming down, it might not be able to operate the big boats and hence we will have to use small or rubber boats. There are areas in Chengannur where rescue missions are yet to reach and also in some interior water logged areas in Alappuzha," said a group of rescue workers in Alappuzha.
Rains in the catchment areas of the big dams in Idukki district have also subsided with the authorities shutting two of the five floodgates at the Idukki dam. The outflow of water from both the Mullaperiyar and Idukki dams have also reduced.
As a result of this, the water flow into the Periyar and its tributaries that flow through Ernakulam and Thrissur has come down.
On Sunday, the Kottayam rail sector restarted operations with special passenger trains,
The stste-run Kerala State Road Transport Corporation also restarted operations on the MC Road to Kottayam.
Communist Party of India-Marxist (CPI-M) General Secretary Sitaram Yechury, who arrived in the state capital earlier on Sunday, told the media that the central assistance that has been sanctioned was too little.
"The response from all across the country has been very well what needs to be done now is that Prime Minister Narendra Modi should declare this crisis as a anational disaster," said Yechury.
Responding to the Kerala opposition's demand that the rescue operations should be handed over to the Army, state CPI-M secretary Kodiyeri Balakrishnan said Leader of Opposition Ramesh Chennithala was playing politics when the state was facing one of the worst ever natural disasters.
"The rules are very clear and it is that the Army should act under the National Disaster Management Authority. It's not possible to hand it over to the Army and Chennithala is playing politics," said Balakrishnan.
Kerala is facing the heaviest rains and consequent widespread floods and destruction since 1924, which the state estimates has caused a loss of over Rs 19,500 crore.
— With Inputs from IANS