ISLAMABAD — ISLAMABAD: Pakistani police fired tear gas at thousands of protesters as they tried to march toward the prime minister's home in the capital on Saturday, blanketing the route with clouds of white smoke and scattering demonstrators.
The march's leaders, cricket-legend-turned politician Imran Khan and anti-government cleric Tahir-ul-Qadri, called for the demonstration to move to the house from separate massive rallies in front of the parliament, where they have been staging a sit-in for days. Some 20,000 police in riot gear are charged with blocking the procession.
In speeches, Khan and Qadri say they will remain peaceful and urged security forces to abstain from using force against the protesters.
The two allege that Prime Minister Nawaz Sharif won the 2013 election due to massive voter fraud. They demand he step down but Sharif has refused.
Both Khan and Qadri, a dual Pakistani-Canadian citizen with a wide following, also demand reforms in Pakistan's electoral system to prevent future voter fraud.

Pakistani Prime Minister Nawaz Sharif.
Backed by parliament and many political parties, Sharif has said he will not step down. Government negotiators are trying to convince Qadri and Khan to end their protest and abandon the demand for Sharif's resignation.
The demonstration began with a march from the eastern city of Lahore on the country's Independence Day (August 14). Khan and Qadri had called for millions protesters to join but crowds have not been more than tens of thousands. The protesters presence and heightened security measures have affected life and badly harmed business in the capital. The rallies have remained festive, with families picnicking and men and women dancing to drums and national songs.

Tahir-ul-Qadri.
Riot police initially showed restraint to Saturday's march but when the crowd started removing shipping containers used as barricades, they fired salvos of tear gas canisters that forced the crowds back. TV footage showed protesters, including women and children, scattering in retreat. Some fell to the ground and at least one person was shown evacuated by ambulance.
Police refused to give any estimates about the size of the crowd that had been headed toward the prime minister's residence.
Follow live updates below from Dawn News
1:06am
PTI protesters are reportedly backing off, while PAT supporters continue to advance.
Correspondent Irfan Haider who was present at D-chowk when the protesters started moving towards PM House said that as Qadri and Imran called on activists to advance, police personnel were charged.
Policemen struck their shield with batons in a chorus, with some chanting pro-government slogans. In return, Qadri supporters started to yell "Allah o Akbar".
The policemen standing in the precincts of the PM House fired tear gas shells to disperse protesters advancing towards the building.
Protesters dragged two policemen into the crowd.
---
1:03am
Tahirul Qadri speaking to DawnNews on phone: We are in the thick of it, in the middle of the situation.
Qadri was asked by DawnNews anchorwoman Meher Bokhari as to why he wasn't seen to be leading from the front. The line cut upon the question.
---
12:58am: Protesters enter Parliament house
DawnNews reports that charged protesters have now entered Parliament House. They are reportedly breaking their way in.
Imran's container has pulled up right next to Parliament, despite massive ongoing shelling.
DawnNews also reports that loudspeakers are encouraging protesters forward.
---
12:56am: Qadri rides out the clashes
12:51am: Shelling near Imran's container
Shelling by police personnel has once again started near the mobile shipping container that Imran Khan and other leaders from the PTI are stationed.
Helicopters hovering over the Red Zone are conducting aerial surveillance of the clash between police and protesters on the ground.
Inside Imran's container – @aqibmughal89/Twitter
---
12:46am
A car has reportedly crashed into the Parliament building's gate.
PAT's Khurram Nawaz Gandapur: "The government has sent people to kill the leaders will snipers."
---
12:39pm: 'No deaths'
Saira Afzal Tarar of PML-N: We do not have reports of critical injuries. One woman had difficulty breathing because of tear gas but she is now stable. According to my information, Dr Ayesha has said that there have been no reports to death.
---
12:35am: Clashes intensify, Imran says fight to continue
We will continue to fight against the government, till our last breath PTI Chairman announces.
Imran Khan described the police's action against the crowd as illegal. "Now we will show this government, we will call for countrywide agitation and we will jam the whole of Pakistan".
Clashes have turned violent again. Security forces are resorting to aerial firing.
They fired tear gas shells at us," said Ahsanullah Fakhri, 28, who was bleeding from his leg, as he exited an ambulance with some seven other protesters who had multiple minor wounds.
"I think they are also firing some bullets, I think rubber bullets," he added.
---
12:30am: 68 people injured
Clashes have erupted again.
Irfan Haider reports from PolyClinic Hospital: 68 people – police and activists from PAT and PTI – have been injured from rubber bullets, baton and stone pelting. There are no women; all men between the ages of 20 and 35."
---
12:22am: MQM calls on Nawaz to resign
MQM chief Altaf Hussain has demanded Nawaz Sharif to voluntarily resign from his position, DawnNews reported.
K-P Chief Minister Pervez Khattak: We are not going into any building, not going into any house not breaking anything. Chaudhry Nisar is a coward the government is afraid. All of Pakistan should come out and throw these people out.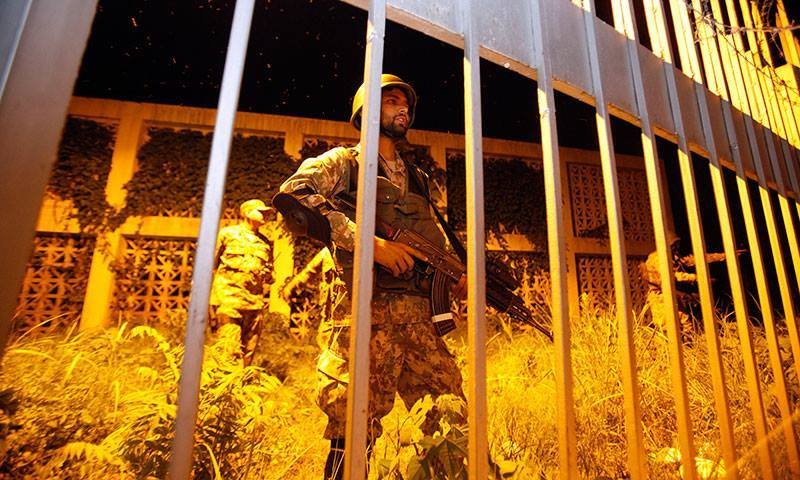 An army soldier stands alert near the prime minister's residence in Islamabad, Aug 30, 2014. — Photo by AP
---
12:20am: PTI still headed to PM house
Police still shelling protesters, using rubber bullets.
PTI's Shafqat Mehmood: We are in the container we go up but its impossible to stand out here for over three minutes. We are going up in turns. Imran has just been up. We are going to continue to march to the PM House.
---
12:15am: Where is Qadri?
Allama Nasir Abbas of the Majlis-i-Wahdatul Muslimeen when asked where Qadri was said the PAT chief was among the protesters.
The statement came as questions began to spring as to the whereabouts of Qadri who has not been seen since the events took a turn for the violent.
Questions are also being asked over Imran Khan's whereabouts.