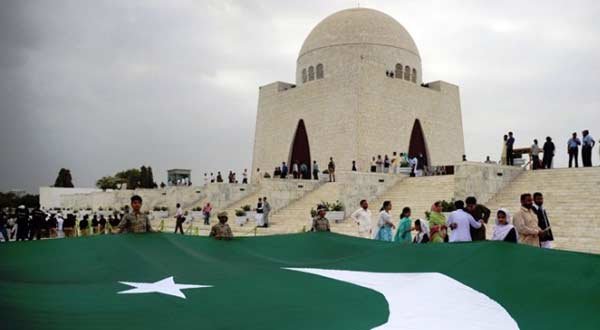 While symbolism of Jinnah as a national icon lingers on and is apparently thriving in official discourse,  the distance between the two has been increasing
KARAMATULLAH K GHORI
[dropcap]A[/dropcap] lot of myth-making and spin-doctoring has gone into presenting an establishment-friendly legacy of Mohammad Ali Jinnah, the founder of Pakistan.
This past December 25—Jinnah's officially-sanctified birthday—the daylong television galore began with the customary live coverage of the change of guards at his mausoleum in Karachi, the city where he was—according to the official version—born and later buried.
Jinnah's official biography says he was born at Karachi's old quarters of Kharadar (the Bitter Gate) in an apartment building (Wazir Mansion). That building has been a museum ever since his death. But non-establishment research into Jinnah's antecedents says he wasn't born in Karachi but in Jhirk, a small town in the historic Thatta district, about 60 miles north of Karachi.
The official account says he was born on the day of Christ's birth in 1876. But, school records of his primary enrollment in Jhirk mentioned October 20, 1875, as his date of birth. Even old textbooks, taught in schools in the early days of Pakistan, carried these facts without confusion.
A "grateful nation" mysteriously didn't evince any interest in building a befitting mausoleum over the grave of the Father of the Nation, or The Great Leader, his officially kosher and approved titles, with any alacrity. Jinnah passed away on September 11, 1948, but the cornerstone of his mausoleum was laid on July 31, 1960, and that, too, most ironically by Pakistan's first military dictator, field marshal Ayub Khan. Whatever his other faults in the eyes of detractors, Jinnah by consensus was not an aficionado of autocracy—and that, too, of a military nature.
A democrat to boot, Jinnah had little patience for Bonapartes. So he must be writhing in his grave at the idea of Ayub Khan—an antithesis of a democratic leader—laying the cornerstone of his belated mausoleum. It was a well-known secret of early Pakistan that Jinnah didn't like Ayub Khan one bit and had ordered his removal from the military command of then East Pakistan.
The architect chosen to design Jinnah's mausoleum was not from Pakistan. His sister, Fatima, chose an old family friend from Jinnah's favorite Mumbai, Yahya Merchant. Incidentally, the man who set musical score of Pakistan's much delayed (by 10 years) national anthem was also from Mumbai: Mohammad Ali Chhagla. His mausoleum took 10 years to complete. Its architecture has no indigenous Pakistani influence but a blend of classical Persian and Andalusian (Muslim Spain) architectures. And to complete the picture of Pakistani absence, the 81ft chandelier hanging from the high ceiling over the grave was a gift from the Muslim Association of China.
A mausoleum is but only a soulless collection of stones and glass. To those who inherited Jinnah's mantle of leadership in Pakistan it didn't matter that it reflected little of his secular soul. But Pakistan, the state he founded with his sweat and toil—as also a bit of guile—was a living thing. It was the end result of his long and meandering political saga as a pragmatic leader.
Much against the conventional wisdom drilled into the ears of Pakistani children in school text-books Jinnah wasn't a dreamer but a builder who built around the vision, or dream, of Iqbal, the philosopher-poet who himself, in his early days, was an eloquent champion of Indian unity.
Jinnah had raised the slogan of Islam as a tactical thing to rally disparate Muslims of India around his flag. But he knew that religion alone will not be a strong enough glue to hold the polyglot and multicultured people of his new state together for long. Maulana Abul Kalam Azad—Jinnah's arch-rival and nemesis in Muslim-centric politics of pre-Partition India—had openly cast doubts on the longevity of the house of cards he was assembling, and Jinnah apparently took the Maulana's warning seriously.
With an eye on what lay ahead for his infant state, Jinnah presented to his befuddled people a road map of the state three days before its birth. His August 11, 1947, inaugural speech at the Pakistan Constituent Assembly unequivocally spelled out his vision and hope of a secular and pluralist Pakistan. Jinnah's successors in power, however, quickly settled down to proving him wrong and Maulana Azad right. They started chipping away at Jinnah's secular Pakistan by replacing him with a "Maulana" Jinnah.
The traditional Muslim clergy of undivided India had loathed Jinnah for being a non-practicing Muslim. Now he was being shrouded in religious mystique. His successors said he dreamed of a religious sate, which was nonsense. All that he desired was a state anchored in Islam's pristine spirit of social justice for all its citizens.
The Objectives Resolution, passed within two years of his death, decreed Islam as state religion, nailing Jinnah's secular state. Pakistan's Constitution, written in 1956, embossed that decree in its preamble. The present Constitution, passed in 1973, makes no improvement on it.
His successors took 22 years to build his mausoleum but just two years longer to dismantle and dismember his Pakistan. The birth of Bangladesh was a direct result of Jinnah's puny lieutenants' betrayal of his non-religious and inclusive state. Pakistan's calamitous drift into the vortex of religious fundamentalism and fanaticism has made Jinnah increasingly irrelevant.
He is a misfit in a Pakistan where the two most powerful pillars of state are military and mullahs, a combination that never fancied him. So while symbolism of Jinnah as a national icon lingers on and is apparently thriving in official discourse  the distance between the two has been increasing. Pakistan in its shenanigans has practically disowned him, and Jinnah himself would be ashamed of being linked with a state rife with religious anarchy, bigotry and obscurantism.
An ungrateful nation in betrayal of its founding father is now heaping contempt on his legacy. I haven't been to his mausoleum for a good 20 years but a close friend recently came back shocked: they are charging an admission fee.
They first tried to mystify Jinnah, but are now also trivialising his legacy. What a shame.