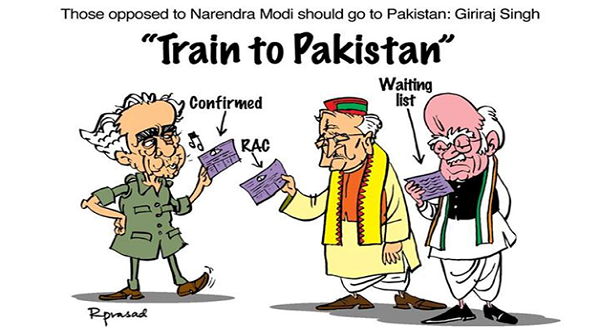 Is it once again time to take that train to the 'land of the pure'? An irreverent, quirky take on the profound issues raised by BJP leaders like Giriraj Singh and of course Narendra Modi
ASMA ANJUM KHAN
This is my Uncle Ghafoor's Secret Schindler's List to be presented to the next PM on May 16  via Ashilesh bin Maulayam
Respected Ashilesh Sir
[dropcap]A[/dropcap]ctually, you are of my son's age, but as you are a CM, I need to address you as respected only. Otherwise, if I treated you like my son, you would have found all my Bata Hawaiis, worn to shreds by now. Nevertheless, I still think of you as a son and would like to treat you the same. All this while, you have handled skirmishes among two eternally-warring communities exploitatively well. And your move of sedition charges against those 67 students was the Sixer on that last ball by Javed Miandad! Sorry for this seditious metaphor; but it has sunk deep.
This Javed, samdhi of  Dawood Bhai Dongriwale,  was our guest. Look how accommodating Maharashtra is….while we abuse, 'foreigners' from UP, we still hold true to, Love thy neighbor! Coming to this, Top Secret Schindler's list, let me clarify, I am here stating everything on the oath of our Pakistani Panj Soorah.
Take first my Amman jaan, 80 year old who reads these early in the mornings and when the copy gets tattered after years of use (and misuse), she demands for what? Another Pakistani Panj Soorah! You can imagine how I have been putting up with this old seditious lady for years. "Taj Company Limited, Lahore", whenever I read these words on the jackets of our old religious books, at home, my blood boils but cools down fast, after some time. But I don't know what really to do with my Dead Dadi. She used to reminisce about her Qeede-Aazam, Jinnah. In the year 46 of the 1900′s, he had come calling, to invite us to Pakistan, with promises of lands and kothis. He was given a grand band welcome.
My Dadi jaan then was assigned the duty of training the kids to sing the following Welcome song.
Muslim hai toh Muslim League mein aa
Wehdat ka tarana shauq se gaa
Kasrat se na darr, Tera hai Khuda! 
[If you are a Muslim, then join the Muslim League, Sing the songs of unity, Do not fear the majority, God is with you.]
I am sure, by 'kasrat' she perhaps meant exercise! (Is exercising seditious?) Now should I go and paint the word Ghaddar on her grave?  Whenever I asked her about the Qeede-Aazam episode, she used to say, Qeede-Aazam was our guest and we, 'entertained , him suitably, with a banging band. But did we fall for his promises? None from our family went to get those promised kothis. Sigh… we were called, Ghaddars, by Qeede-Aazam himself! . So you see, we hold a double distinction in this sedition matter.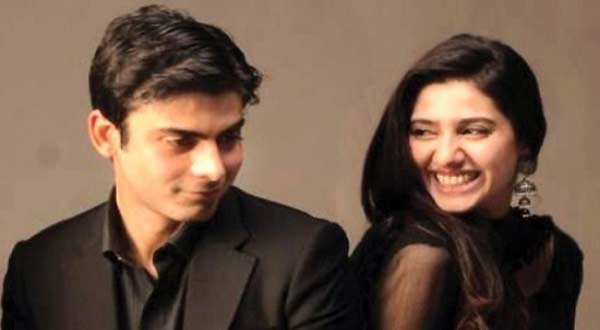 Thirdly, my daughter, whom her film buff grandpa named after Begum Para; I regret deeply to tell you is a fan of Pakistani TV star Fawad Khan. The day our Paro began watching those Pakistani serials, Alas! Bollywood in general and Shahrukh Khan, in particular lost their  biggest  supporter.  I still curse the day she first saw him, dolling out his histrionics in those silly serials, Humsafar, Kuch Pyar ka Pagalpun Bhi Tha! Zindagi Gulzar hai etc.  Our Paro's 'pagalpun' for Fawad Khan, knows no bounds, sorry boundaries.
I tried cajoling her to be back to the pavilion, but she is her father's daughter [that's, of course, me!]; she tells me, that Pak serials make her feel closer to her tehzeeb. While Indian operas make gajar ka halwa and sarson da saag; there, they also make  Shaami Kebabs, biryanis and qorma with naan or rumali rotis and words like Sssalamaalekum, Allah Hafiz, Phoopi jaan, Khalaa jaan and "Amaan Yaar", warm her heart, immensely.
Paro with that mischievous twinkle in her ever sparkling eyes enlightens further that, in the eyes of a few, Shahrukh too is a traitor. And before I can open my mouth to say anything, she brings out that name Yusuf Khan [there; here he is Dilip Kumar]… as I happen to be a great-grand fan of this brother in law of Begum Para.
You know nah he had got…er his…Nishan-e-Imtiyaz from Pakistan? Alas! This one Nishaan [or say Dagh] of being a Pakistani is never wiped out from our Maleechha beings. My friend  Mishra consoles, but wickedly, Kyun ke kuch dagh ache hote hain!  His iniquitous grin seems seditious to me but perhaps his surname helps him keep clean, from Daaghs. We have been living with these Daaghs and now some of us have got so used to these, that we just don't care. What to do? Can't wash and wish them off and sons like you won't allow us to be wishy-washy about them.
But we demand this seditious tag also for that father of Alia Bhatt; [imagine his audacity, asking his daughter to not perform those seditious 'thumkas' at your Saifi Shame Festival]. And What about those AMU students , who  protested  against  your  Daddy's visit,  but  gave a hearty welcome to Pakistani President Pervez Musharraf, a few years ago?  Your large hearted Abba Jaan might forgive them as he forgave those 'Repeat Rapists' of Shakti Mills: Jaane do, ladke hain, ghalti ho jati hai.
I say, to hell with, 'these' ghaltis. Don't give them the dheel, oops, the deal.
And listen to Om Puri, the actor' who after crossing the Wagah declares, "I feel like I was born today!"
And…What about that new novelist Anees Salim? In his award-winning Vanity Bagh [and who gives him the award?  It's some old fellow called, The Hindu! ]  what does he mean when he says, There is a Chota Pakistan found in every Indian city? What about the colour green! Should it be declared seditious too? Now let's cross the border, for a few minutes and listen to Central leader of JKNAP, Liaquat Hayat Khan. "
In 2011 a case of Treason was registered at Dadyal police station against two Kashmiris the vice president, National Awami Party (NAP) Khawaja Naeem and Disrtrict President Mirpur Imran Shehzad. They had been accused of celebrating the victory of India over Pakistan during a cricket semi-final that was held in the Indian city of Mohali. The case is still live". Now what comment do you expect from me, after this?  Except,
Donon taraf hai aag barabar lagi huwi!
Some good guys celebrating India win in Karachi. Our good neighbor, Bangladesh too is thinking of banning those cheering for Pak, after all we, the 'good' neighbors should unite against that forever enfant terrible. The biggest tragic case is that of  one of my uncles who used to cheer for Pakistan when here, but now in Karachi , he is rooting for India!(Who is that calling us Indian Muslims, Stupid?) Actually, this supporting of Paki team is symptomatic of a defeatist mentality. I know.
And here comes the latest.  BJP candidate from Bihar, Giriraj Singh wants to pack off Modi critics…to where? Pakistan. But  why Pakistan? (I wish he could pack us off to Dubai or Dublin instead! ) "Is it not true that Pakistan is using all its resources to prevent Narendra Modi from becoming the PM?" he said. "Even within the country, there are people with the Pakistani mindset who are opposing Modi and their proper destination would be Pakistan, which is their political Mecca-Medina." 
You see this Daagh of Pakistan is never going to wear off. Want to embarrass Indian Muslims, call him/her a Paki and lo and behold, see the rage….Pardon, watch the fun.   Sorry to say, many of my people have now become brazen enough and laugh it off! Better to pack us off to Nu-yok, or  kam az kam Dubai, yaar! They reiterate. They are serious, trust me. And we already see cries of, Chalo Pakistan, on Twitteristan. And see this and please do not collapse! It's only a ship. Relax or call Alia Bhatt.
If you insist, pack me off to Lahore or Murree, I don't like Karachi, it is full of my relatives, who chose to migrate. We can do more such charcha over chai, but seeing me doing my Schindler's list,  Paro is  humming,  Doob maro chullu bhar chai mein, Abba! After this she tears up my list.
Sigh. It's difficult being the father a headstrong teenager, as well as a simple, plain Indian in India. Chalo P……!
In passing, here's some food for thought:
"If a modern Diogenes were to hunt out for Indians with his lantern, in these days, he would be sure to come across fervid Hindus, bigoted Muslims and fanatical souls deeply engrossed with the problem of tirelessly finding out how unjustly their own particular community was being treated and he would have to ask in sorrow; Where are the Indians?" (Syed Abdullah Barelvi, Editor, The Bombay Chronicle, May, 1926.)
Asma Anjum Khan is Assistant Professor of English and a community activist based in Maharashtra, India
All opinions and views expressed in columns and blogs are those of individual writers and do not necessarily reflect the editorial policy of Caravan