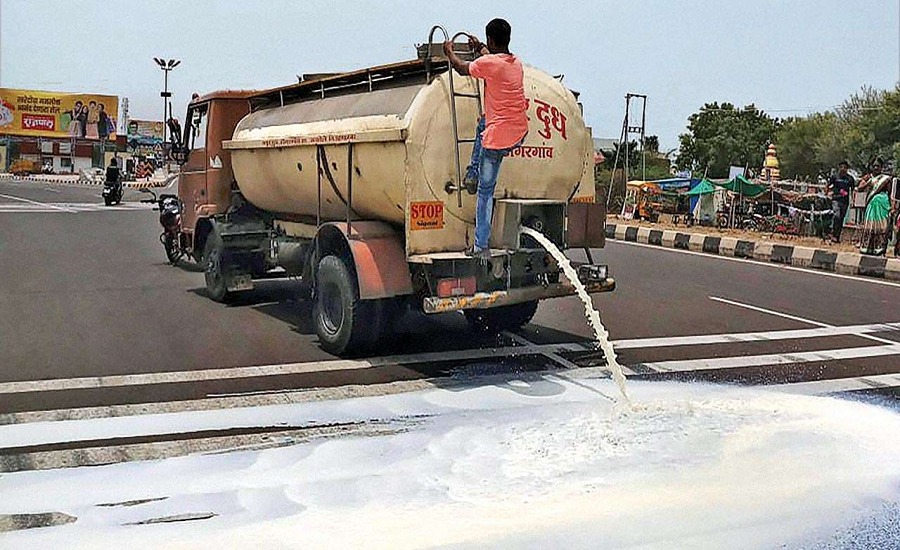 While consumers in the state fear a shortage of milk, angry farmers are demanding a subsidy from the government following the sharp fall in price they get from dairies
Ashok Kumar | Clarion India
MUMBAI – While thousands of litres of milk were being splashed on roads in different parts of south Maharashtra by dairy farmers demanding better price for their products, hundreds of thousands of consumers across the state could face an acute shortage of the commodity.
The powerful dairy farmers lobby, led by farmer-leaders and the BJP, threatened to intensify their stir on Wednesday, accusing the government of backing dairies which have slashed the rates they pay farmers.
Raju Shetti, the chief of the Swabhimani Shetkari Sanghatana (SSS) is leading the agitation along with the state unit of the BJP. A meeting with the state government leaders on Tuesday did not bring about a solution, though the government promised to consider providing a Rs5 per litre of milk subsidy to the farmers.
But if that does not materialise, the farmers have threatened to intensify the stir from August. The protestors are demanding the government provide a direct subsidy of around Rs5 to Rs10 a litre, to help them meet the cost of production of Rs22-Rs23 a litre.
Shetti has also demanded the government stop the import of 10,000 litres of skimmed milk. Former minister and leader of another regional movement, Sadabhau Khot, is also backing the agitation. According to Khot, the protestors will decide on the future course of action later this week.
The Maharashtra government claims that milk prices have plunged because of slackening demand during the current Covid-19 crisis. Dairies have slashed the procurement prices for farmers because of the low demand.
The rapid spread of the Covid-19 pandemic has put an end to social gatherings, where a lot of dairy items are consumed. Shops selling sweets and ice-creams have also remained shut across the state for the past few weeks, further reducing demand for milk, the dairy lobby argues.
Adding to the woes, last month the Union Ministry of Finance exempted imports of milk and cream in powder, granules or solid form under the tariff rate quota (TRQ). The price of skimmed milk powder (SMP) has also fallen sharply, partly as a consequence of the global slide in price because of Covid-19.
Farmers were earlier being paid Rs30 for a litre of milk with 3.5 per cent fat and 8.5 per cent SNF (solids not fat). Today, the rates are down to a little above Rs15 and Rs22 a litre.