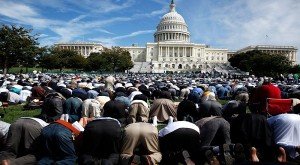 It's been so moving to see 'We're All Muslims Now' signs. And we're going to see tons of them in Times Square this Sunday. Thanks, Donald!
Dean Obeidallah
WASHINGTON — Donald Trump has done something truly amazing: He has inspired thousands and thousands of Americans to stand up for Muslims in opposition to his "Muslim ban." It's such an astounding development that I'm almost happy Trump won!
I'll be blunt: I never expected to see so many of my fellow Americans take to the streets in over 30 cities from New York to Los Angeles to even Omaha, Nebraska, to make it clear that they not only opposed Trump's "Muslim ban" but were standing shoulder to shoulder with Muslims. As a Muslim American, I found it hard not to get emotional seeing this outpouring of support for our community.
It was especially awe-inspiring to see so many protesters expressing solidarity with our community by holding up signs that read, "We are all Muslims now." In fact, The Daily Show's "Muslim correspondent," Hassan Minhaj, noted on the show recently the "beautiful irony" at play given Trump's fear of the spread of Islam. Minhaj then joked, "Well congratulations, Mr. President, mission accomplished," as a protest sign that read "We are all Muslims now" appeared on the screen.
And this Sunday in New York City we may very well see the biggest gathering of all of people coming out to stand with Muslims. That's when the "I am a Muslim too" rally will be held in Times Square organized by Russell Simmons, Imam Shamsi Ali, and Rabbi Marc Schneier.
Simmons explained via email, "This rally is meant to focus on this attack on our Muslim brothers and sisters because an attack on them is an attack on all of us." He added, "We can never truly be free until all of us are free."
The focus of the rally, as the invitation to faith and community leaders, states, is to protest Trump's Jan. 27, 2017 executive order. The three organizers are urging these leaders to "lend your powerful voice" to show that you "oppose all types of discrimination against marginalized populations."
Rabbi Schneier, who has worked along with Simmons for years as leaders of the Foundation For Ethnic Understanding (FFEU) that strives to bring diverse communities together, shared why he believes the "I am Muslim too" rally was needed now. "A people who fight for their own rights are only as honorable as when they fight for the rights of all people," he says. "In this spirit, we stand in solidarity with the American Muslim community in the face of growing Islamophobia and Muslim bigotry in our country."
Imam Ali, one of the leaders of New York City's Muslim community, has been working together with Simmons and Schneier for years now on increasing understanding between Jews and Muslims as well as countering bigotry. Ali explained that Sunday's rally "goes beyond just opposing Donald Trump's discriminatory policy of the Muslim ban. It's truly intended to be a celebration of the true spirit of America, which is caring loving and compassionate to refugees and immigrants."
Organizers have reached out to a range of elected officials, celebrities, and community leaders to speak a rally. A full list will be released by Saturday per the event team. On a personal note I'm excited to be the co-emcee for the rally together with Jewish comedian Judy Gold.
The hope is for a massive turnout to make a powerful statement of unity with Muslims. But even if, say, 20,000 people or more attend, the sobering reality is that a recent CNN poll finds that just 53 percent of American oppose Trump's Muslim ban. It would be much more heartening to see 65 percent or more of Americans opposing what is clearly anti-Muslim bigotry cloaked in an executive order.
Plus a new report released this week by the Southern Poverty Law Center found that the number of anti-Muslim groups has nearly tripled from 34 in 2015 to 101 in 2016. There's little doubt that Trump's campaign filled with anti-Muslim hate from lying that "thousands" of Muslims cheered in New Jersey on 9/11 to his jaw-dropping claim that "Islam hates us" has embolden people to feel more open about hating Muslims.
And the lurking concern for our community is how would Trump react if there were another ISIS terror attack on U.S. soil or even Europe? After all, Trump and his team are the most anti-Muslim administration in our nation's history with people like Steve Bannon, former Brietbart writer Sebastian Gorka, and adviser Stephen Miller who in college teamed up with anti-Muslim activist David Horowitz for "Islamofascism awareness" week on his college campus. Nothing can be ruled out, from a Muslim registry to even internment camps.
With that said, however, we have simply never seen such an outpouring of support for Muslims in America than during the Trump campaign and even more so now in the weeks after his executive order implementing the Muslim ban. It's been exhilarating and inspiring to see that so many of my fellow Americans care enough to speak out and stand up for us. They truly epitomize the best of America. And given this avalanche of love to oppose Trump's hate, I actually on some level have to thank Trump. Without him we would've never known how many of our fellow Americans truly cared about us. (thedailybeast.com)