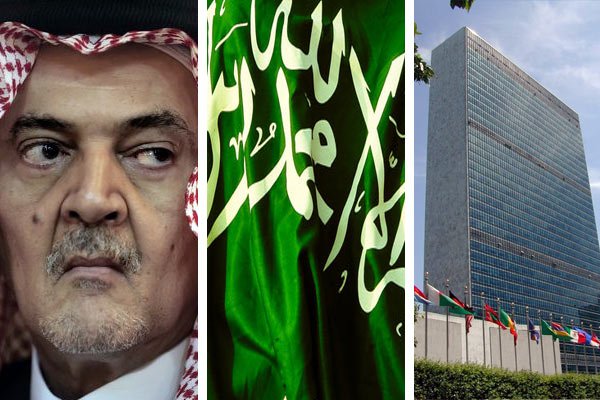 October 3, 2013
By P K Abdul Ghafour
JEDDAH (Saudi Arabia) — In an unprecedented move, Saudi Arabia has not delivered its annual address at the UN General Assembly in protest at the international organization's failure to solve major Muslims issues such as Syria, Palestine, and the Rohingya in Myanmar, Arab News reported.
"This is the first time that Saudi Arabia has canceled its UN address. It did not even distribute copies of the speech which was supposed to have been delivered by Foreign Minister Prince Saud Al-Faisal on Tuesday," said a diplomatic source.
"This reflects Saudi Arabia's displeasure with the way the United Nations handled the Syria crisis and the report of the UN inspectors about the use of chemical weapons in Syria," the source said. The UN Security Council was focusing on the chemical weapons issue, but ignoring the basic issue of Bashar Assad's massacre of the country's people in the last three years.
"Saudi Arabia is not against the united international position, but at the same time, it does not want to support what is happening now at the UN Security Council," said Abdullah Al-Mouallimi, permanent Saudi representative at the UN.
"Saudi Arabia used to distribute its speech among participants of the General Assembly if it was not able to deliver it, but this time it decided to cancel the speech altogether," Al-Mouallimi said.
Jamal Khashoggi, a prominent Arab journalist and general manager of Al-Arab news channel, said the Saudi move was aimed at putting pressure on the UN to take immediate action to solve pressing issues, especially those related to the Islamic world.
Speaking to Arab News, Khashoggi said a number of Muslim countries including Turkey, Malaysia and the UAE had expressed their unhappiness over the UN's failure to resolve Muslim issues. "This will lead to Muslim countries demanding UN reforms," he said.
He said the Saudi stand would have a significant impact regionally and internationally because of its position in the Islamic world. "Riyadh was upset over the UN move to sidetrack the Syria issue, and to concentrate more on dismantling Syria's chemical arsenal, which will take more than a year. Until then, the UN will keep watching the killing of Syrian children," he said.
Khashoggi said Saudi Arabia was calling for strong and decisive UN action against Syria fearing a spillover into neighboring countries including Lebanon, Jordan and Turkey. "The growing number of refugees will change the demography of Jordan and Lebanon," he said.