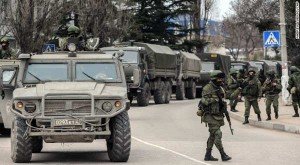 MOSCOW, Mar 04 – Russian President Vladimir Putin ordered forces engaged in military drills to return to their permanent bases, the Kremlin said Tuesday.
Presidential press secretary Dmitry Peskov told the media that Putin, also the supreme commander-in-chief of the Russian armed forces, made the decision after watching the final stage of the exercises at the Kirillovsky range in the Leningrad region Monday, Xinhua reported.
The "successful accomplishment" of the exercises, as part of the president's inspection of armed forces in the western and central military districts, was reported to Putin Monday, Peskov said.
Moscow denied last week that the large-scale drills were linked to the crisis in Ukraine, with Russian Defence Minister Sergei Shoigu saying Saturday the snap drills were aimed at checking the military's combat readiness.
Over the weekend, Russian forces were reportedly beefed up along the Russia-Ukraine border and in Ukraine's southern autonomous republic of Crimea, host to Russia's Black Sea fleet in the port of Sevastopol.
On Monday, the Russian foreign ministry refuted NATO allegations that Moscow was conducting a military escalation in Ukraine's Crimea, saying its Black Sea Fleet based in Crimea was not interfering in Ukrainian internal political events.
The Ukrainian crisis, which originated from protests against President Viktor Yanukovych's decision last November to put on hold an association agreement with the European Union to get Russian aid, took an abrupt turn in the past two weeks, following bloody clashes between protesters and police.
Yanukovych was ousted by parliament and fled to Russia.
The mostly Russian-speaking Crimea is now the epicentre of the ongoing crisis. Some 50 armed men carrying Russian navy flags took control of two airports in the Crimean capital of Simferopol Friday, one day after gunmen seized the local parliament and government buildings.  — IANS