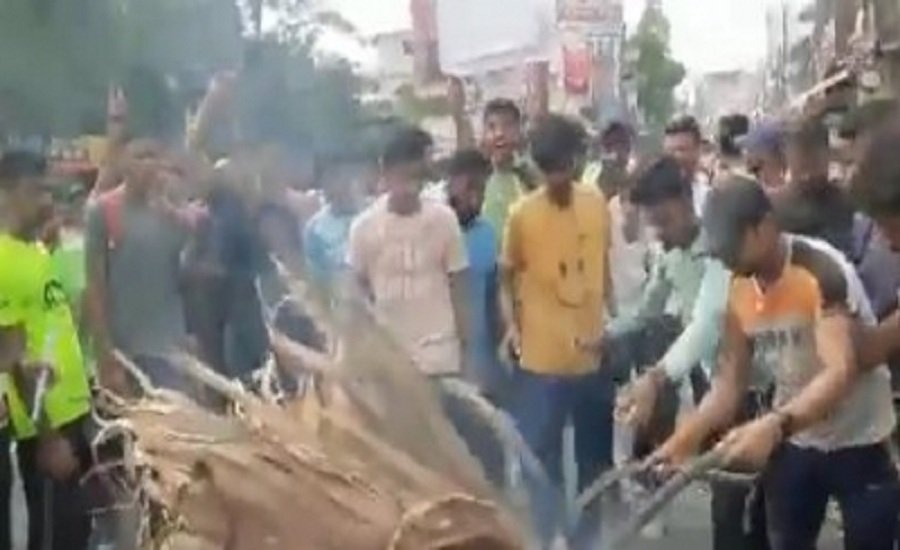 Comparing the action to the game of PUBG, the protester warned the government against playing with the future of the youth
Team Clarion

NEW DELHI – Youths in Bihar, especially those aspiring for army service, received a jolt when the Central government announced its Agnipath Scheme for recruitments in the army. Such was the anger and frustration of the youth in Bihar that massive protests spilled over the state.
Protests have been reported from Buxar and Muzaffarpur where the youths came out on the streets in large numbers to register their resentment to the scheme that is an attempt to reduce the army service to an ad hoc and contract job.
In the morning, the candidates gathered at the Army Recruitment Board office at the square intersections of the city in a protest demonstration with sticks in their hands.

Local reports said the youths staged a fierce demonstration blocking the Patna-Muzaffarpur main road at Bhagwanpur Chowk. Apart from this, the Muzaffarpur station road was blocked by the protesting army aspirants. There are also reports of the protests turning violent at some places. Anti- government slogans rent the air. The protesters also raised slogans like 'Bharkari Do, or Arthi Do' (Give us a job, or arrange for our funeral).

"We have passed the physical examination and are waiting for the written examination. Now, the Centre has said that recruitment will take place only for four years. The Centre is playing with the future of the youths. What will we do after four years," asked an agitating job aspirant Rajnish Kumar in Muzaffarpur.

The students burnt the effigies of Prime Minister Narendra Modi and Defence Minister Rajnath Singh. Due to the massive protest, the district police had to resort to a baton charge to disperse them from Chakkar Chowk in Bhagwanpur and Mandi Chowk.
The protestors said they have been preparing for the recruitment in the army with the hope of getting a well-paid full-time job. But the government's decision came to them as a bombshell, a bolt from the blue.

Comparing the action to the game of PUBG, the protester warned the government against playing with the future of the youth. They said if it persists with such schemes, it should prepare for more fierce demonstrations, a Hindi daily reported.

As soon as the news of the protest turning violent came in, the police rushed to the spot and were able to disperse the protesters from the road with some effort. However, they have not registered any case, reports added.

In Buxar, heartbroken youths expressed their anger by stopping the train at the railway station. However, the Railway Police persuaded them to vacate the railway track.

"What can we do after four years of service on contract", was a common refrain among the army aspirants. Commenting on the government's Agneepath scheme, RJD leader Tejashwi Yadav asked, "After the defence forces, will they (the candidates) have the job of a guard of some industrial unit of BJP's business friend?"