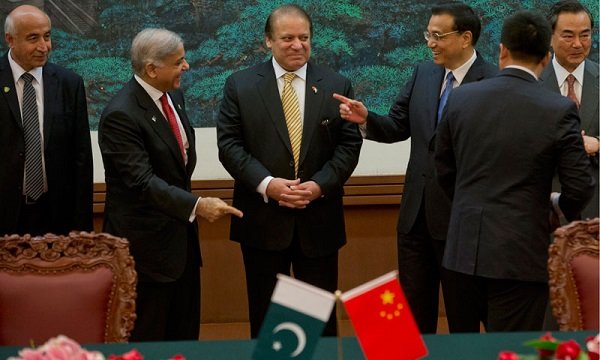 More than history, the strategic direction the Pakistan-China partnership has taken in recent years has given it the added significance at a time of a fundamental change in the global balance of power
DR MALEEHA LODHI
[dropcap]A[/dropcap]t a recent conference in Europe I found a great deal of interest in Pakistan's close and growing relations with China. Three sets of questions aroused much curiosity.
One, how is this relationship evolving in a changing international environment? Two, where does Pakistan fit in with China's 'March West', characterized as China's effort to direct greater attention and resources to regions to its west and promote its vision of an economic corridor along the ancient Silk Road? And three, with the US troop drawdown looming in Afghanistan, how do Pakistan and China see their neighbor's future at such a pivotal moment?
On the first question, some misconceptions seem to stubbornly persist among a section of the Western policy community. For example there is a tendency – driven mainly by their media – to see the relationship as a recent phenomenon, a reflection of Pakistan 'turning to China' as US attention shifts away from the region with its involvement in the war in Afghanistan nearing an end. In fact, when Pakistan-US relations encountered turbulence in recent years, this line of thinking postulated that Islamabad was increasingly looking to China as 'an alternative' to America.
These are fundamentally mistaken notions. Yet they reflect just some of the misperceptions found in Western circles about Islamabad's relations with Beijing. For a start, Pakistan's relations with China and with the US are not interchangeable. Pakistan has different equities in the two relationships, and they address different needs of the country. Moreover, far from being a 'breaking story', Pakistan-China relations have been time-tested over six decades. This has been a consistent and resilient relationship, unlike Pakistan's other relationships, which have seen many ups and downs.
China has and continues to be a cornerstone of Pakistan's foreign policy and its principal long-term strategic ally. The strategic quality of relations also derives from the firm national consensus in both countries that undergirds the partnership. This distinguishes it from Islamabad's ties with other major powers, which are valued more by its leaders than the public.
As for the zero-sum nature some ascribe to Pakistan's relations with China and America, a recall of history will help to invalidate this flawed notion. Pakistan played a central role in one of the most dramatic episodes of the Cold War, because it enjoyed good relations with both China and the United States. Islamabad facilitated Henry Kissinger's secret visit to Beijing in 1971, which paved the way for Sino-US rapprochement, and decisively tilted the East-West balance.
But more than history, the strategic direction this robust relationship has taken in recent years has given the Pakistan-China partnership added significance at a time of a fundamental change in the global balance of power brought about by China's rise as an economic and geopolitical power. In the past several years, bilateral ties have broadened and diversified from the traditional focus on defence and military cooperation toward a greater economic and investment orientation.
In the past year alone a series of visits by the new leaderships of both countries have served to elevate the partnership and affirm a common strategic vision of binding Pakistan more closely to China's expanding economy and geo-economic strategy.
A prominent Western writer who recently declared that the "China-Pakistan alliance is now past its sell-by date" could not have been more wrong. The latest upswing in Sino-Pakistan relations is being driven by the converging economic priorities of the two countries. To attain more balanced economic growth, China is according priority to development of its landlocked western regions, which have lagged behind its eastern and coastal areas. It is therefore looking to greater connectivity and trade with countries to its west, especially long time ally Pakistan.
That is why with the signing of numerous new agreements Pakistan has become the top destination for Chinese investment in South Asia. Nearly 200 projects of varying size are in place today while work is underway on 12 hydel power projects with Chinese help. Already there are 10,000 Chinese nationals working on different projects in Pakistan. Security of Chinese workers has, however, emerged as a challenge, which Islamabad must address to accelerate different projects, some of which are designated as 'early harvest' ones.
On his first visit to Pakistan last May, Prime Minister Li Keqiang proposed the establishment of an economic corridor between the two countries, connecting China's western Xinjiang region to Pakistan's Gwadar port. This envisages greater connectivity and expansion of trade through a network of road, rail, fibre optic cables and energy pipelines.
The MOU on this also provides for the creation of special economic zones, industrial parks and trade centres and development of energy and technical cooperation. This is the most concrete manifestation of an evolving joint strategy that aims to align China's plans to develop its western region to Pakistan's efforts to revive and grow its economy.
This elaborate roadmap of enhanced economic cooperation can be seen as part of the vision of reviving the "ancient Silk Road" articulated by President Xi Jinping in September 2013. Envisioned as a Eurasian economic and trade land bridge, also connecting China to energy-rich Central Asia as well as the Middle East, this is projected by Chinese officials as a "transparent", "win-win" concept that aims to bring prosperity and stability to the entire region.
The Pakistan-China economic corridor is at the heart of two key aspects of China's Silk Road vision: maritime and land links. With Gwadar providing China the shortest land route to the sea for commercial traffic, connectivity with Pakistan is central to China's regional economic strategy.
The many MOUs signed between the two countries, which include upgrading the Karakoram Highway and constructing an airport at Gwadar, will need proper follow up by Islamabad, where bureaucratic wrangles have often stalled projects in the past. Nevertheless the various agreements now in place signal a determined bid to put relations on a stronger footing.
In a press conference last month China's foreign minister Wang Li outlined his country's key foreign policy goals for the future. Emphasizing the importance of China's external environment for its economic progress, he said Chinese diplomacy would now aim to better serve the country's domestic reform agenda. He also stressed "neighborhood diplomacy" and said China's key diplomatic priority this year would be to work with Afghanistan and other neighbors to "fight all terrorist forces".
This brings up the third question of how China and Pakistan see the way ahead in Afghanistan. China's higher profile and more active diplomacy in Afghanistan in recent years reflect both security and economic imperatives. As a direct neighbor, China has a fundamental interest in Afghanistan's peace and stability. It seeks to protect its border regions especially Xinjiang from the separatist activities of the East Turkestan Islamic Movement (ETIM), a militant organization with longstanding links to the Afghan Taliban.
China's economic imperatives reflect the need to develop its western provinces, meet the energy requirements of its expanding economy as well as protect its investments in Afghanistan. Seen from this perspective it is easy to understand why there are strong convergences between Pakistan and China on Afghanistan. They include:
• A common desire to see a responsible drawdown of Western forces from Afghanistan.
• Support for Afghan political reconciliation and a settlement that can bring an end to fighting.
• A post-2014 outcome that ensures that Afghan territory is not used for attacks against another country.
• Continued international engagement especially economic engagement.
• Enhanced regional cooperation to help Afghanistan's stabilization.
Significantly China also (i) recognizes Pakistan's constructive role in facilitating an Afghan peace process; (ii) acknowledges the sacrifices made by Pakistan in countering terrorism; and (iii) emphasizes respect for principles of sovereignty and territorial integrity in addressing related issues.
In sum, China's 'March West' promises to be a factor for stability for the region. Pakistan sees China's rise as a global power and its greater engagement in the region as an opportunity from which the entire neighborhood can benefit – and not another version of a Great Game that its detractors may try to project.—Courtesy The News