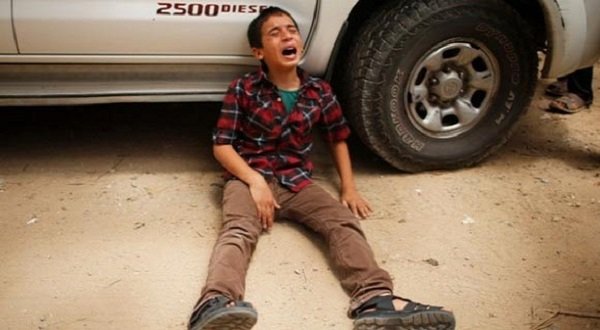 ABDUL RAHMAN LOST 18 OF HIS FAMILY INCLUDING FATHER IN ISRAELI BOMBING ON SATURDAY
GAZA — A 12-year-old Palestinian teen, who lost his father and 17 other members of his family in the Israeli air raids on Saturday, vowed to avenge the tragic deaths, a media report said.
Abdul Rahman crying after 18 members of his family were killed. (Photo: REUTERS/ Mohammed Salem)]
"They think we are worth nothing. They are killers, and one day I will avenge my father", 12-year-old Abdul Rahman Al-Batsh said while talking to ITV's Middle East Correspondent, Geraint Vincent.
A photograph of Abdul Rahman, his shoulders slumped against a car, shows the moment when he discovered his father was among the dead.
Abdul Rahman Al-Batsh's pain-wrenched face has become one of the most powerful images of the Gaza conflict.
At the mention of his dad, the tears spilled from Abdul Rahman's eye.
"My father was my teacher. I always used to get good marks in school. Who's going to teach me now?", he said.
The air strike is said to have been aimed at Abdul Rahman's uncle, Tayseer al-Batsh, a local police commander, who suffered severe injuries in the strike.
His three storey family home no longer exists.
The Israeli prime minister, Benjamin Netanyahu, has blamed the militant group Hamas for civilian casualties in Gaza.
He says Hamas – which has fired hundreds of rockets into Israel over the past week – uses the population as human shields for their command centers.
More than 172 Palestinians, mostly civilians including a large number of children and women, have been killed in the Israeli bombardment of Gaza which enters its seventh day Monday.–Agencies