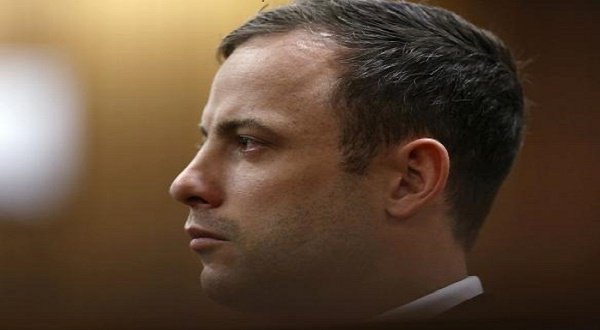 PRETORIA (Reuters) – Olympic and Paralympic track star Oscar Pistorius was convicted of culpable homicide on Friday, escaping the more serious charge of murder for the killing of his girlfriend, and will now battle to avoid going to prison.
The 27-year-old double amputee, who became one of the biggest names in world athletics, stood impassively in the dock, his hands folded in front of him, as Judge Thokozile Masipa delivered her verdict.
Pistorius was also convicted of firing a pistol under the table of a packed Johannesburg restaurant but cleared of two other firearms charges – illegal possession of ammunition and firing a pistol out of the sun-roof of a car.
Masipa based her culpable homicide decision on the fact Pistorius had acted negligently when he fired four shots from a 9mm pistol into a toilet door in his luxury Pretoria home, killing Steenkamp, who was behind it, almost instantly.
He said it was a tragic error after he mistook her for an intruder.
Culpable homicide – South Africa's equivalent to manslaughter – carries up to 15 years in prison but, given Pistorius's lack of previous convictions, he could avoid a custodial sentence altogether, legal experts said.
"It could range from a suspended sentence to stiff jail sentence. It could even be the imposition of a fine or community service, or it could be … house arrest," said Stephen Tuson, law professor at Johannesburg's University of Witwatersrand.
"The court will take into account the degree of negligence or recklessness," he added.
Criminal law expert Martin Hood expects a non-custodial sentence.
"He's almost certainly, in my opinion, not going to be going to jail," he told South Africa's ENCA television.
SENTENCING
Masipa set sentencing for Oct. 13 and granted a bail extension. Flanked by police and bodyguards, a stone-faced Pistorius made his way out of the court through a scrum of reporters, television cameras and on-lookers.
"We never had any doubt about Oscar's version of events," his uncle Arnold Pistorius told reporters after the verdict. "It won't bring Reeva back, but our hearts go out to her family and friends."
Before the shooting, Pistorius was considered a symbol of triumph over adversity, recovering from having both his legs amputated as a baby to win six gold medals at three Paralympics running on carbon-fibre prosthetics, earning him the nickname 'Blade Runner'.
He was also responsible for taking athletes with disabilities into the mainstream, competing against able-bodied runners at the London 2012 Olympics.
South Africa's National Prosecuting Authority said it was "disappointed" not to have secured a premeditated murder conviction, but would not make any decision about an appeal until after sentencing.
Masipa's decision also sparked anger outside the court, particularly groups campaigning for women's rights in a country with high levels of violent crime against women and children.
The verdict has also forced democratic South Africa to ask itself some uncomfortable questions about race and inequality, in a country where whites and blacks still inhabit largely different worlds two decades after the end of apartheid.
"If it were me, I would be going to jail," said Thabang Modise, a black 37-year-old fast food store manager.
There were many, however, who were more willing to put their trust in the judgment of Masipa, the 66-year-old former Soweto crime reporter and social worker who rose to be only the second black female High Court judge.
"Being a feminist, this judgment is hard to take in, I must say. But facts are facts, and I believe Judge Masipa delivered a fair judgment," said Sindi Cindi, a 20-year old black law student.
DISAPPOINTMENT, CONFUSION
One aspect of the ruling has also sparked legal controversy, turning ordinary South Africans into overnight armchair experts on the vexed issue of 'dolus eventualis', a concept of intent that holds a person responsible for the foreseeable consequences of their actions.
While Masipa ruled that prosecutors had failed to prove explicit premeditation to kill Steenkamp – a decision that had been anticipated by many legal experts – she also cleared Pistorius of murder dolus eventualis.
"Many of us believe she might have erred with regard to the ruling on non-premeditated murder, the whole issue of dolus eventualis," said Cape Town attorney William Booth.
"I must be cautious because you're not going to satisfy everyone. If she convicted him of premeditated murder then there would be many, many people up in arms," Booth added.
A 2008 paper by KwaZulu Natal law professor Shannon Hoctor explained dolus eventualis as when a person "foresaw the possibility that the act in question … would have fatal consequences, and was reckless whether death resulted or not".
Masipa said the state had not proven that Pistorius had foreseen such a possibility. She did, however, find on Thursday that: "A reasonable person would have foreseen if he fired shots at the door, the person inside the toilet might be struck and might die as a result."
 (Additional reporting Kenichi Serino and David Dolan; Writing by Joe Brock and Ed Cropley; Editing by Susan Fenton and Will Waterman)