Sloganeering hasn't stopped to date and chant of 'Jai Shri Ram' at 2 in the night sends chills down the spines of Muslims, reports a team of United Against Hate which visited the area on the first anniversary of February 2020 pogrom
Team Clarion
A team of United Against Hate recently visited the riot-affected areas of North-East Delhi. The team consisted of Priya Vats, a law student, and Shreya Kapoor, an advocate. Following is their report that was unveiled at a press conference held at the Press Club of India, New Delhi, on Friday:
IT has been a year since north-east Delhi was engulfed in a frenzy of communal violence. The horrors of the riots – from February 22-27, 2020 – are still fresh in the memories of Mohd. Nasir Khan, a resident of Noor-e-Ilahi, and Ms Nargis, a resident of Mustafabad, a year since the violence destroyed their lives. Ms Nargis fights back tears as she recounts February 2020 when she last saw her husband, Mursaleen. Nasir Khan's scars do not even allow him to tear up as he lost his eye when a mob shot on his face.
A common thread that binds the victims, who shared their stories on the first anniversary of the Delhi riots, is the loss of trust in the Delhi Police who they alleged, did not answer their distress calls during the riots and afterwards, when they sought justice. For two days, Delhi Police watched passively while rampaging mobs killed and burnt with impunity. The riots uncannily matched the 1984 and 2002 pogroms in ferocity, inhumanity, police complicity, apathy and political patronage.
 Terror-stricken Muslim families fled their neighbourhoods to seek refuge in the locality of Mustafabad, in Loni, Uttar Pradesh. Meeting several of them, we realised something important, be it families from Shaheen Bagh, Prem Vihar and Khajuri Khas (which witnessed houses being set ablaze), or Shiv Vihar, one of the worst affected areas, they are equally vehement about not returning home. Such has been the fear psychosis, generated by the virulence of communal violence in north-east Delhi in February 2020.
Out  of  53  people  killed  in  the  violence,  Mohmmad  Maroof,  Firoz  and Mursaleen were a few of them. On February 24, Firoz Ahmed was returning home to Mustafabad on the day riots broke out in north-east Delhi, unaware of what lay ahead for him. He was stopped by a mob, who heckled him and asked him to show his ID cards. After confirming that he was a Muslim, the mob assaulted Firoz. His leg was broken, had a severely battered arm and a blackened eye. He somehow managed to hid in the auto until a man called Tauseef Alam & his family sheltered Firoz in their house.
The next day, on February 25, the fanatic rioters raided Alam's home, looting and vandalising it. Alam's sister, an eyewitness to the incident, recounts the words of the mob which assaulted Firoz. The mob hit him with pipes and rods and then threw him in an auto and set fire to it. The mob shouted, "Mulley Tujhe azaadi chahiye, hum dete hai azaadi" (You want freedom, we will give it to you). Firoz's family began visiting various hospitals to see if Firoz's body was there. Thirteen days after his murder, the body was fished out of the drain near Pushta road, told us one of the locals of that area.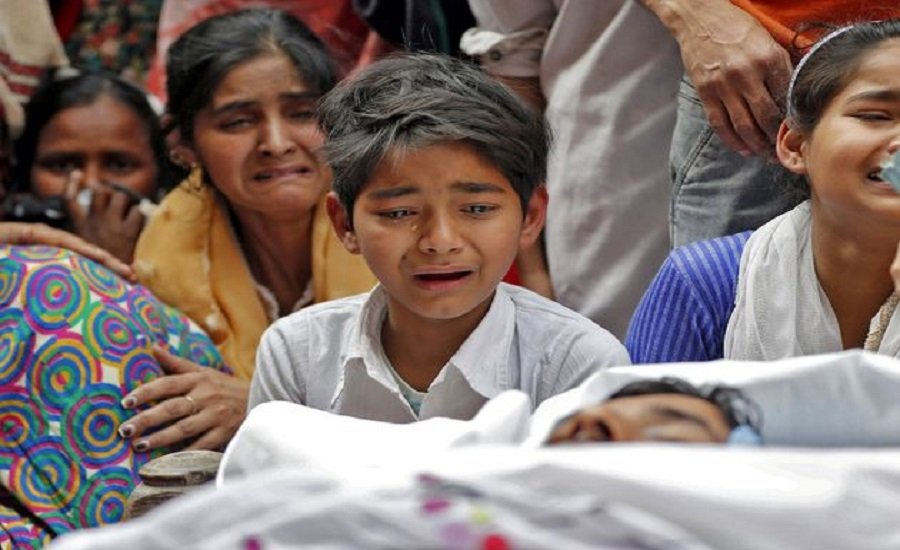 Mohd Adnan (18) stepped out to fetch some medicines for his sister when he was shot on his left leg while crossing Aqsa Masjid. All he remembers is a crowd chanting 'Jai Shree Ram' slogans and aiming burning glass bottles at the people near the area. Although he has been offered immediate financial assistance by the government, however, in his case, the FIR filed by the police blamed the victim instead. Adnan was hospitalised for two months, battling against life-threatening infections and the strong doses of antibiotics that have their side effects. Acute nausea and a total loss of appetite have left Adnan so weak that it's an effort for him to sit up. After a while, help came from a medical volunteer who took the family to Al-Shifa, a hospital in South Delhi that has been treating many victims of violence.
Under the violence, like a few other families, Adnan's family do not want to pursue the legal case. Justice is too distant an idea for these families. On February 23, 2020, there were 1,393 police and central forces deployed (in the area) and 700 distress calls were received, most of which went unanswered.
On February 24, 2020, 13 deaths were reported and the (Union) Home Ministry added only 6 more personnel as the official figure for deployment on that day according to Delhi police's submission to the court is 1399. Only on the evening of February 24, Section 144 of the CrPC was imposed. The number of Police personnel was increased to 4,291 and 4,663 in the next two days when 29 and 8 deaths were respectively reported.
Despite the victims alleging that the police did not come to their rescue, the Delhi Police has been given clean chit by the court, saying no cognizable offence has been found in the manner in which they conducted themselves.
On February 26, a message sent on a WhatsApp group resulted in the death of two innocent young men. The day after, the dead bodies of Aamir (30) and Hashim Ali (16) were found in a drain in Bhagirathi Vihar, covered with gory wounds on their faces. A charge sheet filed in June 2020 has revealed for the first time the involvement of a WhatsApp group behind organising deadly acts of violence in Delhi. The group consisted of 125 Hindutva extremist members. The messages of violence and murder were often posted with a strong sense of pride. The messages even boasted about burning down a Madrasa, an Islamic institution for Islamic studies. There was also repeated mentioning of Kapil Mishra's video. Multiple charge sheets were filed by the Delhi Police, but none of them has mentioned Kapil Mishra, so far.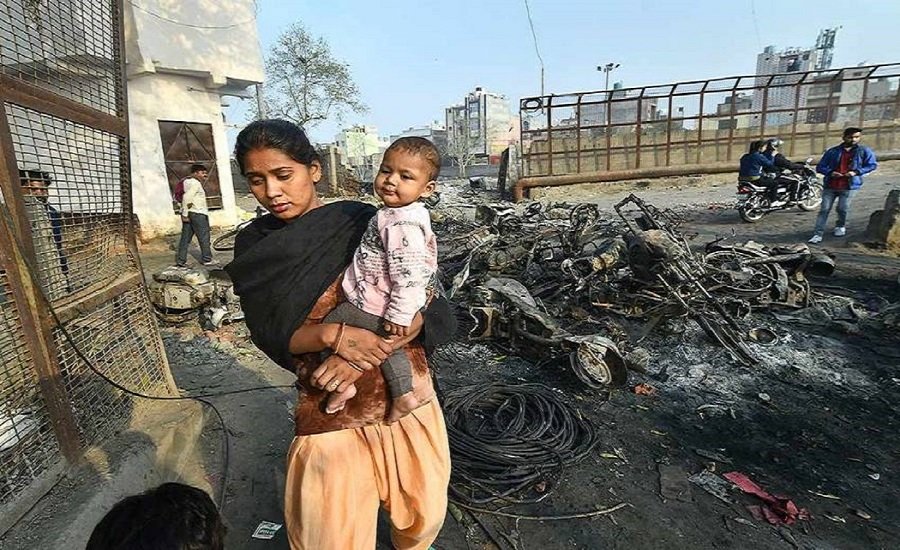 Fractured Ties
Two narratives relating to the victims and perpetrators involved in these riots were and are still doing the rounds.
The Group of Intellectuals and Academicians (GIA) published a report titled "Dharna to Danga" which was referred to by 'Organizer', the RSS mouthpiece, and both labelled the riots as "Anti-Hindu" but reports from the ground said otherwise. The violence went on for four days leaving 53 dead and hundreds injured. Mosques were set alight, Muslims burned alive or dragged out of their homes and lynched. Muslim houses and shops looted and later burned. All of it happened in broad daylight. Several people mentioned how and why they felt the ordeal was "planned".
Hindus/Non-Muslims were pitted against Muslims and locals were seen lending support to the rioters. They helped the mob identify properties because otherwise, it wouldn't have been possible to target only Muslim properties. The support wasn't limited to the identification of properties but they also opened doors for the mob and became a part of the mob that went on a rampage, lynching and slaughtering their Muslim neighbours.
A 40-year old man from Khajuri Khas recalls the night of February 23, 2020, when the mob entered the street, abusing and chanting "Jai Shri Ram", and set his house on fire. While he was trying to escape with his family from the terrace, one of his neighbours informed the rioters about it. He returned on February 25, 2020, only to find his house and rickshaw, the only source of income was burnt to ashes.
Mohd. Munajib (40) recollects, preparing for his daughter's wedding, he had bought jewellery and other gifts for the wedding, but on the night of February 25, 2020, the mob looted and later burnt his house. The cart he used for selling biryani was not spared either. He tried to run when the mob entered the street but couldn't, since his house was locked from outside by someone in the neighbourhood. He was on his terrace trying to escape as his house burnt to ashes.
Mohd. Maroof, (34) died after being shot near the eye by one of his neighbours while he was returning from work with his brother-in-law. His family has been living in fear since then and prefer staying inside their home, not meeting or talking to anyone in the neighbourhood, primarily because they are scared as the culprits live in the adjacent street, freely and fearlessly.
Forty-year-old Hussainara from Shiv Vihar, recalls one of the armed rioters telling her "Aap humari Behen ke jaisi hai isliye keh rahe hai Ghar khali kar dijiye" and doing as told only to return to a burnt house.
Everyone in the area has similar stories to share. The residents had no other option but to flee to save their lives, leaving everything behind, the uncertainty of returning heavy on them. Muslims, irrespective of their locality, have been hurt and scared because of the involvement of their neighbours, people have had cordial relations with them for a long time. The involvement of locals in the riots is prominent in riot-affected areas of North-East Delhi.
Anyone whose property was destroyed or who was attacked or lost someone or was a mere witness feels the same. People from both communities fear living in riot-affected areas and, particularly Muslims, are ready to sell their properties at half the price and move. The magnitude of these attacks varies from area to area but the impact of it is constant, fractured ties and persistence of tension.
Deliberate inaction by Delhi Police
Delhi Police were accused of not only aiding the rioters but also actively participating in the riots. The police enabled, encouraged and joined the Hindu mobs. But it didn't stop there. Even today, it proves to be in allegiance with the brutal state and not the constitution or the people, it, as an institution, is responsible to serve and protect.
Several FIRs were registered by the police on their own at GTB Nagar Hospital without taking into regard the gravity of injuries victims had suffered, the mental trauma families of deceased were going through and incriminating the injured persons in such FIRs.
Adnan (18), from Mustafabad, was hit by a bullet in the thigh and his mother says they have little room to worry about justice, especially because the FIR incriminates her son stating that he was a part of the mob involved in the violence.
On the other hand, 35-year-old Nasir Khan, who lost one of his eyes after being hit with a bullet, has decided to fight back and seek justice despite the immense pressure from both, locals and police. He had sent the complaint by post but the reader to SHO rejected it and so he went to the Help Desk at Eidgah where the ASI threatened him and refused to register it but with the support from other people at the Eidgah, he got him to accept his complaint.
But his struggle didn't end here, the police officials refused to disclose the status of his FIR. It was in July, that he was finally told the FIR No. which mentions firing and stone- pelting from both sides but "why injuries and deaths only on one side?" he asks. On account of non-response from the police, he applied Section 156(3) of CrPC and the Court ordered registration of the FIR but the police refused to have received any such orders. Later, the SHO approached the Court and got a stay order against the previous order and an appeal against the last order is underway. Khan says he hasn't been able to get justice due to a lack of police interest in his case.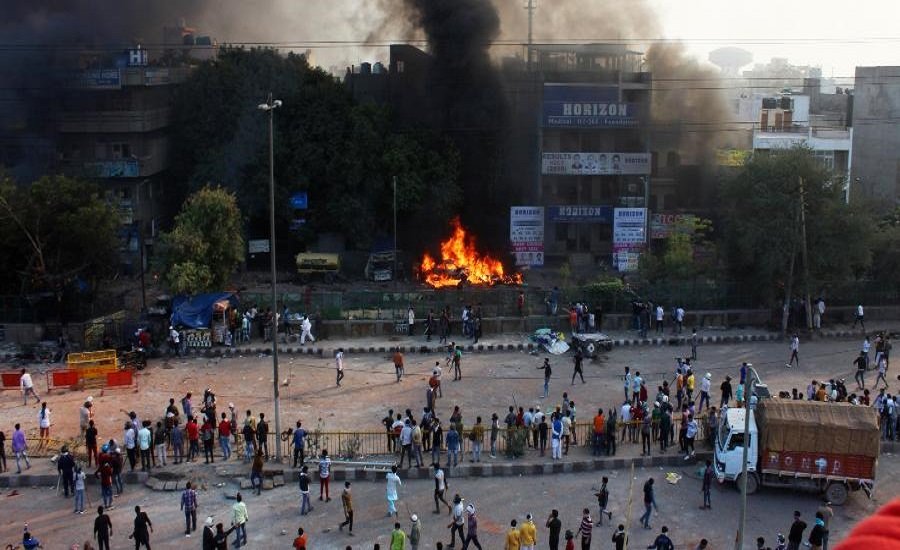 Delhi Police's lack of interest isn't limited to Nasir's case nor is this lack of interest the sole reason behind the delay injustice.
Syed Zulfikar (34), from Mustafabad, was hit with a bullet in the face which got stuck near his temple on February 24, 2020. The police refused to register the FIR with names and so he got the order from the Court. The persons namedin the FIR were arrested have been granted bail and they threw a party afterwards,  which  was  attended  by  BJP  members  including  Member  of Parliament from North-East Delhi, Manoj Tiwari. The police have framed and arrested his brother in a fake case.
Mohd. Maroof's brother, Haroon (34), mentioned that the police didn't record the statement made nor were the persons named by him arrested but 6 boys from the neighbourhood, 4 Muslims and 2 Hindus, who are innocent. The police have ignored his repetitive demands to release the arrested boys and arrest the real culprits.
Many believe that the catalyst for last year's riots was a fiery speech made by Kapil  Mishra  who  gave  an  ultimatum  threatening  to  break-up  a  sit-in demonstration in Jaffrabad but neither he nor other leading members of the BJP like Amit Shah, Anurag Thakur, Yogi Adityanath, Parvesh Verma, Ragini Tiwari, who ran hate campaigns against anti-CAA protestors online and offline and used misogynistic and communal slurs to refer to the protestors, have been subjected to scrutiny.
"Is compensation a means to justice?" asked nearly everyone we met. "Muaavze se hamare bache thode na wapis aayenge," says Mrs Asghari, mother of Aamir Khan (30) and Hashim Ali (19), who lost both her son.
On February 27, 2020, the Delhi government released its Assistance Scheme for the rehabilitation of riot survivors which required that survivors register FIR with the police and inspection by the area's sub-divisional magistrate and a team of representatives from the Public Works Department (PWD), affording them absolute control over the damage assessment without providing any procedure for the assessment. It is important to note that some of the survivors are too scared to file an FIR because of the one-sidedness they witnessed during the riots and have made their minds that neither the Delhi Police nor the governments, Centre or Delhi, are interested in supporting them. Given the allegations against Delhi police, the administration should have framed a scheme that minimized riot survivor's contact with the police.
Aas Mohammad, 45, the owner of SES Public School in Shiv Vihar suffered huge losses as the school was burned along with two cars and one motorcycle. He has submitted the documents thrice for registration of FIR but got no response, which, based on the above-mentioned requirements, clearly suggests that he hasn't received any compensation from the government under this scheme. But Aas Mohammad is not the only one in Shiv Vihar who has been deprived of the compensation.
"File de di hai kaafi baar lekin muaavza aaj tak nahi mila" says Quresha Begum. Every other woman we met had the same thing to say. All they know is that officials asked for the documents which have been duly submitted but no compensation has been provided even after a year.
A 38-year old woman from Shiv Vihar, whose family owns a shop purchased stock for Holi a few days before the riot, didn't know that all of it would be burned down along with her house. The rioters looted all the cash, 4 tolas of gold and silver before setting her house on fire. "Muaavze wale aate hai toh FIR maangte hai aur woh hamare paas hai nahi", she says, tired of the numerous rejections of forms and the never-ending toing and froing.
Mohd. Imran (24), whose house and the bike was burned down by the mob suffered a loss of around 25 lakhs but received compensation of Rs. 3,75,000 and that too after eight months of the riots.
Mohd. Mukheem, a resident of Khajuri Khas, whose factory was burned by the mob last year has received compensation of rupees five lakhs but he claims to have suffered losses of around 1 crore.
Due to lack of awareness amongst riot survivors regarding the procedure and grounds of damage assessment, they are unable to challenge the compensations awarded to them, no matter how scanty. Since the government has the final say in the rehabilitation process, the State officials charged with the inspection are held accountable to nobody.
Conclusion/Opinion
When the communal violence broke out in the Capital, a score of people were displaced from their homes and the children could not go back to school. Also, due  to  COVID  induced  lockdown,  many  families  could  not  afford  their education any longer.
The only crime these families have done is being born Muslim. Justice seems utopian in this context. Therefore, we demand an independent probe into the communal violence in north-east Delhi. The role of the Delhi Police and administration need to be asked about how the Capital was allowed to burn for five days under the eyes of the Home Minister.
On the first anniversary of communal violence, when we ask the victims whether they will step out on the streets to fight for their suppression if need be", they simply refused, one of them saying that "I can hardly recognise the country around me, and it makes me afraid for my safety and safety of my children." The riots have not only ruined the Muslim community but also fractured our community, as a whole.
Despite numerous allegations of sexual harassment against the Delhi Police, Muslim women were silenced on the matter, such is the fear of the violence unleashed last year. They were vocal but calculative while mentioning the loss suffered,  compensation  received,  the  role  of  the  police,  administrative inefficiency, unemployment but while mentioning the night of riots, all they mentioned after a moment of zoning out, is running from their homes barefoot and taking shelter at a neighbour's place or other shelters nearby but not how they reached the shelters.
When asked if they would participate in a protest again, a 22-year-old girl mentioned the acid bottles and weapons she saw in the hands of rioters who made a "Shamshan ghat (cemetery)" of the place she had been living in for years. The fear is also evident from their discomfort in having their names mentioned in this report.
"Darr toh itna hai ki yaha galiyon pe darwaze lag gaye hain. Kabhi suna tha gali pe darwazon ka?" said Zulfikar. Fear is the ladder the Modi government is hell-bent on using to secure its rule and it hasn't stopped even after the protests. The streets of Shiv Vihar are packed with saffron flags with pictures of Lord Ram and Hanuman along with "Jai Shri Ram" written on it.
Sloganeering hasn't stopped to date and "Jai Shri Ram" chanting at 2 a.m. in the night sends chills down the spines of Muslims in North-East Delhi. Their anxiety has them shaking while Hindus are out collecting funds for Ram Mandir in Ayodhya chanting the same slogans.
This isn't it. A group of boys gathered in front of the mosque in Khajuri Khas and burst crackers standing on the third stair of the mosque, chanting the same slogans, abusing and threatening Muslims with dire consequences. This incident not only scared Muslims in Khajuri Khas but everyone who witnessed the bloody riots of February 2020 and to quote Nasir Khan, all of this is being done to deeply root fear in the hearts and minds of people. Nasir, who was returning from hospital the night of riots with his mother and sister, asked his mother to remove the burqa and told a Hindu name when asked for it by the police.
They were targeted for their names, for keeping a beard and wearing a skull cap, and nearly everyone we met mentioned how they feel "it is as if being Muslim is a crime" or "how they are insecure about their appearance. They are insecure in practicing their religion, a clear violation of  the  Right  to  freedom  to  profess  any  religion  guaranteed  under  the Constitution (Infringement of Article 19).
After all this, how does the Modi government plan on instilling fear? It is through goons, the police and the media. The mainstream Indian media has been accused of media trial on more occasions than one, of building and running a narrative so frequently that it leads to the normalization of it.
Many activists like Khalid Saifi and Umar Khalid are amongst 18 others arrested so far under FIR 59 of 2020, which alleges a conspiracy behind the riots. The FIR also invokes UAPA section 13, 16, 17 and 18, pertaining to unlawful activities, commission of a conspiracy act, collecting funds for a terrorist act and conspiracy for committing a terrorist act, respectively. Anti CAA-protestors fell prey to it but not BJP leaders like Kapil Mishra, Anurag Thakur, Home Minister Amit Shah himself who made inflammatory speeches, calling for the slaughter of Muslims and anti-CAA protestors.
Several activists were arrested based on a WhatsApp group but no one from another WhatsApp group, run by pro-CAA protestors were called into question or subjected to media trial even after mentioning the details of murders they committed, sharing and mentioning an inflammatory speech of Kapil Mishra 15 times in the group. On the other hand, victims and their families are being threatened and pressurized to withdraw their FIRs not only from the locals but also from the police.
Most of the families are too poor to engage in legal proceedings as it is heavy on their pockets and minds. The riots have financially disempowered them and they are more worried about having two meals a day than holding their culprits accountable and this is what we mean when we say that compensation isn't enough. It neither means that justice has been served to the victims nor does it guarantee "restoration of normalcy and building confidence among people in riot-affected areas." You don't empower the victims by resorting to the means of disempowerment or worse, resorting to means to avoid accountability.
But whatever the conclusion of the mobilisation is, this will be remembered as a glorious moment in the history of the Indian republic. Muslim women spilling out of their restive homes into the streets to interrogate the regime upfront is not something that India has seen too often in the recent past. This is what 'New India' looks like to us. A swarm of fearless women leading up all to a new future.