Nobel Committee members march in lockstep. They never miss an opportunity to miss an opportunity to do the right thing. Imagine if Malala was a Palestinian human rights/women's education advocate. Imagine if Israeli soldiers had shot her in the head. Imagine if Satyarthi spoke forthrightly against US ruthlessness. Its lawlessness, permanent wars and destruction. Would they have made it to Norway?
STEPHEN LENDMAN
[dropcap]N[/dropcap]obel tradition is horrific. Disreputable. Long and inglorious. War criminals win peace prizes. Past honorees include a rogue's gallery of some of the world's worst.
Peace advocates are spurned. Ignored. Shut out for doing the right thing. Especially in today's highly-charged atmosphere.
Selection is politicized. It's longstanding policy. It's no surprise.
Nobel Committee members violate their own rules. Alfred Nobel's will was clear and unequivocal.
It says Peace Prize recipients "shall have done the most or the best work for fraternity between nations, for the abolition or reduction of standing armies and for the holding and promotion of peace congresses."
Worthy candidates are routinely passed over. History's most famous peace advocate never won.
Mahatma Gandhi was nominated five times. Nobel Committee members never recognized his accomplishments. They're hugely important to this day.
He championed nonviolent resistance. He did so for social change. His October 2 birthday (Gandhi Jayanti) is a national Indian holiday. It's commemorated worldwide as an International Day of Nonviolence.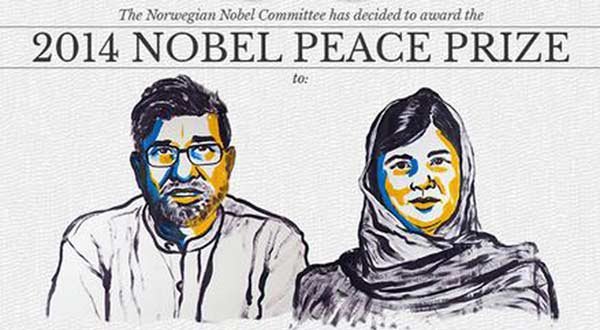 Eleanor Roosevelt got three Nobel Peace Prize nominations. She never won.
She received 48 honorary degrees in her lifetime. Harry Truman called her "First Lady of the World." He honored her humanitarian achievements.
They were notable. "Do what you feel in your heart to be right," she said. She championed human rights, social justice and peace.
She was perhaps the driving force behind establishing the Universal Declaration of Human Rights. She submitted its principles to UN General Assembly Member States, saying:
"We stand today at the threshold of a great event both in the life of the United Nations and in the life of mankind."
"This declaration may well become the international Magna Carta for all (mankind) everywhere."
Anyone can be nominated for Peace Prize recognition. Scoundrels passed over included Adolph Hitler, Benito Mussolini, Joseph Stalin, George W. Bush, Tony Blair and Rush Limbaugh among others.
Henry Kissinger and Obama were perhaps the most 'notable' winners. They bear responsibility for  high crimes against peace.
Kissinger presided over millions of deaths. Mass destruction. Unspeakable human misery. Contempt for rule of law principles and democratic values. It didn't matter.
In awarding Obama its 2009 Prize, Nobel Committee members turned truth on its head.
They cited his "extraordinary efforts to strengthen international diplomacy and cooperation between peoples."
"His vision of and work for a world without nuclear weapons." He supports spending over a trillion dollars upgrading America's arsenal.
But Obama deplores peace, stability, equity and justice. He's beholden to monied interests. He spurns popular ones. World peace hangs by a thread on his watch.
Nobel Committee members shamelessly claimed he "created a new climate in international politics."
"Multinational diplomacy has regained a central position, with emphasis on the role that the United Nations and other international institutions play."
"Only very rarely has a person to the same extent as Obama captured the world's attention and given its people hope for a better future."
Nobel Committee members long "sought to stimulate precisely the international policy and those attitudes for which Obama is now the world's leading spokesman."
It's hard imagining more twisted logic. Nonsense polar opposite truth.
It's longstanding Nobel Committee reasoning. Politicizing annual awards. Doing so in lieu of choosing individuals most deserving.
Two recipients won this year. Seventeen-year-old Malala Yousafzai is the youngest ever winner.
She's an activist for women's education, a blogger, and Sakharov Prize winner. She's a Pakistan National Youth Peace Prize honoree.
She was a 2013 Nobel Peace Prize nominee. Desmond Tutu nominated her for the International Children's Peace Prize.
Canada intends granting her honorary citizenship. She'll receive it in Ottawa on October 22.
Taliban militants shot her in the head two years ago. For advocating female education rights. She survived the ordeal.
She became a human rights/female education activist. Her advocacy became an international movement.
In January 2013, Deutsche Welle called her "the most famous teenager in the world."
UN Special Envoy for Global Education/former UK Prime Minister Gordon Brown launched a UN petition in her name. He used the slogan "I am Malala."
In its April 29, 2013 issue, Time magazine featured her on its cover. It called her one of "(t)he 100 Most Influential People in the World."
She won Pakistan's first National Youth Peace Prize. Nobel Committee members ignored her anti-militarism advocacy.
Her outspokenness against drone attacks. Her calling them responsible for "fueling terrorism."
Her saying "(i)nnocent victims are killed (by) these acts, and they lead to resentment among the Pakistani people."
Kailash Satyarthi is a longtime Indian children's rights activist. He founded Bachpan Bachao Andolan (Save the Childhood Movement) in 1980.
It's the world's leading civil society campaign of its kind. It protected the rights of about 83,000 children for over three decades.
It rescued them from human trafficking, virtual slavery, and repressive child labor. It helped restore their trust in society. It helps them achieve more promising futures.
Its vision is "creat(ing) a child friendly society, where all children are free from exploitation and receive free and quality education."
Its mission is "(t)o identify, liberate, rehabilitate and educate children in servitude through direct intervention, child and community participation, coalition building, consumer action, promoting ethical trade practices and mass mobilisation."
Nobel Committee members awarded Satyarthi and Yousafzai their 2014 Prize. It did so "for their struggle against the suppression of children and young people and for the right of all children to education."
Satyarthi "headed various forms of protests and demonstrations, all peaceful, focusing on the grave exploitation of children for financial gain."
He "contributed to the development of important international conventions on children's rights."
Yousafzai fights "for the right of girls to education, and has shown by example that children and young people, too, can contribute to improving their own situations."
"This she has done under the most dangerous circumstances.
Through her heroic struggle she has become a leading spokesperson for girls' rights to education."
Imagine if she was a Palestinian human rights/women's education advocate. Imagine if Israeli soldiers shot her in the head.
Imagine her being passed over. Ignored. In Orwell's Memory Hole. Consigned there by Nobel Committee Ministry of Truth members.
Imagine if Satyarthi spoke forthrightly against US ruthlessness. Its imperial lawlessness. Permanent wars. Mass slaughter and destruction.
Ravaging and destroying one country after another. Plundering them for profit and dominance. Exploiting their people.
Violating core human and civil rights. Spurning democratic values. Ignoring rule of law principles.
Supporting wrong over right. Believing might is right. Imagine how Satyarthi would be treated.
Spurned for doing the right thing. Ignored. Perhaps eliminated to silence him. Rogue states operate this way. What they say goes.
Opposition voices aren't tolerated. Especially peace, equity and justice advocates. Longstanding US policy is polar opposite.
Nobel Committee members march in lockstep. They never miss an opportunity to miss an opportunity to do the right thing.
They support war. They deplore peace. They're part of the problem, not the solution. Their awards are politicized.
Nominees most worthy are passed over. They never have a chance. It's longstanding Nobel tradition.
It mocks what he had in mind. It turns his purpose upside down. It supports what late in life he rejected.
He was a wealthy 19th century chemist, engineer, dynamite inventor, armaments manufacturer war-profiteer.
Perhaps he tried compensating for enormous harm he caused. He remade his image late in life. He did so by establishing awards in his name.
Including one for peace. What's perhaps more illusive now than ever. At a time it hangs by a thread.
Don't expect Nobel Committee members to explain. Or say they're sorry.
Forthrightness isn't their long suit. It never was. It isn't now.
_________________
All opinions and views expressed in columns and blogs are those of individual writers and do not necessarily reflect the editorial policy of Caravan