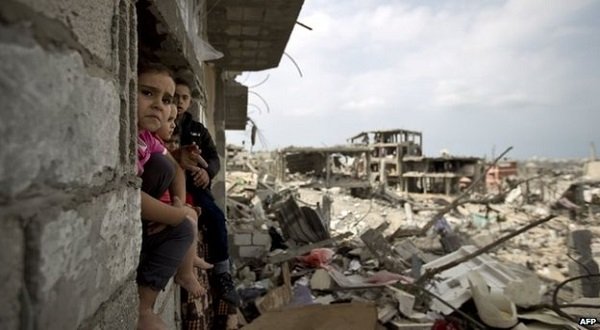 Donors plan to funnel the aid through Abbas' Palestinian Authority, bypassing Hamas; UN chief says we must not lose sight of the root causes of the recent hostilities: A restrictive occupation that has lasted almost half a century, the continued denial of Palestinian rights and the lack of tangible progress in peace negotiations  
Associated Press
CAIRO  – Donors at an international conference Sunday promised $2.7 billion to rebuild the war-ravaged Gaza Strip, but all of the key participants said their efforts would be futile without a permanent peace between Israel and the Palestinians.
US-mediated talks broke down this summer before the 50-day war between Hamas and Israel began — the third since 2008 — and it remains unclear how peace can come about.
Norwegian Foreign Minister Borge Brende, who co-chaired the one-day meeting with Egypt, said pledges of $5.4 billion have been made, but that only half of that money would be "dedicated" to the reconstruction of the coastal strip.
Brende did not say what the other half of the funds would be spent on. Other delegates have spoken of budgetary support, boosting economic activity, emergency relief and other projects.
"The message was clear to the international community that the Palestinian brothers are not alone," Egyptian Foreign Minister Sameh Shukri told a news conference after the meeting.
Qatar pledged $1 billion and the United Arab Emirates promised $200 million.
The pledges followed US Secretary of State John Kerry's announcement of immediate American assistance of $212 million. The European Union pledged 450 million euros ($568 million), while Turkey, which has been playing a growing regional role, said it was donating $200 million.
Qatari Foreign Minister Khalid bin Mohammed Al-Attiyah, in announcing his country's pledge, denounced the "international silence" that surrounded Gaza's destruction. "While the Palestinian people need financial support, they need more political support from the international community," he said. "A just peace is the only real guarantee for not destroying what we are about to rebuild and reconstruct."
Conference organizers hope the pledges will be paid over a three-year period to aid reconstruction in Gaza, which borders Israel and Egypt. Both countries have blockaded Gaza since Hamas took power there in 2007, causing the territory of 1.8 million people economic hardship and high unemployment.
Donors plan to funnel the aid through Abbas' Palestinian Authority, bypassing Hamas. Abbas and Hamas recently formed a national unity government, and its deputy prime minister, Mohammed Mustafa, acknowledged there would difficulties for the funds to arrive quickly and be appropriated.
The Western-backed Abbas told the delegates that the latest Gaza war caused "tragedies that are difficult to be described by words. … Entire neighborhoods have been reduced to rubble."
He said the Palestinian government "will carry out the reconstruction plan with full responsibility and transparency in coordination with the UN, the donors, international financial institutions, civil society and the private sector."
Leading participants said Gaza's reconstruction cannot be done in isolation from efforts to revive Israeli-Palestinian peace talks on a lasting settlement.
"We must not lose sight of the root causes of the recent hostilities: A restrictive occupation that has lasted almost half a century, the continued denial of Palestinian rights and the lack of tangible progress in peace negotiations," said UN Secretary-General Ban Ki-moon, who later announced he would visit Gaza on Tuesday. "I call on all parties to come together to chart a clear course toward a just and final peace," Ban said. "Going back to the status quo is not an option; this is the moment for transformational change."
The latest conflict in Gaza was the most ruinous of the three wars, killing more than 2,000 Palestinians — mostly civilians, the UN said. Another 11,000 were wounded, and some 100,000 people are homeless.
Kerry told delegates that Gazans "need our help desperately — not tomorrow, not next week, but they need it now." He said the new US money, which nearly doubles American aid to the Palestinians this year, would go to security, economic development, food and medicine, and shelter, water and sanitation projects.
He later stressed at a news conference the need to move beyond aid by addressing the underlying causes of the Israeli-Palestinian conflict.
"Israel clearly has a right to be deeply concerned about rockets and tunnels, and security of its citizens," he said. "And Palestinians have a right to be concerned about day-to-day life and their rights and their future aspirations to have a state."
Kerry mediated the failed peace negotiations earlier this year. He said the talks had made "significant progress" in some areas and left everyone with a clear picture of what both sides need for a peace agreement.
"We are going to continue to push," Kerry said without elaborating.
Egyptian President Abdel-Fattah el-Sissi, whose government negotiated the cease-fire that ended the war, said the reconstruction effort hinged on a "permanent calm" between Hamas and Israel, and required the exercise of "full authority" by the Palestinian Authority led by Abbas.
Cairo's relations with Hamas have been tense since Egypt's military ousted Islamist President Muhammad Mursi in July 2013 and threw its weight behind Abbas.
El-Sissi said the conference sent a message that "the status quo must not continue, cannot be returned to, and that any attempt to bring about temporary stability will not last long." "I tell the Israelis, both citizens and government: The time has come to end the conflict without further delay, to grant rights and establish justice so that prosperity and security can prevail," he said.
Abbas used the conference to warn that the failure to reach a peace deal posed a threat to regional stability.
"Israel's aggression on the Gaza Strip exposed the fragility and dangerous nature of the situation in our region in the absence of a just peace," Abbas said. He urged the international community to support his bid to get the UN Security Council to dictate the ground rules for any future talks with Israel, including a deadline for an Israeli withdrawal from Palestinian lands.
EU negotiator Catherine Ashton appeared to back the arguments of Ban, Abbas and el-Sissi.
"I want to stress one more time that the solution for Gaza cannot be found in Gaza alone," she said. "Only a credible resumption of the peace negotiations can allow for a durable solution to the current crisis.
"This must be the last time in which the international community is called upon to rebuild Gaza," she added.
___
Associated Press writers Bradley Klapper, Sarah El Deeb and Merrit Kennedy contributed to this report.