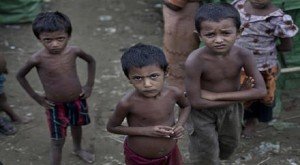 Kyaw Ye Lynn
YANGON, Myanmar (AA): Three refugee camps have been closed in Myanmar's western Rakhine state as recommended by an advisory commission, government said on Sunday.
The commission led by former United Nations secretary general Kofi Annan recommended Myanmar government in April to develop a comprehensive strategy towards closing all IDP (internally-displaced persons) camps in Rakhine State, and immediate closure of three camps as a first step.
Three camps for IDPs have been closed down in the Kyaukphyu, Pauktaw and Ramree townships, Thaung Tun, National Security Advisor to Myanmar government, said in a statement published on state-run newspapers.
The largest and the latest to be closed among three camps sheltered 215 households of Rohingya Muslims in Phauktaw, near state capital Sittwe.
"Most of them were relocated to the nearest Min That Phar village while some move to other villages where they have relatives," Rakhine regional government spokesperson, Min Aung told Anadolu Agency by phone on Sunday.
He added that authorities provided the returnees with individual houses and cash assistance to resume their work.
The first — a camp in Ramree that housed 55 Kaman Muslim families — was shut in April. Most were relocated to Myanmar's largest city, Yangon, rather than returned to their homes in Ramree.
The second camp which sheltered 65 ethnic Rakhine Buddhist households was closed in May.
Since mid-2012, the region has seen a series of incidents of communal violence between ethnic Rakhine Buddhists and Rohingya which have left around 100 people dead and some 120,000 displaced in camps — mostly members of the Rohingya minority.