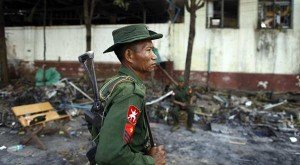 Kyaw Ye Lynn
YANGON, Myanmar (AA): A Rohingya activist group on Wednesday expressed concern over the Myanmar government's denial that security forces had committed crimes against humanity, during a crackdown in western Rakhine state.
A government-appointed investigation commission released its report last week, which cleared soldiers and police of allegations of systematic rape, murder and arson against Rohingya Muslims in Maungdaw area of Rakhine state, since October last year.
The newly-formed Rohingya Consultative Body said that the commission's denial to the widely documented human rights violations against the Rohingya was expected as the government had already denied the allegations.
"This whitewash report will carry no credibility, and only harms the international reputation of the government of Myanmar," the group said in a statement, adding that it was "disappointed, but not surprised".
However, it raised concern that such denial will fuel more persecutions by security forces on the Rohingya minority in Rakhine state.
"The continued denial of the facts by the government has much more serious implications. It will instill in the military and security forces a sense of impunity," said the group formed by exiled Rohingya activists.
The report of the commission led by vice-president Myint Swe, who is one of the former junta senior leaders, failed to influence anyone in the international community, said New York-based Human Rights Watch (HRW) on Monday.
"It clearly fell short of being an even-handed report," HRW's deputy Asia director Phil Robertson told Anadolu Agency.
He said the commission essentially exonerated the government security forces from the crimes committed during the clearance operation, while Rohingya militants were condemned for their violence.
The Rohingya Consultative Body demanded the Myanmar government give access to an international mission established by the United Nations Human Rights Council to investigate the rights violations in the country, especially alleged atrocities against Rohingya civilians during the military operations in Rakhine state.
The Rohingya are denied citizenship by the Myanmar government, which officially labels them Bengalis – suggesting they are illegal immigrants from neighboring Bangladesh.
The impoverished situation of around 1.2 million Rohingya in Rakhine state has been worsening since communal violence broke out in Rakhine state in mid-2012.
The issues reached a boiling point after military launched a crackdown following a gang's killing of nine police officers in the northern part of Rakhine in October last year.
During the operation, UN and rights groups documented evidences of atrocities by security forces against the Rohingya civilians. However, the government blocked the entry of a UN fact-finding mission to Myanmar.