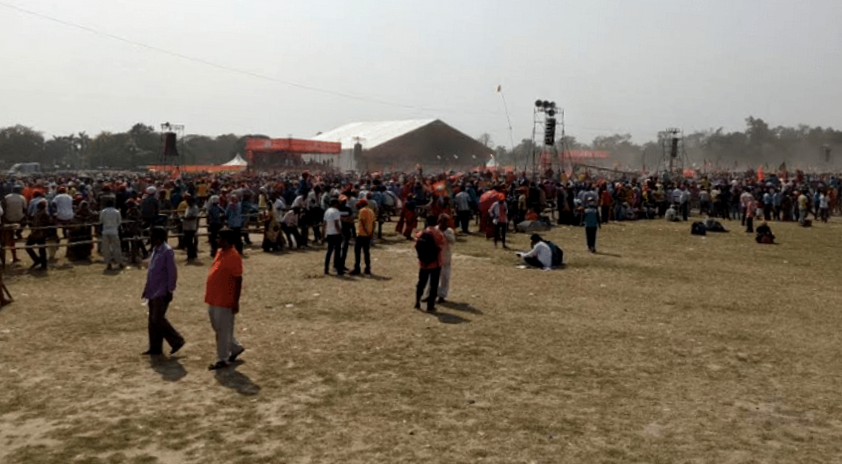 The rally organised jointly by the Congress and Left last Sunday saw considerably a bigger crowd
Team Clarion 
NEW DELHI — When Prime Minister Narendra Modi took to the stage at Kolkata's Brigade Parade Grounds on Sunday, large parts of venue were empty prompting political observers to raise question marks over the popularity of the Bharatiya Janata Party in poll-bound West Bengal.
Even as the crowd was arranged in such a way to appear massive from certain angles, local reports and eye witnesses said the spaces on either side of the stage were vacant despite the presence of top rung of BJP's national and state leaders.
In comparison, the rally organised jointly by the Congress and Left last Sunday saw considerably a bigger crowd.
Dilip Gosh, BJP's West Bengal head had claimed that the rally would see participation of one million people.
A reporter who covered the rally for The Wire from the ground wrote about how BJP had chalked out a strategy for crowd placement. "The large grounds were divided into slots partitioned by bamboo walls. Attendees were mainly packed into the narrow section right in front of the main dais, while most of the Maidan remained unoccupied. This also gave the impression of a packed crowd to the cameras."
Journalist Shoiab Daniyal took to Twitter to make his observation about crowd presence in Sunday's rally. He called it a "modest crowd" and appreciated the crowd placement but added, "BJP attendees placed in narrow column even as most of the maidan is empty (very unlike a Brigade)."
Fairly modest crowd by Brigade standards just as Modi is about to speak in Kolkata.

Of course the same had happened during Modi's Brigade in 2019 too. So maybe risky to predict votes from this time-tested metric in today's Bengal.

— Shoaib Daniyal (@ShoaibDaniyal) March 7, 2021
The party did not put out any drone footage of the rally though the drone photos that surfaced on social media were found to be fake.
Daniyal, however, said that it was risky to predict from the  lack of packed ground the "time-tested metric in today's Bengal"  as he pointed out in the 2019 elections when the party secured 40% of the votes despite a similar show in Modi's then Brigade rally.
According to The Wire, BJP leaders say that their supporters are not ready to come out in open fearign attacks from TMC workers.
On this occasion film star Mithun Chakrborty also shared the stage with Modi after he announced his joining BJP.