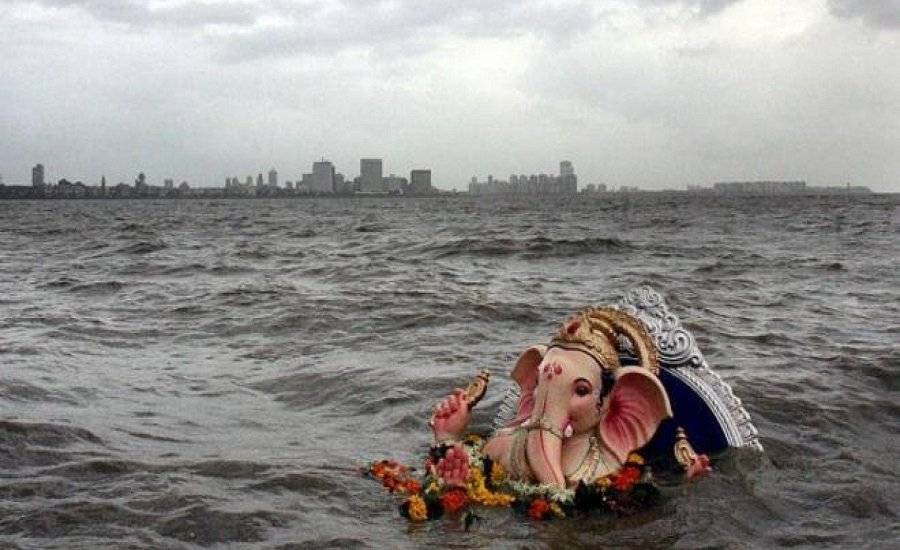 With the police strictly enforcing rules against large gatherings, public processions and big immersions, the Ganesh festival came to a quiet end across Maharashtra on Tuesday
Ashok Kumar | Clarion India
MUMBAI – For the first time in living memory, the final immersion of Ganesh idols on the last day of the Hindu festival on Tuesday did not see lakhs of people going out in processions and major cities in Maharashtra being virtually closed for the festivities.
The police in Mumbai, Pune, Nagpur and other major cities of the state imposed tough rules prohibiting the taking out of large processions and immersing the idols in the sea, rivers or lakes. Instead, most of the idols were being immersed in small pots kept in vehicles and not disposed in large water bodies.
Importantly, noise pollution – which reaches a peak during the 10-day festival – was also at its minimal this year. "Usually I get thousands of calls from people complaining about loudspeakers blaring away till the early hours of the morning in Mumbai and the extended suburbs," Sumaira Abdulali, convenor, Awaaz Foundation, and member of the governing council of the Bombay Natural History Society (BNHS), told Clarion India on Tuesday. "But this year, I've not got a single complaint or phone call."
The Mumbai police had directed people to perform rituals including 'aartis' at their homes and not at immersion points. N. Ambika, DCP, and spokesperson of Mumbai police, said that besides 5,000 CCTV cameras and several drones, plainclothes policemen have fanned out across the metropolis to ensure that the rules are followed.
Besides 35,000 personnel of Mumbai police, there are thousands of others including men and women from the State Reserve Police Force, the Riot Control force, Rapid Action Force, Quick Response Teams and Bomb Detection and Disposal squads monitoring the situation in Mumbai.
The 10-day Ganesh festival, which is popular across Maharashtra, saw lowkey celebrations during the ongoing Covid crisis. The state government has imposed strict norms to ensure there was no overcrowding and gathering of large numbers of people at places where idols were kept for public viewing. For instance, a maximum of 10 people could attend 'aartis' while not more than five people could be involved in the immersion of idols.
But despite these rules, there have been cases of violation across the state. In Bhayandar, an extended suburb of Mumbai, the police booked more than two-dozen people for violating the norms. The group had gathered in large numbers in a Bhayandar locality and many were not even wearing masks.
In Pune, which also sees lakhs of people thronging the city's roads and blocking all approaches on the 10th day of the festival every year, was also quiet on Tuesday. Ravindra Shisave, the joint commissioner of police, said the immersions of the five 'manache Ganpatis,' which usually attract lakhs of visitors, were done at the respective pandals in the afternoon and the idols were immersed within the respective complexes.