GROUND REPORT
As the authorities ordered to vacate the Eidgah relief camp to curb spread of Covid-19, the survivors of Delhi pogrom are again facing tough time to get new shelter and food for their families with no resources of their own. The promised relief money also fail to reach them till now, according to survivors.
Ghazanfar Abbas | Clarion India
NEW  DELHI — The threat from Coronavirus has created a more distressful situation to families victimised in the Delhi violence, that all took shelter in Mustafabad's Eidgah relief camp for a month now.  As part of the steps being taken by officials to break the chain of Covid-19, these violence survivors, over a thousand, were evacuated from the camp by Wednesday morning.
Since Sunday, the survivors in the anti-Muslim pogrom in North East Delhi were being asked by Delhi Waqf Board to leave the camp. Some 300 families were camping at Eidgah. With no monetary compensation or rehabilitation provided to them from the Delhi and central governments yet, there is only narrow hope of any relief coming their way.
Showing the pass issued to him from Delhi Waqf Board to leave the camp, Ghulam Mohammad (73) said, "We have been living here for the last one month. Earlier we used to get food but for the last four days we were being told to go back to our homes. They told us to take ration and go. We are in so much trouble now. We only know how much trouble we are going through."
Ghulam Mohammad was living in a rented house in Shiv Vihar that was set on fire by a mob, and it was looted before the arson, all during the Delhi violence in February. He has two sons who used to work as daily wagers. Now, they are left with no work. He said that except for providing food, bed and pillow, the Waqf Board didn't give them any relief.
"We were living on rent. The house we stayed in on rent was set ablaze. Our landlord is himself living now on rent. So, where will we go," Ghulam asked with anxiety.  "We came here by saving our lives from the violence. Now we are in search of an asylum," he said.
Hindutva groups had unleashed violence in North East Delhi during the Anti-CAA-NCR-NPR protest when US President Donald Trump was on an India visit last month. Violence continued from February 24 to 27, which left at least 53 people killed including a policeman and an intelligence officer while hundreds were injured and over a thousand left their homes to save their lives.
Worry over new shelter
On Tuesday evening, when there was complete chaos in Eidgah camp, Clarion India met the victim families which were about to leave the camp. They were anxious about their future as well as anguished over the disinterest on the part of the Delhi and Central governments about caring for their welfare in this hour of extreme crisis.
Shad Mohammad (48), a daily wager said, "My house was looted. All cash and ornaments were looted. Here we got food only, and no other relief." He said the damage caused to him was of around Rs 9 lakh in the violence. He is survived by his wife and six children. "Now we are not having any shelter anywhere. If we don't get one, we will stay on the road," he said.
Complaints, Agonies 
An illiterate woman, Ruksana (38), who has her mobile number written on her hand to provide to those who might help her, asked, "How we will go to our house which has nothing left to it after the attacks?"
Ruksana also used to reside in Shiv Vihar. She narrated her agony: "We had kept money in our house to repair it. That too was looted. Ornaments and two bikes were also taken away. They (rioters) even took away our clothes from the house. All doors have been broken, and these need be repaired. We saved money for years to repair our house or build a new one, and to buy gold for our daughters. We lost everything."
OFFER YES, MONEY NO
She complained that AAP MLA from Mustafabad Haji Yunus and former Delhi Waqf Board chairman Amanatullah Khan MLA had promised to renovate her house but no money was given to her yet.  "Now Haji Yunus is saying we take a room on rent. We have seen a house that could be rented out for Rs 5,000 a month, but we don't have the money," she said.
Adding to this, another woman, Sofia Khanam, (42), a teacher and also a victim of the violence present in the camp, said the monetary relief announced by Amanatullah Khan was not given to any victim. She said MLA Haji Yunus announced an aid of Rs 3,000 for each family, which minimal, and not given yet too.
On the Coronavirus pandemic, Ruksana said, "We are also concerned about this virus, but where we will go?"
She said, "We are riot victims. We were attacked on February 24 in Shiv Vihar. We saved ourselves and came here. From February 24-26, houses and shops were being set on fire by the Hindutva mob, and they engaged in wholesale loot in our area. We used to live on rent. The study of all of my children is adversely affected. They got very disturbed during the bloodshed. My husband got a heart attack. He lost his job too."
Khanam has three children who used to study in a government school. She said that due to the violence, her children could not appear in the exams.  "We don't have money. I have a friend but her house is tiny. So how will we be accommodated there?" Killers were Hindus, saviors were also Hindus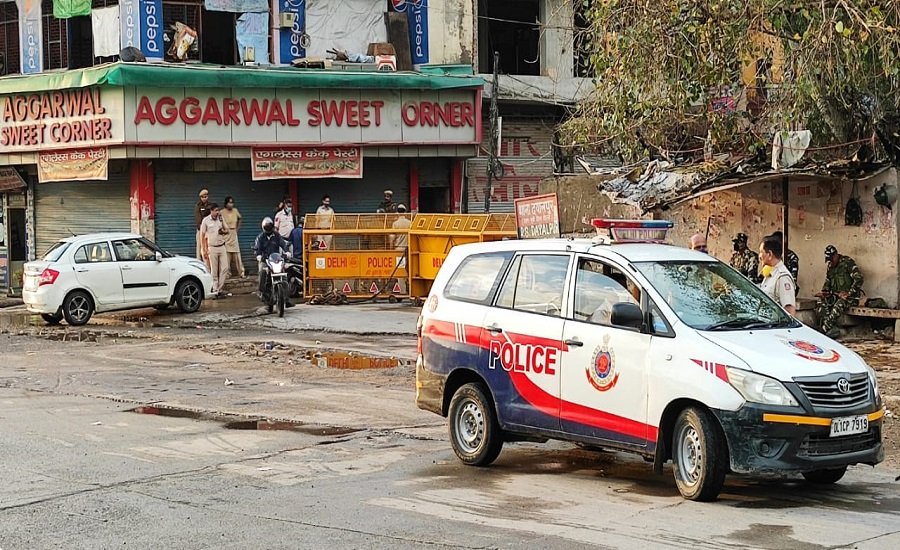 Mohd Khaleel (48), whose house is in Karawal Nagar but can't go there as it was burnt, narrated his ordeal: "On the 25th February morning, my house was set ablaze and then looted. In the entire colony, all houses of Muslims were burnt, but houses of Hindus were left safe. Here at the Eidgah, we got shelter and food; but not any monetary compensation. We have no money to pay rent if we get any room anywhere."
Noting the humanitarian gesture of his Hindu neighbour family, he said they saved him, his wife, his two sons and two daughters along with his Muslim landlord's family from the rioters. "The killers were Hindus and the saviors were also Hindus. We lived in the house of that Hindu family for 24 hours to save ourselves," Khaleel said.
"You know the rent of one month is to be given in advance if we get a house on rent. Besides, we do not have other basic amenities to restart a home. Our hope is God the Almighty. We have got a rented room in Mustafabad which will cost Rs 3,500 per month but we don't know when we will have the money to pay for it," he said.
He also alleged that several donations came to the Waqf Board, but the money was not delivered to the victims.