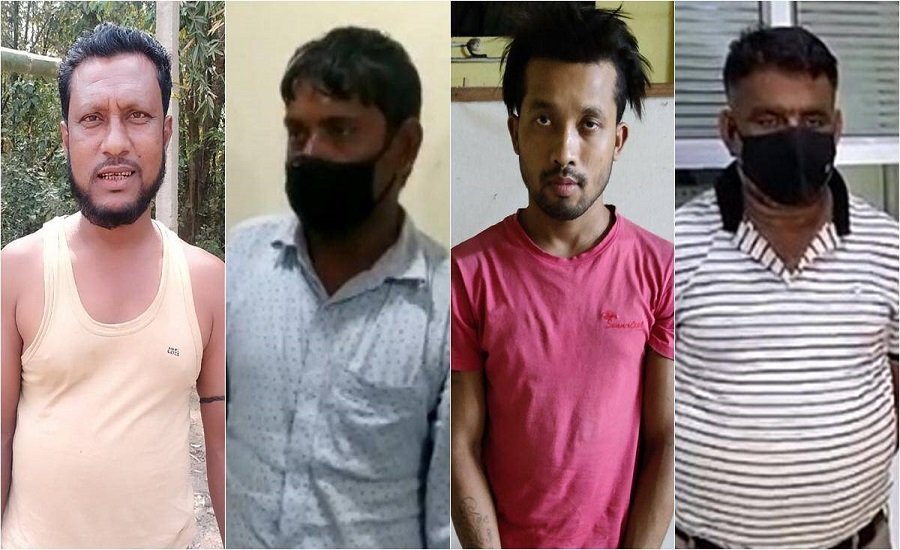 Assam Human Rights Commission asked the government to open an inquiry and find out what led to death and injuries of accused criminals in the police firing.
Team Clarion
NEW DELHI — On May 10, Bharatiya Janata Party leader Himanta Biswa Sarma took over the reigns of Assam government as Chief Minister. Since then at least 23 people have been shot at by police while they were in custody resulting in the death of five, according to a report in The Indian Express. The police gives the same common explanation — "trying to escape", "attempting to snatch weapons" and hence police opening fire.
The victims are accused of crimes such as cattle-smuggling, rape, murder, drug-peddling, dacoity. This is apart from deaths of 10 militants in encounters in the past two months.
Sarma has defended the new "zero tolerance" policy towards criminals even as the opposition leaders have slammed the "trigger happy" government and the Assam Human Rights Commission (AHRC) takes up the matter suo motu. Sarma told the state assembly on Wednesday that he is ready to face "any criticism" but his government would continue its "zero tolerance policy" on criminals.  "My clear instruction (to police) is do not break the law, but within the law… you take extreme action, and the Assam government is going to protect you."
Earlier, Sarma had also defended the custodial actions of the police at a Press conference attended by Police officers where and said that there was nothing wrong in police firing being a "pattern" if someone is "trying to flee". "Police cannot shoot him in the chest, but shooting at the leg is the law."
He informed the assembly on Thursday that "504 persons have been arrested in the last two months for alleged involvement in cattle-smuggling and only four were injured in police firing". He said the police ensured "the best possible treatment" to the injured criminals. "Sympathy is important, but misplaced sympathy is very, very dangerous," he said responding to the criticism from the Opposition.
Assam Human Rights Commission (AHRC) asked the government to open an inquiry and find out what led to death and injuries of accused criminals in the police firing. "As per news reports, all of them were in custody and in handcuffs… so we need to know what happened," member of AHRC Naba Kamal Bora was quoted by The Indian Express as saying.
Sarma's government is also increasingly using the rarely invoked provisions of the law to detain drug crime offenders without trial as a part of the 'war on drugs' campaign. At least 15 people have been arrested under it in the past six months, said the report.
The Express report has profiled some of the accused who have been killed or injured in the police firing while in custody.
Joynal Abedin, 47, a resident of  Nagaon was killed in police firing on July 11. He was accused of Dacoity, armed robbery. The police defended its action as Nagaon SP Anand Mishra said that Abedin stepped out and started firing. So we retaliated and had to shoot him (in the leg)." He was declared dead on arrival in the  hospital.
However , Abedin's family said police "dragged him out handcuffed" and "beat him". "Then they took him away… we do not know where… and killed him."
Tapan Buragohain, 26, a resident of Sadiya was shot at on July 9. He was accused of links with banned outfit ULFA and allegedly involved in ONGC staff abduction. Sadiya SP Sumeet Sharma, said he tried to snatch a gun and escape when police were taking him to a place to nab another accused. "When he did not stop, police, in their defence, fired at his leg."
The family refuted the police claim and told that he had begged Police to give him a chance but they shot him while he was "blindfolded" seemingly in an open field.
Jeharul Islam, 30, a resident South Salamara-Mankachar district accused of trafficking women was shot. The police said that when Islam was arrested he tried to escape and snatched a gun from an officer. Then, they said, they shot him in the leg.
The family contested the police claim saying Islam willingly surrendered why would he try to escape.
Akhtar Raja Khan (alias Tiklu Khan), 48, from Dibrugarh, accused of cattle lifting was shot on July 7. Police said that they fired at him when he tried to dash towards a river to escape. Since "the injury was not serious" he was released from hospital the same day.
His brother said he met him at the hospital where "he told me he was blindfolded and taken to a chapori (island). Police told him to run, or they would fire."
The police have repeatedly defended the extreme actions as the DGP Bhaskarjyoti Mahanta said they use firing only as a "last resort".