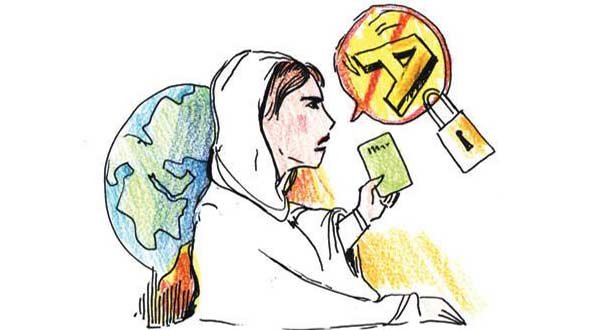 JEDDAH – A group of Saudi women have complained about the obstacles they face whenever they need to renew their passports. They have urged the relevant authorities to consider allowing women to renew their civil status documents without the need for a male family member's approval or his physical appearance at the respective government entity.
They criticized the poor performance of public institutions, including the Passport Department and the Civil Status Department. They said although some government entities have started employing women, their skills and qualifications leave much to be desired as they need more training and understanding of women's issues and needs.
"Such departments do not take into consideration that some women might not have living parents to accompany them. We understand that in case of traveling abroad, women have to get the approval of their mail guardians but there has to be some flexibility when it comes to other women-related issues," Umm Faisal told a local newspaper, noting that there are some conflicting issues in the requirements between the Civil Status and Passport Department.
For example, she said, the Civil Status Department preconditions that a woman should display her passport before seeking any service from the department or at least bring along two Saudi women with their national IDs or a male guardian in order to verify her identity.
On the other hand, she said, the Passport Department does not allow a woman to issue or renew a passport unless she brings her male guardian despite the increasing number of women's sections at Passport Department offices across the Kingdom.
"The women's sections handle only specific services, such as verifying and renewing residencies and visa issuance. That means those sections are only there to serve expatriates rather than Saudis," said Umm Faisal.
Hadeel Al-Yusuf agreed, adding that women's sections in many Passport Department offices do not issue or renew passports.
"A national ID and a passport are two important documents for everyone. While it is easy to obtain or renew a national ID at the Civil Status Department, it is almost impossible to obtain a passport without a male guardian at the Passport Department," she said.
Stressing that women-related regulations and laws should be reconsidered, Al-Yusuf, however, said it is understandable that women are not be allowed to travel without the approval of their male guardians.
Al-Kharj Passport Department Director Brig. Gen. Suleiman Al-Suhaibani said the issuance of passports is governed by certain rules and instructions which differ from those related to the issuance of national IDs.
"An employee at the women's Passport Department cannot take a decision concerning the issuance or renewal of a passport, because the whole process is linked with the presence of the parent," he said. "Passports are used for a different purpose than IDs, which cannot be used for traveling abroad." –– ARAB NEWS