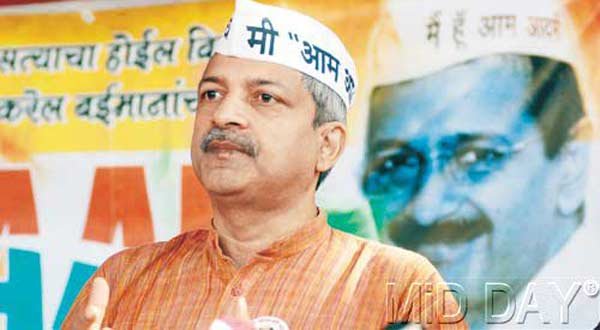 By: Kaleem Kawaja
[dropcap]A[/dropcap]t least twice before in 1977 and 1990 two major political parties that were formed to remove corrupt politics and bring in principled politics fell apart due to intense in-fighting among their senior leaders. In 1977, in the aftermath of the suppression of democracy and imposition of Emergency by the Congress party (Indira Gandhi), senior leaders headed by Jayaprakash Narayan (JP) and Morarji Desai, two highly principled leaders, formed the Janata Party. They had a great vision and a great start forming government at the center in 1977. Yet in three short years the Janata Party fell apart due to much internal bickering; the desire of some leaders to follow principled politics and of other leaders to make shot cuts and promote their own interests.
In one of his illustrious Hindi poems "Chama karo bapu" former Prime Minster Atal Bihari Vajpayee lamented in 1977 the fact that despite their own pledges of united action ("kadam se kadam mila kur chalna ho gaa"), Janata Party leaders indulged in indiscipline, bickering and self-interest which caused their movement to fall apart.
JP died in 1979, a highly disillusioned leader. When Janata party government fell apart in 1980, it came as a rude shock to a large number of people of India; they saw their vision of principled politics shatter infront of their eyes.
A decade later in 1989-90 the same event repeated itself. In early 1989 with much increased corruption in politics and the raging Bofors issue, VP Singh formed Janata Dal on the principle of removing corruption from politics. Janata Dal formed government at the center in 1989 but soon some senior leaders tried to compromise on the core principles of the party and make short cuts to promote their own interests. Once again much internal bickering among senior leaders happened in Janata Dal and the government fell in late 1990. Needless to say that the people of India who had so much hope for the nation from the VP Singh led government were crestfallen
.
After a lapse of 25 years in which corruption, abuse of religion and caste and big-money politics mushroomed and the ordinary people felt humiliated and helpless, a set of younger people in Delhi formed the Aam Aadmi Party (AAP) in 2012 to remove corruption, hegemony of a few and transparency in governance. The new thing this time has been the massive involvement of young men and women in promoting AAP and its new clean politics. Ordinary people from across the country and even many NRIs living abroad have become volunteers for AAP. Many are highly educated and accomplished folks from top institutions like IITs, IIMs, who have a burning desire to cleanse the Indian polity. Some of them have even compromised their professional careers and returned to India to volunteer for AAP and to give it generous donations without personally knowing any of the AAP leaders.
After a few demonstrations of immaturity and rudimentary political mistakes by some senior AAP leaders, finally AAP won the February 2015 election to the Delhi state Assembly winning 67 of the 70 seats. The whole nation heralded this event as the dawn of a truly new politics. AAP leaders have repeatedly said that they are not here to gain political success (Satta) but to cleanse the political process (Rajneeti) itself. The people all over the country including many Non Resident Indians who have no vote and no say and no benefit in Delhi state have also enthusiastically supported AAP with their money and manpower as the harbinger of a new clean polity in the country.
However soon after the Delhi state election and the formation of the government it is becoming clear that a few senior AAP leaders had made short cuts around the core principle in the selection of candidates. In a few instances the process of distribution of party tickets for MLA seats was compromised and a few corrupt individuals who had only recently crossed over from other parties were given the AAP ticket. Accountability was not always practiced for some of the large donations and the manner in which those donations were spent. The advice of several sincere top leaders in the selection of candidates was ignored. Only a small number of women were made candidates. A small coterie of senior leaders shortchanged the much ballyhowed principle of transparency and clean politics, and overlooked the building of personality cult around them. When the six member Delhi state cabinet was announced there was no woman in it, despite the presence of a large number of women volunteers in AAP.
Finally when a handful of AAP founders, senior leaders and intellectuals spoke loudly about making corrections in the AAP system to make it faithful to AAP's core principles, the groupies of the star senior leaders indulged in much manipulation of the members of the AAP National Executive to throw out those senior leaders who were reminding that the core principles of the party be adhered to. In short no dissent is acceptable to some top leaders.
AAP may be in power only in Delhi state at this time but the ethos of AAP is definitely very popular in many big cities and urban centers where educated people live who care more for issues and principles rather than short term gains. AAP has 4 MPs from Punjab and a good opportunity to gain some seats in the legislatures in a few other the states in the near future, at least in major urban centers. AAP has all the characteristics of a national party in the making, because its core values and principles rhyme with the aspirations of common Indians everywhere. Indeed by its own admission AAP is a party with a difference and for the future of India.
With the falling apart of two parties that had tried to cleanse polity in India in 1980 and 1990 due to internal bickering among senior leaders, and the insistence of a few leaders to impose their interests over the interests of the party, today the people of India are looking at the current crisis and infighting within AAP's leadership with much anguish. They are wondering why leaders who are so good and get so much support from public are in such a hurry to be acclaimed as the only messiah and their word as the final word of the party. The same leaders who told AAP volunteers a few short weeks ago to shun arrogance and excessive confidence in themselves, are declining to even allow a few voices of dissent in the party fora and are not restraining their followers to expel those leaders who have long unimpeachable record of intellectual prowess and selfless service to the nation. Many other senior public leaders who have long fought with the forces of manipulation and injustice and who were looking to join hands with AAP are shell shocked at the level of intolerance in the top leadership of AAP and their own aspirations of working with AAP in the future.
Let us hope that AAP leadership realizes that the Indian nation has put a lot of trust in them. That with their immaturity or shortsightedness they can cause much harm to the visions of the Aam Aadmi to cleanse the affairs of the nation. If the AAP movement to cleanse politics falls apart due to lack of internal discipline and tolerance for diverse views, not only the Indian people may loose faith in the viability of such processes, doubts may also grow in their minds about the composite and democratic process of Indian polity. They may feel that unlike other progressive nations the only governance system that can unfortunately be viable and stable in India is one where the common people are manipulated by political parties, as vote banks either for their religion or caste or money status or false promises. They may even accept corruption and abuse of religion and caste as a way of life that can not be changed in India. They may believe that there is no future for alternate polity in India. They may doubt that indeed India will soon be a world class power, because the political leaders in world class countries have to have a class. They may have to ask their aspirations for an India with an equitable polity to go nest somewhere else.