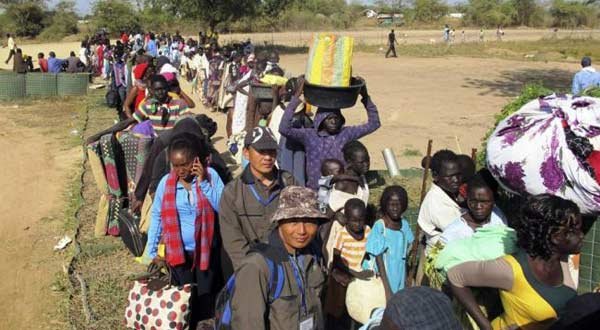 The Balkanization of Sudan has created the current mess. At the heart of the conflict in South Sudan is the West's scramble for Africa's resources
STEPHEN LENDMAN
Until July 2011, Sudan was Africa's largest country. Balkanization changed things. It's now the third largest.
South Sudan broke away. It did so by national referendum. Ordinary people were lied to. They were told independence would elevate living standards.
Nothing changed. Business as usual continues. Internal conflict exacerbates things. Sudan's history reflects longstanding violence. Ordinary people suffer most. More on this below.
Obama supported division. Omar al-Bashir's Khartoum government is targeted for regime change. Division was step one.
At issue is Khartoum's sovereign independence. Its ties with Iran. It's supplying China with Sudanese oil. Its support for Palestinian rights.
Washington was involved in balkanizing Sudan. So were EU nations and Israel. They funded, armed and trained South Sudan Liberation Army (SSLA) forces. They supported other anti-al-Bashir elements.
They fueled violence. They wrongfully blamed Khartoum. They want US-led NATO involved. Humanitarian intervention is pretext for advancing America's imperium.
Most important is Washington's African agenda. It's more than about oil. It's for vast African riches.
In December 2006, the United States Africa Command (AFRICOM) was authorized. On February 6, 2007, it was announced.
On October 1, 2007, it was established. On October 1, 2008, it became operational. It's mission is controlling Africa's riches.
South Sudan is especially oil rich. Its other resources include gold, silver, diamonds, timber, limestone, iron ore, copper, chromium ore, zinc, tungsten, mica, and rich agricultural land.
Obama's on vacation in Hawaii. On December 21, a White House press release commented on South Sudan.
Four US military personnel were wounded, it said. They were "attempting to evacuate American citizens in Bor."
Obama "underscored the urgency of helping to support efforts to resolve (internal differences) through dialogue."
Dominance, not dialogue, is prioritized. Dozens of US forces were deployed to South Sudan. Expect others to follow.
Obama is getting America involved in more conflict. Doing so is part of Washington's longstanding imperial agenda.
On Thursday, Obama said South Sudan "stands at the precipice." Opposition forces control Bor. Juba is South Sudan's capital. Bor lies about 125 miles north.
South Sudanese army spokesman, Col. Philip Aruer, said Juba was being heavily shelled. Obama lied saying:
"In 2011, millions of South Sudanese voted to forge a new nation, founded on the promise of a more peaceful and prosperous future for all of South Sudan's people."
"In recent years, against great odds, South Sudan has made great progress toward breaking the cycle of violence that characterized much of its history."
"Today, that future is at risk." America's involvement heightens it. In a letter to Congress, Obama said he deployed 45 US troops "to support the security of US personnel and our Embassy."
Expect others to follow. "As I monitor the situation in South Sudan, I may take further action to support the security of US citizens, personnel and property, including our embassy, in South Sudan," he said.
Conflict killed hundreds, perhaps thousands. No one knows for sure. UN Blue Helmets were attacked. They're more enforcers and occupiers than peacekeepers. Their presence makes things worse, not better.
A UN statement said two UN Mission to South Sudan (UNMISS) personnel were killed. The UN's Akobo base was attacked.
South Sudanese President Salva Kiir said soldiers loyal to former Vice President Riek Machar want him ousted by coup d'etat force.
Machar accused Kiir of attacking rival elements. He admitted wanting to be South Sudan's next leader. His forces control oil rich areas.
Machar's Sudan People's Liberation Movement opposes Kiir's Sudan People's Liberation Army (SPLA).
Ban Ki-moon issued his usual pro-Western statement. He did so through his spokesperson. He ignored core issues needing to be addressed.
He urged both sides "to demonstrate compromise and leadership on behalf of the Southern Sudanese people, and to resolve their personal difference through dialogue immediately."
In other words, he wants imperial interests supported. He doesn't give a damn about ordinary people anywhere.
UN spokesperson Farhan Haq said conditions are worsening. "Of particular concern" is what's ongoing in "Juba, Jonglei, Unity, Upper Nile and lakes States."
"Right now, between 35,000 and 40,000 civilians are seeking refuge in UN bases across the country," he added.
"In Juba, the Mission has strengthened troop presence, including with patrolling."
UNMISS personnel "came under sustained attack" inside their compound.
Operations continue to evacuate vulnerable Blue Helmets. OCHA (Office for the Coordination of Humanitarian Affairs) noted concentrations of displaced people.
The World Health Organization said Juba's Teaching Hospital received hundreds of patients since last Sunday. Around half are seriously injured.
Unity (aka Western Upper Nile) is one of 10 South Sudanese states. It's oil rich. China's National Petroleum Corporation (CNPC) is involved. Washington wants US oil giants replacing it.
CNPC's workers were evacuated to Juba. Beijing's Foreign Ministry spokeswoman Hua Chunying said all Chinese citizens are safe.
"Due to the current situation, some Chinese companies are organizing evacuations,." she explained.
Unity is ground zero for government v. opposition control. It's the oil, stupid. It's other valued resources.
Senior military defections split Kiir's SPLA. On Friday, Major General James Koang Choul was the latest.
On December 15, Kiir denounced Machar on state TV. He did so in military attire. In civilian dress, he's often seen wearing a black cowboy hat. George Bush gave it to him years earlier.
He called Machar a "prophet of doom." He accused him of attempting a coup.
On December 19, Al Jazeera interviewed Machar. It did so from a secret location. Days earlier, he barely escaped death, he said.
South Sudanese forces attacked his residence. They did so "with tank shells," he added. They burned it.
It's now "rubble." His bodyguards "were summarily executed. (His) life was in danger. (His) colleagues were being arrested for no reason," he claimed.
"They are not plotters. It was not a coup. Nobody wants that." He's being used, he said, "as a scapegoat." Kiir, he claims, wants the ruling SPLM party purged of rivals.
Last July, he ousted various cabinet members. He fired Machar. Media control was tightened. In August 2012, US adviser Ted Dagne was expelled. He supported South Sudan's independence.
From 2009 – 2012, Cameron Hudson was Obama's Sudan envoy. Washington and other Western governments collaborated with Mayardit. They helped him "balance (his) books and create the illusion of institutions," said Hudson.
People in charge aren't "technocrats," he added. "(N)ow (things are) breaking down along (longstanding) ethnic lines."
Post-WW II, civil war raged twice in Sudan: from 1955 – 1972 and from 1983 – 2005. Whether today's conflict represents the beginning of a third one remains to be seen.
Washington was central to balkanizing Sudan. It helped establish South Sudan's independence. Obama's troop deployment shows he wants US interests protected.
At issue is controlling South Sudan's resources. It's deposing Khartoum's government. It's replacing it with a pro-Western one.
It's dominating the African continent. It's partnering with France's neocolonial project. Months earlier it invaded Mali. It's West Africa's largest country. It's more than double the size of France.
It's resource rich. So is the Central African Republic (CAR). It's another former French colony. President Francois Hollande deployed about 1,600 troops.
It's not for humanitarian reasons. It's to control CAR's resources. It's rich in largely undeveloped ones. They include oil, diamonds, gold, uranium and others.
Africa's value lies largely in what's beneath its soil. Agriculture and timber are important. So are offshore fishing waters.
Imperial powers want control. America wants the lion's share. AFRICOM was established to secure it.
The scramble for Africa's resources continues. South Sudan is one of many battlegrounds. Others preceded them. More will follow.
Ordinary Africans suffer most. They're pawns in imperial conquests. Western interests control much of Africa's riches. China is a notable challenger. Washington wants it shut out entirely.
Belgium's King Leopold II ruled Congo until his 1909 death. He ran it like his private plantation. Other colonial powers operated the same way.
Neocolonialists replaced them. The same dirty game continues. Joseph Conrad (1857 – 1924) called exploiting Congo "the vilest scramble for loot that ever disfigured the history of human conscience."
Imagine what he'd say today!