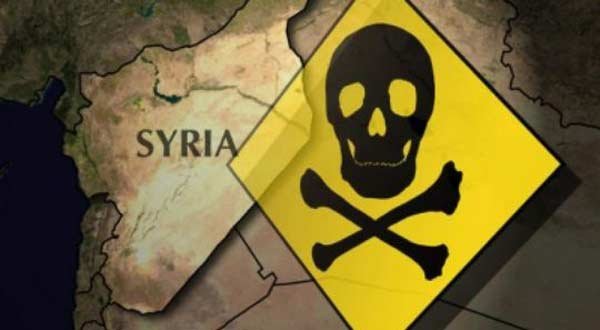 DUBAI — President Barack Obama's former Middle East adviser said this week that he believes the US should have bombed Syria in response to a chemical weapons attack on civilians in 2013.
In remarks made to The Atlantic, Philip Gordon discussed the events that followed Obama's "red line" warning to the Syrian regime following the deadly chemical attack on the town of Ghouta, which killed as many as 1,300 people.
"When the United States says you can't use chemical weapons, you can't use chemical weapons," Gordon told The Atlantic's Jeffrey Goldberg. He added: "I accept that there was some risk of a slippery slope if he used CW again. But Assad would also have had to run that risk, and that's just the dynamic that you're in, so we needed to plant in his mind that if he tested our resolve, well, he was running a pretty big risk, too.
"And that might not be in either of our interests, but it certainly wouldn't be in his. … This was a more limited and therefore more achievable objective than regime change. What he would be saying is, 'I'm going to try to stop them from gassing people because if I don't, we are essentially saying, you can use chemical weapons as much as you like.'"
The decision to stand down from his red line threat was made after a chemical weapons deal was in sight to rid the regime of its arsenal. However, many US allies – including Gulf states – believed that this had squandered the US's credibility because, as Goldberg notes, "when a superpower sets a red line, the thinking goes, it must enforce the red line." But the US didn't.
Asked whether he thinks Obama still could have gotten the chemical weapons stockpiles out of Syria, had he carried out his threat to strike, Gordon said: "I think he would have been even more likely to get it … As it turns out, we got lucky. My concern at the time was … that the next time we say to someone, 'There are consequences if you act,' we won't really mean that.
"I think that this has repercussions in Europe, in Asia, and elsewhere. I think sometimes, on the credibility point, on the deterrence point, you actually have to be willing to do things that are a cost to you."
Gordon says he came to a conclusion in late 2013 that the US was "pursuing a policy that had very little chance of working, and at very high cost."
"And that the costs of seeking a de-escalation and diplomatic engagement that would stop short of our ultimate political objective — removing the regime — were much less than the cost of perpetuating a policy that couldn't work.
"And it gets back to the Washington playbook and this notion that critics of Syria policy like to suggest as well, that we didn't actually do anything in Syria," he added.
Goldberg explains that this "playbook," in Obama's mind, "is in part a set of received understandings about what a president should do in the event of a rogue-state provocation."
Gordon said that the Obama administration was too focused on supporting the Syrian opposition.
"Our policy was to support the opposition to the point that it was strong enough to lead the regime and its backers to come to the table and negotiate away the regime. And that was an unrealistic objective."
"And so ultimately where we ended up was with a political objective that couldn't be achieved by using the means that we were prepared to use."
He reiterated that wide-scale military intervention should have been an accepted alternative.
"My problem is with the many critics who don't want to accept that the alternative was a major US military intervention. They seem to believe that had we somehow just helped the opposition a bit more, we could have achieved that goal of getting Russia and Iran to kick out of Assad. I just think that that is fundamentally not true." — Al Arabiya News